The Benefits of a Meter Machine Compared to Online Postage
Both traditional meter machines and online postage companies can save you time and money on mailing costs, but each has their own set of benefits and limitations. Both options are better solutions than using standard mailing procedures for any business that sends larger quantities of mail, and they give a company the option to use an in-house method to adhere postage at a reduced cost.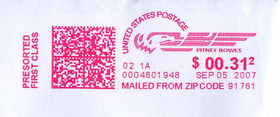 However, there are distinct differences that may make using a meter machine a better mail system for many businesses.
Advantages of a meter over online postage
Different types of postage: Meter machines give more options, including first class, second class, priority, international, and even bulk mail with the proper permits.
Envelope marketing: Meter machines can add marketing messages, dampen/seal envelopes, and even print specialized stamps, which are additional benefits over online postage software options. For businesses that do direct-mail marketing, this could be the determining factor on choosing a meter machine over online postage companies.
A meter machine has a scale attached, which is part of the system. On-line software requires a separate scale.
Meter machines include a printing device for postage, either for printing the postage directly on an envelope or printing labels for larger items. This means all different types of mail can be sent out using a meter machine. Online systems require a separate printing mechanism, adding another cost and accessory.
Similarities between the two uses
Both online methods and meter machines are similar in some of the benefits they provide:
Both offer the convenience of gauging and printing postage for envelopes and packages at the place of business, saving trips to buy postage and mail packages.
Both can also offer discounted rates on postage for many types of mail services.
Although both mail systems offer many benefits over buying postage at a retail establishment, for many businesses a meter machine will offer larger, long-term savings in both time and money. It is worth taking the time to compare the differences between the two and take into consideration the additional amenities that a meter machine can offer.
What are the costs to consider?
A small postage meter can cost $24.99 a month to rent. Then you have other costs such as reset fees, ink costs, and some meter rentals can charge up to $10 a month for rental of the scale. On the conservative side you could be spending a minimum of $50 a month for a meter. On the other hand a software company like Stamps.com rents their program for $15.99 per month. Sometimes you can catch them with a promotional special that includes a free scale.
Now it is up to you to decide if the advantages of a postage meter are worth an extra $34 a month.
Ready to Compare Postage Meters Price Quotes?