Gift Card Processing Makes a Difference
Many business owners shy away from gift cards and gift card processing, viewing it as another added expense to their balance sheet. However, there are a variety of ways in which this type of program can actually boost sales.
Consider these interesting gift card statistics: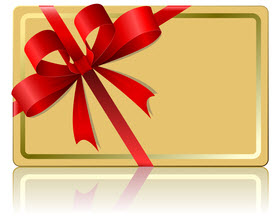 When paying with a gift card, customers are likely to spend an additional 20%-50%
40% of gift card recipients never use the full amount of their card.
The average left over gift card balance is $2.30.
From 2005-2011, an estimated $41 billion was left unused on gift cards.
Based on this information, it's clear that by adding gift card processing to your current payment system, you can produce an automatic boost in sales for your business. Gift cards are quickly becoming an easy gift giving solution. In turn, the gift card recipients who leave an unused balance on their gift cards, could add up to hundreds of dollars in profit for your business at the end of the year.
Simple gift card processing
For years, businesses have offered gift certificates. The gift card eliminates a lot of the problems inherent in that former system.
Scam artists are not able duplicate cards as easily as paper or card stock, allowing for fewer fraudulent purchases.
Gift cards, complete with bar codes, are easier for the store and the customer to track and manage. It's easier to check balances, make automatic deductions, and add money to the card.
Digital gifting makes it even easier to send a gift card. Use your smart phone to order online and eliminate the need to purchase a physical gift card.
Getting started
Processing gift cards will cost money, and require the implementation of a new system, but the benefits to your retail business will be worth it.
You will need to set up your point of sale system to sell and accept gift cards, in addition to registering and activating them.
Consider your card's appearance. Custom creation and design with a printed design of your choice.
Gift card processing fees can be partially or fully offset by outstanding balances. When you sell a gift card, you have money in your cash register now rather than later.
Many small business owners are cashing in on the e-gift card trend, especially in the recent holiday season. The Square Wallet App now allows small businesses to sell gift cards ranging from $10-$1000, where a voucher will then be emailed directly to the gift recipient. The voucher can be stored and redeemed at any business via the smartphone app.
Perhaps the biggest benefit of this type of program is the ease of gift card processing. Customers come in and hand over a card or e-voucher, and the whole point-of-sale experience becomes more efficient. Employees spend less time checking customers out, and customers are happier with the customer service because they aren't held up at the register.
As one final tip, you can use gift card processing to decrease losses on returns in your store. Rather than handing over cash for a return, a policy can be created to require customers to receive gift cards in certain circumstances. This means fewer lost sales and
Ready to Compare Gift Cards Price Quotes?