Direct Mail Introduction
Direct mail is an effective, low-risk method for businesses to market to new and existing clients. It's more affordable than advertising through mass media or highway billboards and you can easily track the results. Direct mail gives you a proven medium to get customer responses, draw people to your storefront or website, and build awareness in your corporate brand.
With the help of a direct mail seller, you can quickly get your offer into customers' hands without laboring through time-consuming tasks such as stuffing envelopes, labeling, and addressing. Sellers can also help you design an attractive direct mail piece, tailor your messaging to prompt responses, and obtain deep discounts on postage.
Most importantly, a direct mail seller can furnish you with a mailing list that targets people who have expressed an interest in products and services similar to yours.
Direct mail sellers work primarily with physical mail. If you're interested in an advertising campaign conducted exclusively through e-mail, you should find out more about e-mail marketing services sellers.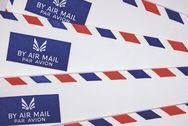 If you are looking for ways to stretch your marketing dollars further, this BuyerZone Direct Mail Buyer's Guide will detail:
The various services available
The types of mailings you can conduct
The costs involved
What to look for in a seller
Then, when you're ready, we can put you in touch with several qualified sellers in your area – for free!
---
The first stage in this process is figuring out your message and how much you're willing to spend to get it out there. These two factors will affect your purchase decision moving forward.
---
Considerations for Your Direct Mailing
The concept of direct mailing sounds simple enough: send a promotional postcard or letter to increase interest in your business and generate sales. In practice, however, there are several important decisions to make before you begin your campaign - everything from the type of mailing you want to send to your overall budget.
Direct mailing considerations
The most important decision is figuring out who your audience is. Direct mailing requires a significant investment of time and money and you risk wasting both if you don't target the appropriate candidates. Narrow your audience in steps: are you trying to create new business, or encourage existing customers to return? Are you selling to particular geographies or demographics? Once you know the audience, you can start planning the mailing itself.
Next, hone in on the offer. This is the part of your direct mailing that your customers will care about the most. Are you selling a new product? Is it a one-time sale where your customers can save a lot of money? Do they have a limited window of opportunity to take advantage of your offer? Your mailing needs to showcase something the customer finds valuable or useful and provide enough information about how to get it.
Then, consider your budget. The biggest mistake businesses make when exploring direct mailing is to overlook the largest single cost: postage. You can cut corners on design, paper quality, and other aspects of your project, but you can't skimp on postage. While a direct mailing seller can help you get significant discounts on postage, it will still account for about one third of your total costs. The budget will determine the rest of your direct mail considerations:
How many pieces? Most companies require a minimum 5,000- to 10,000-piece mailing and offer volume discounts for larger quantities.


What type of mailing? Options range from a simple 4" x 6" postcard to a multi-page four-color brochure. It all depends on what you have to offer and how much you want to spend.


Who creates the piece? If you have staff that can write effective marketing copy and create the design, you save money on those services. If not, direct mailing sellers can develop the messaging and design for an hourly fee.
Be realistic
Even the most successful direct mailings only result in a small response rate and yield even fewer sales. It's important to be realistic about your expected results so you can appropriately determine how much to spend on developing your mailing.
Preparing Your Direct Mail
The success of direct mail is dictated by the "100% effectiveness rule": 40% of the results depend on the list, 40% on the offer, and 20% on the creative. Essentially, the strength of the messaging is responsible for more than half of your efforts in a direct mailing.
Nobody knows what you're offering better than you, so if you have people on staff that can write efficiently, that's often the best route to creating a successful direct mail piece. Make sure the copy gets to the point immediately. It should focus on the benefits of your offer in the first few sentences and carefully describe how customers can take advantage of it - either by phone, website, e-mail, or fax. It's also an opportunity to save money: if you don't do the copywriting in-house, you'll be paying the seller for their services.
If you need their help, direct mail sellers can develop your message with simple but creative marketing copy to help you get a better response. They will draw upon their years of experience to write copy similar to that which has worked for previous customers.
The mail doesn't need to do the selling; it just needs to interest customers enough to contact you. Similarly, if you don't have designers on staff to create your mailing piece, a direct mail service can do that work for you as well.
Appropriate messaging
Once you put together your direct mail piece, review it carefully to make sure your message addresses the following:
Is there effective personalization?
Have you addressed the target audience's needs?
Is the piece distinctive and visually appealing?
Do the headlines and subheads tell the story?
Do the visuals support the copy, especially the offer?
Is the offer prominent?
Is the offer relevant to your target audience?
Was the offer clearly described?
Did you make it easy for customers to get more information?
Is it clear what customers must do to take advantage of the offer?
You can also track the effectiveness of your mailing with a code at the bottom. The customer provides the code when responding, either by phone or through the Web, and you can determine how many responses you generated.
Types of Direct Mail Marketing
You have multiple options for your direct mail marketing campaign. They all have their pros and cons. Select the one that works best for your business based on cost, messaging, and the audience you want to reach.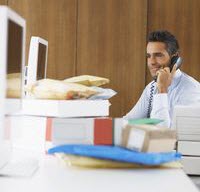 Postcards
This is the simplest form of direct mail marketing. Postcards typically feature colorful designs with your logo and offer on one side, and details and a way to respond on the other. They're the least expensive to print and to mail.
Postcards provide a very limited surface area to deliver your message, but that can actually work to your advantage. They force you to get right to the point and select your words efficiently.
A drawback of postcards for direct mail marketing is that the customer may not feel they are getting an exclusive offer since everyone from the postal carrier to mailroom personnel can see what the offer is. They're also easy to ignore in large stacks of mail.
Mailers
Mailers are basic marketing letters in envelopes. You can include one to three sheets of paper and still keep individual pieces to under an ounce. They allow you to provide greater detail on your products, or include other sales materials like white papers or customer testimonials. You can also add a reply envelope to increase responses.
With mailers, the marketing stays inside of the envelope so your customer's privacy is protected. However, because of the public's perception of junk mail, it's difficult to get customers to open the envelope to see what you're offering. To counter this perception, you may want to put a short message on the outside of your direct mail marketing piece such as "Attention: small business owners" or "Great offer for electronics enthusiasts."
Brochures, newsletters, and catalogs
If you want to send out more elaborate materials for a direct mail marketing campaign, you have many options. Brochures allow you to promote your business in an attractive format on glossy paper stock. You can also forgo envelopes by printing the address directly on the back and sealing it shut with a tab.
Catalogs detail some or all of the products and services you offer. Newsletters can keep customers informed of what your company does and perhaps offer a few special deals.
The downside to these forms of direct mail marketing is the increased costs of postage, processing, and printing. They are also more time-consuming since you can't run the bulkier items through the same machinery as a flat envelope or postcard. Typically, expensive mailings like these are only sent to existing customers.
Self-mailers
These are offers printed on a single sheet of paper, tri-folded, and sealed with an adhesive tab so you can put the postage and address on the outside without an envelope. They help you save money on paper costs while keeping your mailing light and simple. Without an envelope to protect them, self-mailers run the risk of getting ripped or crumpled during transit, which can look unprofessional.
Snap mailers
These are essentially specialized envelopes that unfold to reveal the offer. They have perforated sides that you tear off to reveal the message inside or to remove a concealed sheet of paper. Many credit card companies and mortgage brokers promote special rates using this form of direct mail marketing, and that may cause customers to instantly label your snap mailer "junk mail."
Dimensional mail
This is typically the most creative of all types of direct mail marketing techniques. It uses unique shapes and sizes to capture a customer's eye and imagination. Dimensional mail can be shipped in a box or tube rather than an envelope, which prompts more customers to open it. This can also include something with your brand name on it like a pen, magnet, or calculator. (Read more about Promotional Products.) Dimensional mail is the most expensive direct mail marketing option per unit, which means you shouldn't send it to unqualified prospects or names from an outdated mailing list.
---
This is where direct mail services can help you save big in comparison to sending out promotional material on your own. Easing the process by reducing labor and costly expenses, direct mail service sellers are one of the greatest economies of scale.
---
Benefits of Direct Mail Services
Businesses turn to direct mail services because the process of sending out a mailing is very labor intensive. Consider a mailing of 10,000 envelopes.
Even if you have motivated staffers who work quickly, the process of folding, stuffing, addressing, and stamping all those pieces will take quite a toll on them. Direct mail services have the expensive addressing and mailing equipment that automates these and other processes, giving them significant economies of scale.
Postage
Direct mail service sellers pay hundreds of dollars per year for the permits that offer exclusive discounts on postage. Most direct mail is sent using U.S. Postal Service (USPS) Standard Mail (formerly Bulk Mail), which offers prices as low as $0.128. The more addresses you send to in your local zip code, the lower the prices will be. To be eligible for these discounts, you need to send a minimum of 500 pieces for first-class mail, or 200 pieces (or 50 pounds of mail) for Standard Mail.
Sellers get these rates by doing work that the USPS would usually handle - including presorting, stamping, and delivering the bundle to the post office. Standard mail is significantly cheaper than first class mail but delivery times will be longer - seven to 10 days vs. three to five days - and you may experience a delay if you send standard mail during the holiday season.
Mailing lists (businesses and consumers)
While postage is the primary expense, the mailing list is the most crucial part of direct mailing services. If you don't invest in a quality, updated list, you could be setting your mailing up for instant failure.
Direct mail services sellers usually maintain mailing lists with hundreds of thousands of names of businesses and consumers that are viable candidates for receiving direct mail. They do extensive database work to remove outdated or undeliverable addresses. Most mailing list brokers provide guarantees that their lists will be accurate and updated and will provide replacement names if their lists perform below a certain level. (Read more about Mailing List Brokers).
The benefit to using mailing lists is that you can select various filters to hone in on the audience you want to reach. You can go after customers who have expressed an interest in the products you offer, or based on demographics, income, lifestyle, purchasing habits, and even credit rating. The more filters you choose, the better your response rate will be, but you'll pay more per-name for the most targeted lists. Request quotes from mailing list brokers to get started.
The most effective mailing lists for direct mail are those you generate in-house. By compiling the names and addresses of current customers, you have an instant qualified list of candidates. You simply need to maintain the list and keep it up to date. If you operate a smaller business, you might not have a large enough list to make direct mail worthwhile. Often, you can supplement your list with a seller's list to get to the minimum number of names required.
Printing and designing
Many sellers will do most of the mailing services work in-house but outsource the actual production of your mailer to a local printer. You can save some money if you have a contact that can do the printing for you and ship the finished materials to your direct mail services seller to begin the work.
If you have staff with a creative eye for design, they can develop the design of the mailing and send the file to the mail services seller. Otherwise, they can create a design based on your specifications for an hourly fee.
Once the design is completed, the seller will send you the final materials for proofing. Look for any syntax errors or design mistakes before approving it for printing. At this stage, you only want to make necessary revisions. Any additional work the seller performs can delay the mailing and/or cost extra.
Presorting, labeling, assembling, and delivery
This is most of the grunt work of direct mail services. Sellers use high-speed machinery to address and stamp thousands of pieces per hour - saving you and your staff countless hours, perhaps days, of work.
Depending on the type of mailing, sellers will affix address labels or use ink jet printing directly on the mailing piece. This process can also involve folding, stuffing envelopes, sealing or stapling together materials, or assembling various parts of a multi-page mailer. They then group the pieces together by zip code or carrier route before bringing them to the post office for shipment.
---
There are a number of critical aspects to pay attention to when comparing individual services if you hope to avoid an amateur operation. Find the best seller for your business.
---
Choosing a Direct Mail Company
The direct mail industry features sellers of various sizes and different levels of expertise in certain areas. While many sellers consider themselves "full-service" direct mail companies, they don't necessarily do all of the work in-house. They might do the addressing, labeling, and presorting at their facilities, but outsource the design work and printing.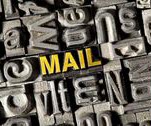 However, you only need to deal with a single direct mail company to work with your mailing from start to finish.
Most businesses prefer working with a single direct mail company rather than a slew of individual sellers. But don't overlook companies that only perform specific services, particularly if you are doing some of the work on your own.
Working with multiple service-specific sellers can provide some stability because each seller is an expert in working with that part of the mailing. However, you may not feel in control of your mailing since you need to get input from multiple direct mail service sellers at once.
The real difference between sellers is customer service. You want direct mailing companies that will not only be fully attentive to your needs, but is also easy to contact if you have questions or concerns.
Experience also goes a long way in the industry. A direct mail company that's been in business for 10 to 20 years has the longevity and a track record you can trust. Experienced sellers can also help you save money because they know where to find the best discounts, whether it's during the presorting process, or by employing a printing method that uses two colors rather than four without quality loss.
Contact several sellers before you do business with anyone. Find out what each direct mail company offers and then compare all of their services and prices before making a decision. In particular, learn what services they provide to help maximize your response rates. Never select a seller based on price alone. If something seems way too low, find out why. You don't want to risk getting stuck with a junky mailing list or amateurish design and copy.
The best way to gauge the type of operation a direct mail company runs is to watch them in action. Request a tour of the facilities and observe: are they busy? Is the material handled in a professional, organized way? Do they have the staff to handle your job? Are the salespeople knowledgeable? Did they ask questions to learn about your business before diving into a sales pitch?
As with any other purchase for your business, get references from direct mail companies before making your final decision. This is a great opportunity to find out what kind of experience another business had with the seller. If possible, request references of clients in businesses similar to yours. Ask questions such as:
Did the direct mail company work within your budget constraints?
Did the seller walk you through all of your options?
What did you like about the services?
Did the seller care about the quality of your mailing?
How quick was the turnaround time?
Did they do everything possible to get you the largest discounts?
How extensive was their mailing list database? Were you able to target the filters you wanted?
How accurate was the mailing list?
If a problem arose, did they notify you immediately?
Have you used the direct mail company for follow-up campaigns? Why or why not?
Did customer service give you the same amount of attention before you started the work and during the process?
Direct Mail Pricing
To launch a 10,000-piece postcard mailing from conception to fulfillment, expect to pay about $0.20 to $1.00 for each piece. You can reduce your costs if you do the writing, addressing, or design in-house, but you'll need to invest a considerable amount of staff time. In all, prepare to spend at least $3,000 to $5,000 or more for a full direct mail campaign. See what other BuyerZone users have paid for direct mail services.
Other direct mail options - four-color flyers, self-mailers, newsletters, and brochures - can raise your expenses by an additional $1 to $2 per piece.
Postage, your biggest expense, will account for $0.22 to $0.42 of that cost, depending on size and weight.
Mailing lists are priced per thousand names (CPM). You will pay anywhere from $0.12 to $0.25 or more per name, depending on the number of filters you choose. It also costs twice as much for business lists than consumer lists.
If you need design and copywriting work, expect to pay $75 to $100 or more per hour for one to four hours of work. These fees include proofs that you review for accuracy before the mailers are printed.
Printing can cost anywhere from $0.05 to $0.10 or more per unit. Larger postcards, multiple colors, or glossy stock, will add another couple of hundred dollars to your costs. Many sellers will require a minimum purchase on printing, but will offer volume discounts. Even if you only plan on sending 5,000 pieces, you may want to order more than you need. You can then keep the additional copies in storage for additional or follow-up mailings.
Direct mail sellers charge $0.03 to $0.15 apiece for the mail processing - labeling or addressing, presorting, and delivery. If you send mailers that require tri-folds or inserting, expect to pay an additional $0.02 to $0.05 each. Tabbing - small circular stickers to seal self-mailers or newsletters - costs $0.02 to $0.04 per piece.
Including prepaid reply envelopes will cost an additional $200 to $1,000 or more. Expect to pay even more - $180 to $500 - if you include return postage on those reply envelopes. Using four-color graphics can make your piece more attractive, but can cost $300 to $600 more.
Typically, a direct mail services seller can have your work completed in a guaranteed two-to-three-week turnaround. Doing some of the work on your own can not only save you money but also can get the mailing done faster. The timetable also depends on your approval of any proofs they send you - if you make changes, it can delay the entire process.
Direct Mail Buying Tips
Combination marketing. Using an additional marketing technique with your direct mail campaign can result in increased response. You can simply follow-up a direct mail with an e-mail or phone call to gauge interest and take any questions about your product or service. Avoid direct faxing: it's not only ineffective, it's illegal.
Self-addressing. For smaller mailings, consider addressing by hand. It is more personalized and could help generate better response rates, but will take you longer to complete. You can still use a direct mail seller for presorting and delivery.
P.S. — it works. Postscripts are a tried and true method in direct mail copy. Research shows that people who open direct mail scan the message for the opening sentence and the P.S. You could also consider a "Johnson box" - a one-sentence summary of your offer that features a way for customers to contact you.
Environmentally friendly mailings. If a seller specializes in using recycled materials, use it to your advantage when doing a direct mail. Not only will you save money on raw materials, you can let customers know that you used recycled stationary. You can also suggest they "recycle this mailing when done."
Recognizable file formats. If you are creating your own design work for your direct mail, ask the seller which file formats they use. It will help avoid delays and allow the seller to get started with your mailing immediately.
New dimensions. If unusually sized mailings are your preference, ask potential sellers about their capabilities before making any decisions. Most sellers can do dimensional mailings, but the processing will likely cost more since they can't run awkward shaped items through their machines.
People love freebies. Concerned about the stigma of junk mail? Most customers will look past an unsolicited mail piece if they are getting something for free. The freebie can be something concrete like a pen or refrigerator magnet, or a helpful list of tips for their business or personal life. Find out more about promotional products.
Ready to Compare Direct Mail Services Price Quotes?