Real-world Direct Mail Service Costs from BuyerZone Buyers
It can be hard to know exactly how much you should pay for a direct mail project. Projects can range from simple postcard mailings to hefty full-color catalogs, and can be tailored to suit many budgets. We've collected responses from other BuyerZone users to show you a sampling of actual prices other businesses paid for their direct mail projects.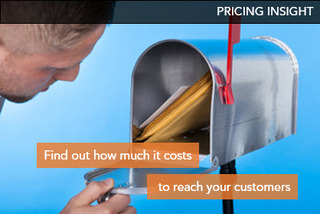 In most cases, the largest single expense of your direct mailing will be postage: it can account for almost one-third of the total direct mail costs of a campaign. Other costs - the mailing list, printing, designing, copywriting, and fulfillment - will vary quite a bit depending on which services you incorporate and exactly what you decide to create and mail. Experienced direct mail agencies often have quite a few tricks up their sleeve to help you get the results you want without breaking your budget, so it's useful to begin your search with a general idea on what you want to do, instead of an idea that's already carved in stone.
If you have the resources to do it, you can save money by organizing and mailing the materials from your office, but depending on the size of the mailing and who you have available to help, this may or may not be practical. Otherwise, a full-service mailing house will do all the work for you.
The four-color postcard is the simplest and most common form of direct marketing. It's also the least expensive and easiest to mail. Other forms of direct marketing such as mailers, brochures, newsletters, and catalogs can raise your costs considerably, but they can also provide better results if done correctly.
Direct mail rates for mailing postcards
"Total of about $700, including postage, for 1,100 two-sided full-color postcards printed and mailed to a filtered list of businesses based on our target criteria. We already had the design in Microsoft Word format, and the company provided the list, printing, and mailing services."

- Service Provider, Houston, Texax

"I was billed $965 which included a custom designed postcard, a 5,000-name mailing list, and printing and mailing of 5,000 postcards. Postage comes out to $950."

- Financial Services Provider, Philadelphia, Pennsylvania

"Color printing and direct mailing of 1,796 postcards: $898."

- Event Planner, Corinth, Texas

"$1,280 for 2,000 5"x8.5" postcards mailed first class and printed (full color front and back)."

- Retailer, Atlanta, Georgia

"3,471 postcards created by [vendor], size 5.5 x 8.5, including mailing to the saturation list for a total of $1824.34."

- Landscaper, Phoenix, Arizona

"1,000 postcards for $400 (which includes postage.)"

- Summer Camp Manager, Belmont, Massachusetts

"$1,300 for design, printing, mailing and use of mailing list for multiple uses."

- Realtor, Honolulu, Hawaii

"$765: 5,000 postcards including design, printing, sorting, and mailing."

- Retailer, Houston, Texas

"13,000 postcards with our design at $1,400 without mailing."

- Retailer, League City, Texas

"$2,500, printing and mailing our postcards."

- Marketing Professional, Chicago, Ilinois

"Approx. $3,000 for design and mailing of 5,000 postcards."

- Real Estate Developer, Oakland, California

"Approx. $2,279.62 for 5999 post cards designed, printed and mailed (postage included)."

- Restauranteur, Elk Grove, California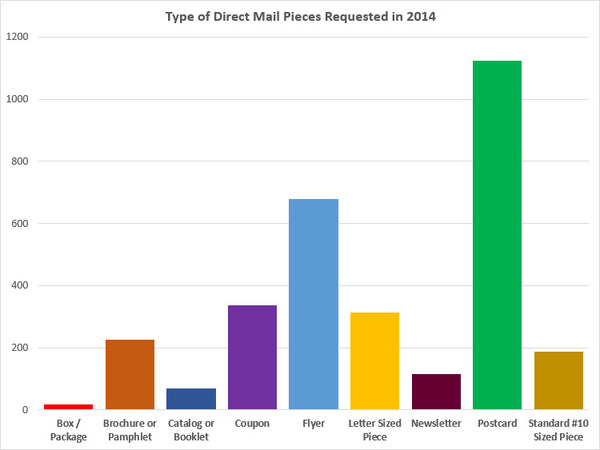 Types of Direct Mail Requested in 2014
So far in 2014 postcards by far have been the most requested mailing service. Below are what are customers paid to ship boxes and packages, brochures and pamphlets, catalogs or booklets, coupons, flyers, letter sized pieces, newsletters, and standard number 10 pieces, and other forms of marketing material. Find out how the direct mailing costs would be for these mediums of mail.
Direct mail rates for other types of mailings
"28 cents per piece. 100,000 mailer, variable data, scratch off, full color tri-fold, guaranteed delivery on truck to us( then we go to postal distribution center) Who's calling follow-up."

- Advertising/Marketing Business, Marina, California

"3,000 piece direct mail for $999 including postage, printing, mailing and email campaign also."

- Government Contractor, Henning, Tennessee

"I purchased a direct mail order for 1,000 pieces, and if all goes well, will go and grow from there. I currently spent $500 for my first mailing, not including the return postage. They also included free business cards in my order which was great!"

- Computer Hardware Retailer, Salem, Oregon

"Paper, print, mailing services, postage, and final delivery to the post office. 20,000 copies, 20 page magazine for $7,000."

- Financial Services Provider, Dallas, Texas

"60 cents per piece included 11x17 2-side printing, folding, sorting, labeling, postage, and delivery to post office."

- Real Estate Developer, Eagle, Idaho

"I paid $170 plus about $508 in postage to mail 2,000 brochures. They also offered a price of $500 to print 500 brochures."

- Auction House, Strafford, Missouri
Want more information on choosing an direct mail service? Read our Direct Mail Services Buyer's Guide.
Information was provided by BuyerZone users. Quotes have been edited for clarity only.
Ready to Compare Direct Mail Services Price Quotes?