How Do Companies Create Direct Mail Lists?
The success of your direct mail campaign is dependent on three features; your list, your offer, and your actual mailing piece. When you launch a direct mail campaign, your goal is target and reach local consumers, while focusing on specific geographic or demographic areas that match your needs. Creating a mailing list, in house, can be a low-cost, time-consuming task. Hiring a direct mail service to do the task, may cost you more, but may yield better results.
Finding addresses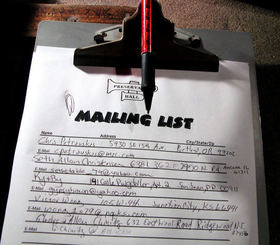 The addresses on your mailing list, will come from a variety of sources. Whether the information is based on geographic, demographic, or response lists, the addresses you acquire can be accessed from data on public record, or purchased from a private industry sources. Addresses obtained from past or current clients will can be used to supplement this list.
Geographic: Geographic lists are comprised of addresses within a specific zip code or region. These easy-to-acquire lists can be found in a phone directory.
Demographic: In order to target specific group of people, such as homeowners and higher income brackets, this data is collected from census reports or other types of surveys.
Response lists: Sought-after lists of consumer addresses who are known to have responded to direct mail offers. These addresses are obtained from companies that sell their buyer lists.
The best list
The mailing list that will best fit your business needs will depend on a few factors. The most important factor is your target marketing audience. Your list should be designed to focus on reaching a specific group of people, your target demographic. If those customers are in a specific income bracket, or zip code, let that information be your guide.
Most businesses need to buy or create lists that are more specifically targeted. For example, a roofing company wouldn't want to waste their marketing money, mailing advertisements to residents of an apartment complex. Their target audience would be homeowners, preferably those with older homes or roofs. This type of list is generally more expensive to create, but is more likely to yield a greater response and return on investment.
Direct mail is still one of the best ways to target local consumers and find new customers. A professional direct mail service, will help you create an appropriate mailing list for your campaign, to get the best results.
Your cost
Direct mail lists can be obtained in variety of forms. Whether you're looking to compile a list of businesses or consumers, your list will vary depending on the criteria. For example, consumer lists are available and broken down by age, home value, income, gender, and status. The cost will increase with each additional category, allowing a targeted list, with parameters you choose. A consumer list with 1- 5,000 records will cost .49 cents per record, and the price will decrease as the quantity increases.
Business lists with 1-5,000 records will generally cost a little more at the fee of about .69 cents per record, decreasing as the amount of records increases.
Ready to Compare Direct Mail Services Price Quotes?