Mailing Lists Introduction
While traditional advertising like magazine ads or billboards can be helpful in introducing your company's offerings to a wide audience, tracking actual results can be difficult.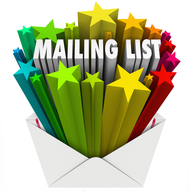 Direct marketing is often an effective way to connect with potential new customers in a measurable way. Mailing list brokers serve as your guide to this world, providing relevant lists of prospects for your marketing efforts.
Mailing list brokers offer contact information for businesses and people at home and at work so you can market to them. For example, they can help you get a mail list of businesses or consumers who have purchased products or services similar to yours, or who fall into the demographic profile or income range you're trying to reach.
This BuyerZone Mailing List Brokers Buyer's Guide will help you understand how mailing list brokers work, how pricing works, and how you can make sure you're getting a legitimate mail list from a reputable broker. You'll also learn what products and services to look for when you compare different brokers.
---
A reliable mailing list is like a good piece of fruit: the fresher, the better. And one of the most effective ways of ensuring the freshness of a mailing list is through direct targeting.
---
Response Lists vs. Compiled Lists
Most mailing list brokers actually get their lists through mailing list owners. Some owners simply manage huge databases of information for tens of millions of consumers and businesses. These "compiled list" databases are populated with information collected from various sources such as telephone directories, credit bureaus, and annual reports.
Other mailing list owners have more targeted databases containing detailed information from people who have either inquired about a particular product or service, or permitted companies to contact them. These "response lists" can range from people who subscribe to a specific magazine to people who have completed and returned their product warranty card.
How fresh is the list?
While brokers can't guarantee how much business a mailing list will generate, the "deliverability" - the percentage of names that actually reach their intended recipient - is crucial. List owners constantly add new data and prune outdated information to keep their lists accurate. The industry standard for deliverability is roughly 92%.
---
Sellers specialize in different types of lists, some offering highly targeted databases of potential customers.
---
Selecting Business & Consumer Mailing Lists
Depending on which section of the market you are trying to reach, brokers can provide both business and consumer mailing lists. Business lists are compiled from data collected from public business directories, annual reports, government agencies, and postal information. Consumer lists are compiled from sources such as phone directories, auto registration, driver's licenses, and government records such as birth certificates and marriage licenses.
Targeting your client base
Since a typical compiled list database has several million names, you'll want to narrow your search to a more specific audience. Most mailing list brokers provide several ways to target detailed demographics and purchasing habits by allowing you to choose specific "selects." To get an idea of the types of selects you can choose from, review offerings from different mailing list brokers.
Business-to-business lists can be narrowed by selects such as SIC code, annual revenue and employee size. Similarly, a consumer list may include selects for buying history, household income, location, and credit rating.
The more category filters you select, the more targeted your list will be. The significant benefit is that filtered mailing lists typically provide the best return on investment (ROI). However, such specific targeting comes at a premium: a targeted list will cost considerably more per name.
Mailing lists for the e-mail world
When working with an e-mail list, avoid "junk lists" which consist of e-mail addresses harvested from various web sites. These lists are often sold on CD-ROM at the cut-rate price of $99 for a million names and addresses. This could not only hurt your business' reputation, but it also is illegal.
Legitimate e-mail lists consist of true opt-in records. They can be obtained through various means - marketing research companies, surveys, and interviews. They are not addresses obtained from list swapping or compiling without permission. This ensures that your e-mail only goes to people that agreed to receive e-mails from companies. Many e-mail lists also have the ZIP codes available in order for you to target specific geographic areas.
Unlike a direct mail list where you will receive a hard copy of the names on a CD-ROM or through an e-mail message, you never actually receive the information on an e-mail list. The list broker will e-mail your marketing message on your behalf, track how many are being opened and then the "click-through rate." In accordance with the Can Spam Act, they also honor any requests by customers to "opt-out" of the entire mailing list, or the lists of particular sellers.
Whichever list you decide on, keep in mind that mailing lists are the property of the list owners. When you get a list from a broker, you are not buying it - you're renting it. Typically, you'll rent a specific mailing list for a one-time marketing campaign. However, you may choose to rent a list for unlimited use in a given time period.
---
OK, with a firm understanding of exactly what constitutes a valuable mailing list, it's time to find the best seller. As mentioned above, it's a specialized niche. So there are a number of considerations along those lines that you'll need to be on the lookout for.
---
Choosing a Mailing List Company
With thousands of response lists to choose from, a mailing list company or broker can help you find the best list by understanding your target market. Chances are if you have specific details for the list that you want, they can find one for you. By using the various selects available to target your search, brokers can work with you to closely define the type of clientele you are trying to reach.
If possible, look for a mailing list company who has experience working with clients who target the same type of customer you're trying to reach. Based on feedback from previous customers, these brokers can have a more thorough understanding of available lists and firsthand knowledge of what has worked and what hasn't.
Most brokers do not offer design and mailing services with their lists and instead recommend full-service firms that can help you get your materials into your customers' hands. However, there are some full-service brokers that will help with the design and analysis of your collateral, management of your in-house list and control of your database.
A reliable mailing list broker is NOT out for the quick sale. They will not promise you a list that they can't deliver. If your list requirements are too narrow with various selects, it may be difficult to create one for your marketing efforts and the broker will help you to broaden your search to create an effective list.
Also, ask the broker about their customer service and satisfaction policies. Brokers ultimately stand behind their services should the list have problems. While rare, problems can include excessive outdated or incorrect listings, or a list created using the wrong filters. If you get anything other than the list purchased, the broker should do whatever it takes to replace it immediately or provide a full or partial refund.
Mailing List Pricing
Standard compiled mailing list pricing is based on a cost per thousand impressions (CPM). The typical order is a 5,000 to 10,000-name minimum with a CPM of $100 (10 cents per name) for consumer records and $160 to $300 (16-30 cents per name) for business records. In most cases, mailing list brokers enforce a minimum charge of $500, regardless of the size of the list.
For response e-mail lists, the typical order size is 3,000-5,000 names. The average cost for consumer e-mail lists is a CPM of $250-$350. The CPM for a business list is $300-500. An "expired" list may be cheap to buy, but may cost your company more in the long run with poor response rates. On the other hand, a pricey list doesn't guarantee a higher response - remember, the most important goal in direct marketing is maximizing the response! Do a thorough review of mailing list details before choosing any one.
Direct mail is the most commonly recognized form of business-to-business and business-to-consumer correspondence - everyone gets mail. However, direct mail is also the costliest option. In addition to the list you rent, you have to factor in costs for designing and printing the mailing materials, postage, mail house fees to prepare and send the mailing, and fulfillment. Consider these total costs before renting a mailing list.
Before you even rent a mailing list, you need to determine how much you can budget for the entire mailing to determine what your "break-even point" is. For the average order of 5,000 pieces, expect to pay about $2,000 to $4,000 for the list, design, postage, mailing, and fulfillment.
E-mail has fewer additional costs, but there are still some. The primary expense is in the of your mailing. Plan on spending about $500 to $2,000 for an e-mail campaign, depending on what e-mail marketing services - e-mail management, tracking, and fulfillment - you need in addition to the list.
Mailing list success rates
It's hard to gauge just how successful a mailing list can be. For a direct mail list of 5,000 names, getting 50 to 150 responses (1% - 3%) would be considered a solid performance. For e-mail average success rates are considerably lower - 0.25% is common, and 1% can be considered a roaring success.
However, you should understand that there are no guarantees about the amount of business you can generate. Individual success will vary and will depend on the quality of the list, the tools and services that list brokers provide, and the effectiveness of your marketing efforts.
Understand too, that marketing in cyberspace is a completely different world with its own set of rules. Where mail has a fighting chance of getting open, emails may not even make it to a person's inbox. In 2005, MX Logic, an e-mail defense solutions company, reported that 77 percent of all e-mail traffic in 2004 (3 of 4 e-mail messages) was spam! This makes many consumers and businesses leery of e-mail marketing offers, even if they opt-in to receive offers.
You may also want to reach your prospects by e-mail through a follow-up direct mail campaign. Since e-mail costs less, it works well as a filtering mechanism to measure interest in your product or service for a more aggressive direct mail effort. If initial results are positive, you can then follow up with a direct mail campaign and help boost overall response rates.
Determining your Return on Investment (ROI)
Mailing list for direct mail
Mailing list for E-mail
5,000-name mailing list with 5 select categories - $500
5,000-unit E-mail list with 3 select categories - $300
Development of mailing deliverables, mail house services and fulfillment - $2,500
E-mail designed and sent to customers, tracking data - $500
Net costs - $3,000
Response rate - 1%
(50 new customers)
Net costs - $800
Response rate - 0.2%
(10 new customers)
Avg. new purchase - $75
Avg. new purchase - $110
Mailing list campaign resulted in a 25% ROI
($750 Net Revenue / $3,000 cost)
E-mail list campaign resulted in a 37.5% ROI
($300 Net Revenue / $800 cost)
Mailing List Buying Tips
Beware of faux bargains.
An "expired" list may be cheap to buy, but may cost your company more in the long run with poor response rates. Do a thorough review of mailing list details before choosing any one.
Run a test mailing.
Send multiple versions of your mailing to different subsets of the list, paying close attention to the results. Then send the most effective version to the rest of the list.
Plan ahead.
If you're expecting to purchase a mailing list, have a plan of action in place before you get it. If you have the general makeup for the deliverables, your timeline, and your delivery method, you'll be well prepared to put the list to work for you immediately.
Don't be seedy.
Only use the list as much as you and the broker agreed to. Brokers monitor how many times a list is used by including "seeds" - fake names that go to a real address controlled by a mail monitoring service. Use BuyerZone's free seller comparison service to learn which mailing list options they can offer.
Heads up!
Avoid e-mail lists that use "gibberish" characters or trick IP addresses to circumvent spam filters. Legit opt-in lists don't need to resort to such tactics.
Consider follow up phone calls
You can enhance your mailing efforts with a telemarketing program. Most mailing lists have phone numbers available as well. Using both methods in tandem can produce better results than either used separately.
Ready to Compare Mailing List Brokers Price Quotes?