Real-world Mailing List Prices from BuyerZone Buyers
Finding what others paid is a big part of doing research and comparing prices. We compiled some of our users experiences and the actual cost they paid.
These brokers can provide your business with a physical list for direct mailing, or an email list to setup or continue a marketing campaign. If you're not sure which would be a good choice for your business, get some more info by reading our Mailing List Brokers Buyer's Guide.)
Contrary to what many first-time list buyers may expect, mailing list prices are no different than email lists. While you only get email addresses and names, it takes time and resources to compile businesses that opt-in to receive email offers.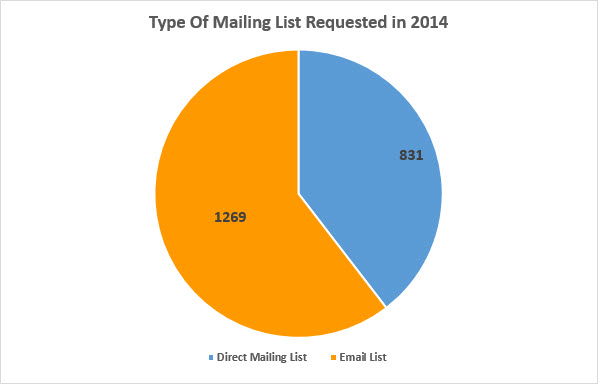 Type of Mailing List Requested in 2014
Both mailing lists and email lists can be targeted to your specifications, but you will pay considerably more based on the number of targets you choose. You also have to factor in the costs for designing, printing, preparing, and mailing your materials. For email campaigns, consider the costs of designing and sending the emails and tracking the results.
A quality list broker can't guarantee how much new business your list will generate, but they will guarantee a specific deliverability rate - usually above 90%. This means the brokers manage the data closely to add new names and remove outdated information so you only get accurate lists.
Unless the broker indicates otherwise, you don't actually purchase the lists - you rent them for one-time marketing campaigns. The delivery method you choose may impact the total price: a simple text file delivered via email will be cheaper than pre-printed labels.
Print mail list prices
"Mailing list according to my specified parameters. 3,750 labeled address for $165."

- Wholesaler, Sparks, Nevada

"I purchased a business listing which included 3,000 companies, contact names and addresses within the zip code I requested. I paid $363 for the listing."

- Consultant, Lithonia, Georgia

"$120 per 1,000 Names and Addresses - minimum order 5,000. Delivered via e-mail. This service was able to provide the list appropriate to our needs."

- Realtor, Port Saint Luice, Florida

"$635 for 6,500 customers with a specific zip code requirement as well as specific age of home. This included a multi-use list plus a disk copy of the list for us to have."

- Plumber, Oneco, Florida

"I paid $340 for 5,000 names all of local prospects."

- Retailer, Glendale, Arizona

"$3,300 for a saturation occupant-only list (family households; no businesses.)"

- Advertising Salesperson, Washington D.C.

"We paid approximately $5,000 for lists that included churches and religious organizations in specific regions of TX, CO, and WA. We bought from Six Channels because the other companies either did not have email addresses as part of their lists, or they wanted to handle all the B2B communications themselves."

- Real Estate Sales, Plano, Texas

"3,000 names for about $180. The names are supposed to be NJ residents AND interested in history AND who purchased a DVD or VHS tape on-line within the past year."

- Media Writer, Roseland, New Jersey

"$275 for 1,500 business names in RI, with a 98% deliverability guarantee."

- Advertiser, Tiverton, Rhode Island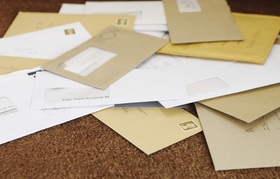 back to top
Email list prices
"$1,250 for email campaign including design and management to 10,000 contacts."

- Researcher, Wilmette, Illinois

"$800 for 10,000 email list distribution using my marketing campaign."

- Retailer, Plano, Texas

"$1,500/approximately 39,000 email addresses for VP, Director, and Managers of Marketing and Sales in the Twin Cities and 100 mile radius thereof in Minnesota."

- Marketing Partner, Minneapolis, Minnesota

"$1,600 for 27,000 email list (double opt-in.) Two mailings in campaign. Access to status of progress. Offering a free workshop local to email list."

- Consultant, Los Angeles, California

"E-mail campaign to launch new business: $2,000."

- Bookstore owner, San Antonio, Texas

"$1,500 for an email campaign to reach 750,000 opt-in people in CA, OR, WA."

- Realtor, Portland, Oregon

"$1,200 for 1,000,000 double-opt-in golfers."

- Marketing Vice President, Miami Shores, Florida

"$1,500 for 2.5 million e-mail ads a total of 4 times, which includes tracking and analyzing and support from an account executive throughout the process."

- Telecommunications Owner, Virginia Beach, Virginia

"$1,000 for 3 email blasts to 7,200 RV owners in Washington, Idaho, and Oregon."

- Hospitality Representative, Prosser, Washington
back to top
Click below to reach some local direct mailing list brokers in your area so you can get the best price today.
Information was provided by BuyerZone users. Quotes have been edited for clarity only.
Ready to Compare Mailing List Brokers Price Quotes?