Sophisticated Data Tracking is Changing Diner-loyalty Programs
Restaurants and institutions
Loyalty marketing programs can be as simple as buy-10, get-one-free punch cards. But advancements in e-mail technology and data tracking allow operations to communicate with customers and track their restaurant choices, frequency of visits, and spending habits and reward them for their patronage.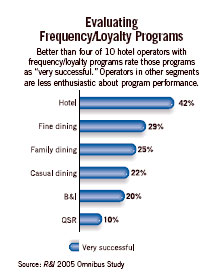 Restaurants know more about their customers than ever. From income to cuisine preferences, information collected by loyalty marketing programs allows foodservice companies to reward their most frequent diners and send mailings to customers who haven't visited recently.
"That is priceless," says restaurant industry analyst Nicole Miller, of Minneapolis-based ThinkEquity Partners. "Restaurants get to see their demographics, where are guests eating, are they coming in for lunch or dinner. They get to know who their customers are."
And the programs become a powerful draw for the restaurants themselves, giving loyal customers who dine frequently at one unit an incentive to visit its sister location or another restaurant in the rewards network.
"It's the tiebreaker," says Brent Carter, frequent-diner manager for Chicago-based Lettuce Entertain You Enterprises (LEYE), which operates one of the restaurant industry's oldest loyalty programs. "Given a choice for tapas between [a restaurant without a loyalty card] and [LEYE's] Cafe Ba-Ba-Reeba!, they choose us and the points. We get a lot of business that way."
It's true - two out of three customers with a minimum combined household income of $75,000 would be more likely to recommend a restaurant to friends or family if it had an attractive customer loyalty program. A solid customer rewards program will also encourage 35% of customers to visit a restaurant for that specific reason.
For many customers, an attractive loyalty program is one that fits with the times. Instead of offering a paper or plastic customer rewards card that can easily get lost or damaged, businesses like FlockTag now manufacture multiuse loyalty cards that are compatible with multiple restaurants. Customers can redeem their loyalty points by placing their wallet against a sensor - it's that simple.
Data mining
Salt Lake City multi-concept operator Gastronomy Inc. uses a frequent-diner program to collect data on how often its 18,000 members frequent its eight restaurants, what time of day they dine, the amount they spend, their addresses, and what locations they choose.
"If we have a customer who enjoys seafood and likes Mexican food, we can steer them from our seafood restaurant to our Mexican concept; that's a plus for us," says Judy Reese, Gastronomy communications director.
Customer dining data can be gathered from a number of sources, including:
Social media
Advertising response
Email
Customer surveys
Instead of relying on potentially outdated customer demographic trends, data reporting and analysis from social media sites like Facebook and Twitter can be converged with restaurant review site analytics from Yelp and OpenTable to provide a clearer picture.
On target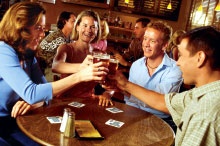 Rock Bottom Restaurant & Brewery units' Mug Club tracks visits and purchases.
Rock Bottom Restaurant and Brewery's Mug Club loyalty program collects data on how many pints of beer customers order and how frequently they visit. Members of the Mug Club can register conveniently online and will receive an electronic birthday card and special gift each year, as well as exclusive invitations to events like beer tappings and Brewer's Dinners.
When it comes to the success of the Mug Club, rewards are key; five visits will earn a customer a logo pint glass, and 50 visits will earn a Mug Club barbecue grill set.
"We can find anyone who hasn't visited in four months and give them an offer, such as a free tapping event," says Brian Lambert, director of loyalty programs for Louisville, Colo.-based Rock Bottom. "We can specifically target individuals based on that data, and it gives us the ability to wheel and deal with our guests."
While some small establishments may still use loyalty cards, traditional punch cards are expected to be replaced by tech-friendly rewards apps, like Belly. Belly is a start up company based in Chicago that offers another universal customer rewards program with bonuses from more than 29 different businesses, ranging from food to salons to pet groomers and more.
Most customers are attracted to a rewards app like Belly because of its simplicity and whimsy. All customer rewards will be stored conveniently in a smartphone for easy access; points will accumulate to provide off-the-wall bonuses, like 10 minutes of all-you-can-eat cupcakes.
Customer appreciation
Many operators say that one of the most valuable results of loyalty marketing is intangible: making customers feel that they're important to a restaurant.
Gastronomy awards the 100 biggest spenders at each of the company's nine restaurants with membership in its Premier Diners program. Members receive free valet parking and preferred seating, but company officials say that many of the elite group are happier about their status in the program than they are about its perks.
"People just like the fact that they're premier frequent diners, and the fact they have this special card is a big draw," Reese says. "They're our best diners, and they're recognized by the management staff."
Rock Bottom locations reward frequent diners with T-shirts, hats and gift certificates, but one of the most coveted loyalty rewards is membership in a restaurant's Half Barrel Club, awarded to Mug Club members who have ordered a total of 120 pints of beer.
"We put a plaque with your name on the wall," Lambert says. "That's the most important point to most of our members."
What's the impact?
According to BizGrader.com, 60% of customers feel loyal to a restaurant when they are enrolled in an email rewards program; 79% of customers are more likely to visit a restaurant frequently when they receive discounts and special offers.
Yet many operators say it is hard for them to precisely measure the effect their program has on sales. Data-driven programs can be expensive to administer and maintain. Mailing costs also can cut into profitability.
"They're an investment but they're not cheap," says Eldon Payne, chief financial officer of Gastronomy. "The metrics are really too varied, and it can be hard to measure their effect."
Let us reward you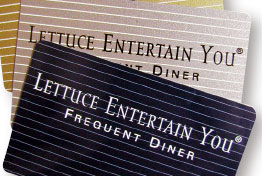 Lettuce Entertain You Enterprises (LEYE) began one of the restaurant industry's first large-scale loyalty rewards programs for its customers decades ago. Today, members of its Frequent Diner program can use their cards at over 70 restaurants in eight different states for food, wine, gift certificates, and specialty trips at Blue, Silver, and Gold membership levels.
As you may have guessed, LEYE is not to be outdone by smartphone competition. Frequent Diner Club members can conveniently access their rewards accounts by downloading the Lettuce Eats mobile app to their devices.
"Gift certificates are certainly the most popular redemption item," says Brent Carter, LEYE frequent-diner manager. "But each year we try to change the reward list a little bit so there are different things guests can aspire to."
Ready to Compare Gift Cards Price Quotes?