Gift Cards Introduction
With TV and radio advertising rates sky high and Internet advertising reaching only a percentage of customers, companies are turning to more focused and targeted marketing programs. Gift cards can be an inexpensive way to generate guaranteed sales, increase foot traffic, and raise brand awareness.
For less than $1 per card, you can set up a gift card system to handle gift certificates, loyalty programs, and even credit for merchandise returns. Customers can determine how much the gift cards are worth and recharge them when they run low. And since most gift cards are shaped like credit cards and feature your company logo, they fit easily inside wallets or purses, keeping your company's name fresh in the mind of the consumer.
Gift cards are becoming a significant part of the bottom line for some businesses, with the gift card market itself worth over $97 billion in 2010. Particularly sought after during the holiday season, millions of consumers buy some form of gift card, with nearly 60 percent of friends and family reportedly asking for them, according to a recent study by the National Retail Federation.
These days, it's hard to find any consumer-focused industry that doesn't offer gift cards. They've become a staple for coffeehouses, fast food restaurants, retail outlets, auto body shops, and hardware stores alike.
This BuyerZone Gift Cards Buyer's Guide will walk you through the various types of gift cards you can offer, the pros and cons of a card system, and the pricing involved in getting started.
---
Before you jump in and start comparing options and sellers, take a minute to familiarize yourself with the basics of gift cards. We've summed up the entire process in the four short paragraphs below. Get started here.
---
Gift Card Software & Systems Basics
A typical gift card system includes a supply of cards, software, and a display for your cards at the point of sale. These systems use special gift card software to track issued gift cards, installed remotely on your existing credit card terminal, POS system, or desktop PC.
Once a customer selects a gift card with a fixed dollar value or decides how much the card will be worth at the time of purchase, you activate the card by swiping it through a credit card terminal or PC. The card recipient can then return to the store at any time to use the value on the card with the buyer's purchases tracked in real-time through a central database. This system is far preferable to the old-style gift certificates as your business retains the full value of the gift if the value of the card is larger than the purchase total.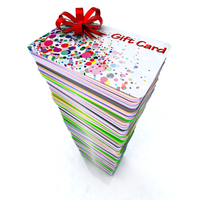 In addition to paying for the card itself, you may have to pay the gift card seller a small fee each time you activate a new account, and in some cases whenever a customer uses it.
Reporting is an essential component of any gift card system. With it, you can find out exactly who your customers are and what they're buying. The gift card software generates monthly reports and in many cases will provide a continuous stream of real-time data detailing buyer demographics, purchasing statistics, shopping patterns, and total transactions for all your active cards. Armed with this information, you can gauge consumer interest in certain products and measure the success of your gift card program.
As part of your gift card system, you also get access to customer service personnel via phone or Web for account questions and issues as well as gift card software updates when available. Sellers may supply you with an array of other marketing items to promote your program throughout your location.
---
Gift cards have become one of the most popular staples of modern business, from retail and fine dining to hotels and resorts. But depending on how you intend them to be used, there are a few different types to consider.
---
Types of Gift Card Programs
The most common use of a gift card is also the simplest - providing a fixed or customer-determined dollar value on an electronic card. Some businesses incorporate gift cards into larger marketing efforts. They create thousands of gift cards containing small dollar amounts - usually $1 to $3 each - and distribute them to customers via direct mail or hand them out in stores. Studies indicate these cards are redeemed at a higher rate than similar printed coupons and they also help promote your business.
You can implement a number of different programs for your electronic gift card system depending on what you want to offer. Options include:
Loyalty cards - one of the more prominent alternative uses of gift cards. They reward both frequent and occasional shoppers with a "points for dollars" system. Once customers complete a membership form, every purchase they make earns credits that can be used towards future purchases. Many retailers also use that membership information to enroll their loyalty members in a promotional program that delivers coupons and discounts via mail, e-mail, or social media, encouraging future spending while continuously keeping their brand in front of the consumer.


Membership cards - a variation of loyalty cards, this program rewards customers with exclusive discounts and special offers just for doing their regular shopping. Each time a card is scanned for a loyalty program, the database tracks the items that customer buys. Businesses use this information to create detailed demographic analyses to market more efficiently to customers, and to help determine how to stock their shelves.


Merchandise credit has also become a popular solution for returns without receipt or those that have exceeded the return period. Similar to any other gift card, merchandise cards, also known as store credit, enable you to keep the value of returned items in-house while at the same time distributing marketing material to your customers.
Multiple programs, same card
Electronic gift cards are capable of managing multiple programs at once. For example, a monetary gift card can also be programmed to work as a loyalty card. With different programs on the same card, the customer has a reason to keep the card instead of throwing it away once the funds are depleted. Setting up multiple programs on a single card also saves you money since you only need to pay a single transaction fee to activate the card.
---
You also have a number of options when it comes to design and technology. These choices can further enhance the simplicity and profitability of your gift card program by pairing the card's technical requirements with the levels of maintenance and usability you're comfortable with.
---
Gift Card System Design & Technology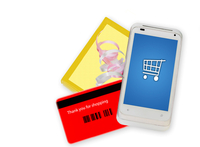 In addition to the different types of programs, there are other points to keep in mind when developing a gift card system.
Design
Most gift cards are the size of a credit card. You have two basic options for their appearance: custom designs that incorporate your logo, tagline, and similar branding material, or pre-designed templates. Don't get carried away with the design: avoid overly-elaborate patterns and busy color schemes that detract from your logo or message.
Technology
There a three main types of technology used for gift card systems, some more reliable, secure and affordable than others. These include:
Magnetic stripe cards, or magstripes, are the most common type of gift card. Magstripes work with most credit card terminals and can be used with a PC by adding a card swiper. Keep in mind that you may be limited to keeping the card design to a certain size - usually the length of a credit card - so it can be swiped through a terminal for activation. But there are always exceptions. Some modern magstripe cards have been reduced to a fraction of that size, allowing them to fit on key rings - an option that is used heavily for loyalty cards and even by some major retailers for their gift card programs.


Bar coded gift cards allow you to experiment with any size card that can hold a full bar code. This is another instance in which smaller plastic tags have proven to be extremely useful as consumers are able to easily fit them on any keychain. However, bar code cards require you to use a scanner or reader to activate them. If you don't already own one, you'd need to purchase one to use this type of gift card.


Smart card technology can be embedded into a computer chip instead of a central database, ideal for franchise businesses with multiple locations, allowing you to store account information locally on the card and saving the cost of maintaining a large database. That said, smart cards require special card readers that are quite expensive. And unfortunately, the lack of current standards and supporting infrastructure make them a less than ideal option for most gift card systems.
Activation
Depending on the dollar amount you want to invest up front as well as the added fees you're willing to absorb post-implementation, there are a number of activation methods, geared toward specific types of technology, including:
Credit card terminals - If you want to activate gift cards quickly and conveniently, credit card terminals work best. Most businesses already have terminals in place for standard credit card processing. As a result, this is the least expensive option for getting started with a gift card system. However, you'll have to pay fees each time you activate a gift card or when a customer redeems one.


PC-based system - A PC-based system lets you avoid transaction fees and gain control of all your data, but will cost several hundred dollars more up front. In addition to software, you may also need extra computer devices such as a special attachment for a keyboard or monitor for swiping the gift cards. PC-based systems also require staff to manage the software and run reports. In addition, costs continue post-purchase, with some sellers requiring additional fees for software upgrades and the replenishment of your card supply.


ASP activation - Short for Active Server Page, ASP activation allows you to set up a gift card by simply accessing a web site, entering the number on the back of the card and the value to be added, and then handing it to the customer. The advantage here is that the seller does all of the management. However, most businesses opt for a terminal or POS solution because of the familiarity it provides in relation to their existing processing equipment. They also don't want to compromise sales and transactions if their Internet connection goes down.
Online registration
Gift cards are bearer instruments - meaning that if people find a lost or stolen card, they can use the value. However, many retailers now offer the opportunity to protect the investment of a gift card by registering it. It's an additional measure of security and protection and lets customers feel they are using a safer alternative to cash.
Upon registration, customers are able to retrieve remaining balances and request replacement cards. In addition, their purchase behavior can be tracked, providing valuable data related to sales and promotions. At the same time, customers are also offered the opportunity to enroll in loyalty programs, further connecting them with your brand.
Registration can be completed at the point of sale or, more commonly, through your company's website, enabling customers to register from home and sign up for newsletters and additional communication.
---
With your ideal setup in mind, there are a few pointers that can help further ensure your gift card program is a success and that its ROI meets your business goals.
---
Operating a Successful Gift Card Program
Although a gift card program may seem like easy money, it isn't right for everyone. Here are some additional considerations to ensure your program will deliver the results you want.
Ensure profitability
Before you implement a gift card program, do the math to make sure you'll receive the desired return on investment. Factor in the costs associated with cards, transactions, startup, and monthly fees, then weigh that amount against the additional business you anticipate from a gift card system. In particular, if you're offering a loyalty program, carefully determine how much you can offer as an incentive while still realizing a strong ROI.
Make it easy to use
To guarantee speedy adoption, your gift card program should be easy for customers to understand and even easier to take advantage of. Don't make them jump through hoops to collect rewards. Give them all the details on how your gift card program works either through a printed brochure or a link on your website. If you need to make adjustments to your gift card policies, or cancel the program altogether, give your customers plenty of time – at least a few months – to redeem earned points.
Get the word out
Once you're sure the numbers work and you've crafted an enticing gift card program, it's time to let your customers know. Effective promotion is critical to your success. First, understand that "eye level is buy level." Always display gift card systems in highly visible locations, particularly near checkout lines to encourage impulse buying. In fact, since the cards don't have value until you activate them and are almost impossible to counterfeit, feel free to strategically place your cards throughout your location, even in places without supervision.

Many retailers large and small also promote their gift cards through third-party retailers, like local grocery chains or drugstores. In doing so, you not only increase the visibility of your brand but also enable one-stop shopping, providing the potential to buy your gift card without requiring customers to make an additional stop at one of your locations.
Remember that every unit sold through a gift card program represents two customers for your business: the buyer and the recipient. While you can only track results from gift card use, the person purchasing the card may buy something in addition, whether it's an impulse buy or something in response to a promotion. Even if they don't, a successful gift card program causes them to keep you in mind for future purchases.
---
Before you start speaking with sellers, you can save a lot of time and effort by creating a short-list of the best options.
---
Choosing a Gift Card Seller
A gift card company can set up a robust system tailored to your business in a surprisingly short among of time - typically anywhere from 3 days to 2 weeks. They're capable of providing a system that can process hundreds of gift card transactions per second for a nationwide restaurant franchise or an affordable solution for a single brick and mortar store. Be on the lookout for:
Experience and reputation
The gift card company you work with should offer a solid mix of experience, customer service, and industry knowledge to help you develop a program that works best for you. So before you sign up with any gift card company, find out how long they have been doing business.
In particular, look for a reputable seller that's been around a long time and has a good track record for implementing successful programs. You can never be too sure about the quality of a smaller, less-experienced gift card company. And a poorly produced and amateurish-looking card could adversely affect your brand image and resulting sales.
Compatibility
Experienced gift card companies exhibit fair business practices. You shouldn't do business with a gift card company offering programs that only work with their payment processing equipment. If you do, switching to a new payment processor later can cause problems for your existing customer accounts.
You may even have to start a new gift card program from scratch, which could lead to some very unhappy customers and some considerable damage to your brand image. So look for a gift card system and payment processing equipment that is compatible with multiple sellers.
Program management
If you don't have the time or patience to manage your program, a gift card company can set you up with a third-party database management company. In doing so, you can concentrate on building your business, while an outside seller manages the cards, the outstanding balances, and any customer service issues. However, it's worth noting that many gift card systems are fairly easy to manage yourself.
Questions to ask before signing up
If possible, get a list of customers the gift card company has worked with, preferably businesses similar to yours. Call or visit their locations and ask questions like:
Did the seller help design a customized system that worked for you?
Were they able to offer a solution that fit your budget constraints or system limitations?
Was the program easy to implement?
Does the gift card company offer 24x7 customer service and technical support?
How often does the system go down, if at all?
How responsive is the seller when you had problems?
Do they require contracts? And if so, were they clear and detailed?
Did the seller offer a live demonstration of the product before you purchased?
Was there a particular obstacle you faced in implementing gift cards? How did the seller help you overcome that?
---
We've compiled this data from a range of current BuyerZone customers located throughout the United States. It can help you budget accurately and also give you some bargaining power.
---
Gift Card System Pricing
A gift card system requires you to invest some time and money but the potential for strong ROI makes it an attractive consideration. That's because gift cards have a unique value proposition: there's no other product that a merchant can buy for less than $1 and sell for hundreds of dollars.
And that's also probably why 100% of big box retailers are now participating in gift card and rewards programs that allow their customers to redeem gifts and points either in-store or online. Similarly, about 30% of small businesses now participate in dual-redemption programs.
Getting started
In 3 to 15 days, you can get started with a basic gift card system for as little as $250 to $385. This option is a good way to test drive a program but isn't ideal if you anticipate a heavy level of adoption in relation to a new gift card program or are already working with a large volume of gift cards.
Depending on the seller you select, this package typically includes 100 to 500 gift cards with your company name on them as well as standard sleeves, an acrylic or cardboard POP display for your countertop, standard static cling decals and personalized card design. Many sellers also provide software that, in some cases, will enable use with your existing credit card processing terminals.
For larger orders, sellers typically offer volume discounts. The average gift card order for a small business is 500 to 1,000 cards and breaks down to a cost of around 77 cents each. Many sellers also include additional marketing materials with larger orders such as custom displays, detailed design work, and even promotional products like buttons, posters, and table tents.
Simplifying management through software
Most programs include some form of gift card software, an add-on that has developed considerably in just the past few years. With costs ranging from 'free' to a month-by-month fee or yearly contract, solutions vary extensively. For example, sellers providing free or low-cost software do so as an incentive to promote a basic gift card program, harnessing your existing credit card terminal to perform functions like reloading cards with a specific dollar amount or adding and subtracting loyalty points. This type of bare bones program has been shown to work well for stand-alone brick and mortal locations.
At the same time, businesses with multiple locations or larger programs have found increasing value at the higher end of the scale due in large part to the complexity and customization of the software. For around $25 per month, sellers can provide customized software that acts as a complete marketing platform, encompassing all gift-card and loyalty program activities.
These programs are often so comprehensive they even handle incentive-based marketing campaigns, managing your email database and sending out promotions on a regular or user-defined schedule. The monthly service plans generally include installation and the training of employees, though some sellers may charge an hourly consultation fee for either of these services. In addition, many sellers are now providing webinars that include detailed instructions as well as video tutorials, enabling you to continually train new or existing staff at your convenience.
Branding and customization
Customization is another aspect that has become standard in many offerings, with companies either including it as part of a month-to-month package price or offering basic customization for free, which may include your logo and other basic design elements.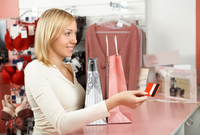 One thing to note: enhanced customization options, such as detailed graphics or die-cut card shapes, may take up to 3 to 4 weeks.
Transaction and monthly maintenance fees
A big factor in your costs will be the transaction fees for each gift card that you activate. This is where the sellers who provide many of the supplementary services for free make their return. To add and redeem funds, the average fee ranges from 12 to 25 cents per transaction. For gift cards, you pay either a higher activation fee for unlimited transactions or smaller fees each time a customer uses the card. For loyalty and membership programs, you typically pay a single fee at the time of activation. Some sellers waive these fees for businesses who subscribe to a monthly service package.
To process transactions and maintain your program, sellers may require a one- to three-year contract at $5 to $25 per month. Although, as mentioned above, some sellers on the higher end of the cost scale will allow you to participate in their program on a month-by-month basis. These costs cover reporting and fraud monitoring of your gift cards as well as customer support.
Card processing terminals
If you don't already own a credit card terminal, you can find an extensive range of countertop and monitor-mountable terminals on eBay for $150 to $250. You can also rent terminals for $15 to $20 per month. Your gift card system seller may be able to suggest a terminal vendor who may provide a discount as well.
The decision whether to buy or rent your credit card processing equipment is often directly related to the size of your business and your current cash flow. Though the cost of equipment typically makes it cheaper to buy, if you're low on cash or anticipate installation into a large number of locations, leasing may be the better option. Learn more about Credit Card Terminals.
Gift card System Tips
Keep designs basic. Novelty gift cards can certainly turn a few heads and look great on display. You can order cards with die-cut shapes and sizes as well as battery-operated versions that play music and display flashing lights. However, these cards can be difficult to carry around in a pocket or wallet. So it's best to offer a colorful, eye-catching design that conforms to the dimensions of a standard-sized credit card.
Branch out. You're not limited to selling gift cards at the point of sale or even in your own stores. You can offer commissions to outside businesses, including local grocery chains and drugstores, to display and sell your gift cards in their locations. While you pay a bit more out of pocket to give them the ability to activate your gift cards, you can dramatically increase your presence without taking up valuable retail space.
No expiration date. While it may cause accounting headaches, resist placing expiration dates on your gift cards. Not only will some customers hesitate to pay for value on a card that can be taken away, but the Credit CARD Act of 2009 actually makes it illegal in most states, prohibiting gift cards from expiring before five years from the date of purchase or when last reloaded and further prohibiting fees within the first 12 months of issue, whether they're store-issued or bank-issued gift cards. See this list of specific state limitations.
Virtual cards. Online retailers can still offer gift cards. Rather than a physical card, you sell "online certificates," also known as redemption codes, which can be redeemed for goods and services sold exclusively online. However, it's to your advantage to develop actual gift cards to mail customers after the sale. It's a strong marketing tool that reminds them to do future business with you.
Remember the faithful. One benefit to a loyalty program is to find ways to reward existing customers while recruiting new ones. If you have dedicated customers, they're going to shop with you no matter what. But you can't slight them in favor of winning new business.
By rewarding incremental behavior, you can thank your loyal regulars for their continued patronage while offering incentives to new clients to keep coming back. Providing a percentage of cash back on each purchase is one method of reward that has gained in popularity, with retailers mailing out rewards coupons either quarterly or on a similar schedule. This cash-back incentive tallies all dollars earned that can then be applied to future purchases.
Ready to Compare Gift Cards Price Quotes?