Advanced Copier Features That Will Save You Time and Money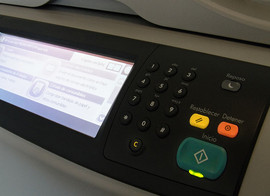 Businesses big and small rely on copiers for general office administration, including faxing, duplicating, and scanning. However, many businesses aren't taking advantage of advanced business copiers and the capabilities they can provide. These capabilities can increase efficiency, saving a company time and money.
Advanced copier features
When your business is buying a business copier, you need to consider the features and options you'll need, both now and in the future. Some features you'll want to consider include:
Touchscreen interactive menus. Gone are the days of complex navigation. New copiers feature large icons and simple step-by-step tutorials, much like those found on any tablet device, and therefore require far less training than previous models.
Wireless options. Copiers can be equipped with both hardwired and wireless options. This means the computers on your network can be connected wirelessly to the copier, allowing employees to submit copy requests from their desktop, laptop, or even tablet.
Image editing. Many advanced copiers also include features such as page numbering, watermarks, or dates added to all copies.
Emailing. If you only have a hard copy of an important document and you need to send it to someone out of the office, a copier that also scans then emails documents is a great addition to your business.
Sorter/stapler. Most advanced copiers can sort and staple in a variety of ways. Just be sure the stapler is internal and automatic. Some basic machines only include a manual stapler externally.
Document feeder. One of the most popular options among small to medium-sized businesses, a document feeder saves hours of manual labor when copying contracts or similar multi-page documents.
Document storage. With the predominance of MFPs in the marketplace, document storage has grown exponentially in recent years, with many models including hard drives that offer 60 to 80 gigabytes of storage capacity.
Security. As the rise of document storage continues, so too has the need to protect those documents - even from individuals within the same workgroup. Modern machines include optional security protection and authentication measures that include passkeys (swipe card), numerical codes, or even biometrics (fingerprint).
Advanced features prevent the need for outsourcing
With all of the advanced functionalities available, one of the biggest ways to save time and money on your copier costs is to stop outsourcing your copying needs and bring them in-house. Large copy jobs that involve sorting, two-sided copying, multi-size copying, color duplication, and binding can be done in-house with the right copier. This will save your business time and money by:
Reducing the cost per page. Even when paper, toner, and the cost of the copier are factored in, there is usually a smaller cost per page for printing your own documents.
Time spent sending and receiving documents. Even with email, it takes time to send instructions and then wait for the documents to either be ready and picked up, or wait and pay for delivery.
Convenience. When you have a last minute need for a large copying job, there is no guarantee that your printing services provider will be able to get it done on time. Having a copier that can do your large printing jobs on site makes it possible to do unexpected jobs in a fraction of the time.
There are many options to choose from when looking at advanced business copiers, so shop around to find the right one for your company.
Ready to Compare Digital Copiers Price Quotes?