Real-World Copier Prices From BuyerZone Buyers
There are a few different solutions when it comes to getting a copier for your home. Buying new, used, or leasing each have certain benefits. We've outlined each option below with some examples of what our visitors paid for using BuyerZone to solve their copier needs. Find out below which option will work for your business.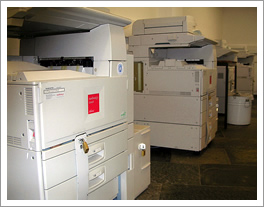 (photo: binaryCoco)
You generally have three options when you shop for a digital copier based on what you can afford to spend and how long you plan to keep the copier:
Buy new copiers - A new copy machine provides the latest technology that should last you for several years, but you'll pay the most out of pocket. Your costs will increase as you select faster speeds, more memory, and other features.
Buy refurbished copiers - Refurbished machines are usually fixed up to work as good as new. You may spend 20% to 30% less than a new copier, but you typically get only a 30-day warranty and existing mileage means it may not be as reliable as a new model. Learn more about what to expect when buying a used copy machine.
Lease new copiers - You'll make monthly payments and get potential tax breaks, but interest charges will cost you more over time. Leasing lets you decide what you want to do with the copier at the end of term (purchase, return, or trade in).
Most copier vendors will typically provide a limited-warranty on their machines; new copiers feature a one year warranty and refurbished units carry a 30-day warranty. Learn more about what to expect when buying a used copy machine.
To protect the copier after the warranty expires, vendors offer service contracts to cover parts and labor. Photocopier prices come in many flavors: either monthly or quarterly charges, up-front fees for the duration of the contract, or costs per copy. Service contract terms may detail a fixed number of copies over a period of time with nominal per copy charges for overages.
Shipping and installation is usually built into the costs. Training may also be included.
Used and refurbished copier prices
Digital copier pricing
Read more pricing examples:
"$5,588 plus tax for a very lightly used Konica Minolta bizhub 305C with booklet finisher and service contract at additional monthly cost based on number of copies made. All toner free to us, along with technical help and training free of charge whenever it is needed."

- Non-profit owner, Port Orchard, Washington

"Konica Minolta KM 2030 used copier for $1,995. Service contract for $495 (excludes toner and drum)."

- Accountant, Louisville, Kentucky

"$2,500 for used Ricoh Aficio 2035 copier - $500 service contract."

- CPA, Madison, Wisconsin

"$760. Reconditioned Ricoh Aficio 1515 copier, two toner cartridges, shipping, and sales tax."

- Lawyer, Key Largo, Florida

"We purchased a Konica Minolta 1610 - manual two-sided copying - 600 dpi resolution with stand and platen top for $1,262.63."

- Government official, Arcadia, California

"Pre-owned Lanier 5635 copier with print/scan option for $2,300."

- Consultant, The Woodlands, Texas

"I purchased two copiers, one used $2,200 (pretty standard B&W, sorts, scans, stapler), and a new one for $9,300 (B&W, color enabled, scans in color, faxes, staples - 31 copies/min.)" - Business Service Provider, Bridgeport, West Virginia
"Xerox Pro 416 (refurbished) copier, duplex, network print, 4 - 500 sheet paper drawers, and 50-page staple w/job separator. $2,595. 30 day warranty and full service maintenance to be billed at $25/month." - Educator, Northglenn, Colorado
"$2,100 for a refurbished copier. Also, a maintenance agreement for $30 per month for one year (or 24,000 copies.)" - Realtor, Littleton, Colorado
New copier prices
"$3745 for Xerox WorkCentre 7125 (new) with service @ $.010 for Black/wwhite & $0.08 for color (no minimum)"

- Office Manager, Worcester, Massachusetts

"New Sharp AR-M277, 27 pages per minute (ppm), 100-sheet feeder, sorter, two paper trays (500 sheets/each), and copier stand for $3,900 plus sales tax. One-year service agreement for $179 that includes 12,000 copies/year and $0.012 for each copy above that. Agreement includes parts, labor, and toner. Vendor guarantees two-hour turnaround time on repairs. Can trade-in this machine for a credit towards a future upgrade."

- Financial services provider, Doral, Florida

"$13,500 color, network, scanning, duplex, sorting. Includes 65,000 black & white and 35,000 color copies."

- Educator, Enfield, Connecticut

"Ricoh Aficio MP 2000SPF - digital imaging system - $2,999. Includes document feeder, auto duplexing, network printing and scanning, faxing capabilities, 11 x 17 paper handling, and hard-drive."

- Receptionist, Columbus, Ohio

"$6,769 purchase price for a full-color, 30 ppm Savin 3030 copier with scan/print, automatic document feeder, duplex, 4 paper trays (no fax or finisher). Service contract for $0.01 per black & white copy and $0.08 per color copier."

- Office manager, Columbus, Ohio

"We purchased a Lanier 425C for $9,170. We also have a monthly service agreement with Imaging Path at $0.015 per black & white copy and $0.085 per color copy."

- Retailer, Golden Valley, Minnesota

"Savin 2525 color copier with small finisher for $7,300 cash including tax. 5-year parts and labor warranty. Service includes all supplies (except paper and staples) at $.018 per copy."

- Construction business owner, Sacramento, California

"LD118D Digital copier with [automatic recirculating document feeder], stand, developer, two toner cartridges and service contract ($0.013 per copy over 3,000 per qtr) for $2,703 plus tax." - Advertising CFO, San Francisco, California
"$10,017 for a cannon 6065 with 40 GB hard drive, document management services & software." - IT Specialist, Portsmouth, New Hampshire
"$7,000 and $75/month for service contract. This copier included duplexing, auto-reversing document feeder, 1,000 sheet finisher, and an extra set of color toner. Complete set-up including networking and four hours of training." - Non-Profit Business, Jacksonville, Florida
"$6,350 or thereabout, the copier was priced at $5,400 and I purchased the fax and remote desktop faxing features as well. This is a Panasonic 3030 copier. I'm very happy with my decision thus far. My service contract is $39 for 3,000 monthly copies." - Insurer, Dallas, Texas
"HP Laserjet 4345 mfp for $2,597, plus $350 for installation, setup on network, training, and first year maintenance. Subsequent years' maintenance for $450, or $400 per year if multiple copiers purchased at one time." - Consultant, Huntington Beach, California
"$4000 Service $165.00 month-best service price w/ extended warranty, free shipping." - Non-profit Office Manager, Portland, Maine
"$5,890 - Copier, printer expansion kit, network scanner kit, fax expansion kit, job separator tray, cabinet, amp power conditioner. Service contract is 1.5 cents per page." - Plumber, Richmond, Texas
Copier lease rates
The standard leasing contract runs three to five years. Many vendors will allow you to renegotiate prices in between terms. You also have the option to buy the copier at a cut rate at the end of lease.
"$79 a month for a term of 39 months. A Ricoh Aficio MP 161 included maintenance and 1,000 copies a month plus service on our HP printers."

- Business services provider, Miami, Florida

"Leasing for $360/month for two copiers - one full size with finisher and fax card; the other a smaller model with color and fax capability. Both print 25 ppm. Service is another $120/month."

- Biotech researcher, Oceanside, California

"60-month lease for $67 per month. Royal Copystar CS2550 with scan, print, and fax. $35/month maintenance with $.014 per copy overages."

- Manufacturer, Dallas, Texas

"Lexmark xs748de $117/month 3 yr lease includes all maintenance and 2100 black and white prints per month."

- Realtor, Las Vegas, Nevada

"We contracted a lease agreement at $107/month with 3,000 copies/month for 60 months with a Xerox WorkCentre 123 black & white copier, very basic."

- Church office manager, Cleveland, North Carolina

"Royal CopyStar 3050 with all finishing, scanning, and faxing features, with full service package: $274/mo including tax on 60-month lease (includes buy-out of existing lease)."

- Attorney, Walnut Creek, California

"$312/month over 36 months. Konica Minolta color copier, scan, fax, print, network, saddle stitch, hole-punch, paper sizes up to 12" x 18", paper types from extremely thin to 140 lb. stock, duplexing. No service agreement, but dealer provided a loaner copier until mine arrived."

- Graphic designer, North Hollywood, California

"$201/month, 36-month FMV Lease w/1,000 copies, consumables (sans paper & staples), support, etc - included. Sharp ARM-277 (used - 6,888 copies) w/178 MB memory, 2 x 500 sheet trays, 100-sheet bypass, 100-sheet duplex feeder, ARFN5 Finisher (30-sheet staple), ARNS3 Network Scanning Kit, ARFX7 Fax Expansion, and typical service/support package." - Consultant, Highlands Ranch, Colorado
"$13,600 - 36 month lease with negotiate purchase option at 15% of purchase cost. Separate maintenance agreement with fixed rate for 36 months at 12,000 copies for .009 per copy - this includes all except paper. Excess image charge is $.009 per copy. Four-hour maximum response time." - Manufacturer, Paterson, Washington
"36 month lease at $45.90/mth. Service agreement $560/year-includes supplies and maintenance."
- Real Estate Office Manager, Plano, Texas
"Lease - $177 month. Sharp AR-M277 with staple/sort finisher. Service agreement - 1st 60,000 copies free; Thereafter, $.01/copy. Includes toner, maintenance, and repairs." - Educator, Van Nuys, California
"Color copier with saddle stitch finisher, scanning, faxing and networking capabilities. 36 month lease @ $370/month and $45 maintenance fee with black and white and color toner. $0.011 (B&W) and $0.02 (color) for overages." - Accountant, Orlando, Florida
"$701.50 for 36 month lease - Includes: Network print connectivity with scanning, duplexing, stapling finisher, maintenance agreement that includes all parts, labor, drum and toner. Also includes delivery and installation, network installation, and training." - Sales, Vancouver, Washington
"$175 per month; 24-month rental, all parts and labor included free per the terms of the Service agreement. Free installation and set up for entire office to network to copier. Included complimentary toner. The copier was ordered and delivered within 1 week!" - Real Estate Admin, Campbell, California
Want more information on choosing the right copier? Read our Digital Copiers Buyer's Guide.
Information was provided by BuyerZone users. Quotes have been edited for clarity only.
Ready to Compare Digital Copiers Price Quotes?