Copier Prices by Speed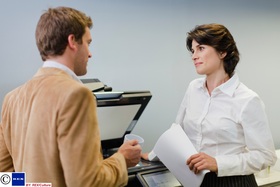 A fast digital copier is great to have around the office, but depending on the speed you select, it can also cost you. Fortunately for you, BuyerZone likes to check up on our past users to see how their purchases went. The following is a sampling of what businesses actually paid for their digital copiers based on speed and volume, so you can decide what your business needs.
Copier speed is typically measured in pages per minute (ppm) – the number of letter-sized pages the machine can produce in one minute at full speed. Business copier speeds can range from 15 ppm to 90+ ppm; the faster the machine, the more you'll pay.
Volume is another important consideration. A copier's duty cycle indicates the number of copies it can produce each month. Higher duty cycles carry higher price tags, but overworking a copier can quickly cause serious breakdowns.
When figuring out what speed and volume copier you need, you may want to consider a maintenance agreement. This provides you with replacement toner and protects your business against parts and labor costs should your copier break down. Copy machine vendors can build these fees into your overall costs, or charge you separately.
Prices for copiers 30 ppm or slower
Digital copier pricing
Read other BuyerZone digital copier pricing articles:
"Lease - Kyocera CopyStar CS3035 + maintenance agreement - 3 year lease - $144 per month - $395 per year maintenance; first 6 months free." [16 ppm]

- HR manager, Santa Clara, California

"$145.34 for 36-month FMV lease for a Kyocera Mita KM-2050 digital copier with duplex priting; network scan, print, and fax systems, 256 MB copy memory, and a finisher with one-position stapling. Service agreement of $250 for 15,000 copies or one year, whichever comes first for all supplies, excluding paper and staples." [20 ppm]

- IS owner, Exton, Pennsylvania

"$2,175 total ($1,995 for copier, $180 for service agreement). Xerox WorkCenter M20i: copier speed 22 ppm, fax, scanner, network printer. Service contract for one year. Three-year satisfaction guarantee."

- Health care partner, Andover, Massachusetts

"We paid $800 for a Kyocera Model 1820, plus $360/yr maintenance contract, which includes everything except paper." [18 ppm]

- Purchasing manager, Las Cruces, New Mexico

"Ricoh Aficio 2035 - 80,000 copies/month - $75/month plus $936/year service contract." [35 ppm]

- Transportation manager, Grand Prairie, Texas

"Sharp MX-2300N copier with MX-27ABD cabinet. 60-month lease for $177/mo. + service agreement at $.01 each for B&W and $.08 each for color copies with full service including toner. Agreement included everything except paper and staples." [23 ppm]

- Retailer, Saint George, Utah

"Xerox WorkCentre 4118 FAX, copy, scan, print with network card - $13,500." [30 ppm]

- Dentist, Berea, Kentucky

"We purchased a Konica Minolta bizhub 250 for $4,570 with free delivery, installation, 1 year of service. $375 per year service contract covering unlimited parts/labor and toner. Contract includes 30,000 copies per year and $0.0125 per copy thereafter."

- Construction contractor, Hyattsville, Maryland

"Panasonic DP3030 print/scan/fax 30 ppm - $5,000 plus $700/year service contract - 0% financing."

- Lawyer, Fairfield, Connecticut

"$4,880. Canon imageRUNNER 3025 - 25 pages per min, 50 sheet duplexing automatic document feeder, trayless duplex copying, two 550-sheet adjustable paper drawers, offset stacking, digital mailboxes."

- Lawyer, Waynesburg, Pennsylvania
Prices for copiers faster than 30 ppm
"Sharp AR450 with print, fax and scan and finisher $199/month for 36-month lease with a $1 buyout. Service agreement for $80/8,000 copies and $.01 for overage." [45 ppm]

- Lawyer, Morrow, Georgia

"$247 per month for 60-month lease including Sharp MX-3501N with inner finisher, stapling, software, 4 trays, right side exit tray, and supplies/maintenance for 30,000 black & white and 500 color copies annually." [35 ppm]

- Government official, Quakertown, Pennsylvania

"$8,000 Konica Minolta bizhub 500 - large capacity tray, network printer & scan, 2 bin multi-position stapling finisher. Service agreement was only $.0089 per page." [50 ppm]

- Financial services provider, Irving, Texas

"[Océ] Imagistic IM6020, with PostScript, network scan, duplex copying, finisher, 256MB RAM, and stapler for $12,250." [60 ppm]

- IT consultant, Lancaster, New York

"We purchased a Konica Minolta bizhub 350 for $6,100 including 4 drawers, fax, scan, stapler, and full networking capabilities." [35 ppm]

- General contractor, Jacksonville, Florida

"$5,000 for a new Konica 7145 copier, two more trays - $3,800 for a used Konica 7145 copier, two more trays. $160/mo. service contracts for both units." [45 ppm]

- Manufacturer, San Bernardino, California

"Canon imageRUNNER 5000 for $5,800. Black and white copier, printer, and scanner that we have connected to the network." [50 ppm]

- Consultant, South Windsor, Connecticut

"$7,399 - Canon imageRUNNER 4570; DADF document feeder, 512 MB RAM, 20 GB hard drive, mailbox memory storage, auto duplex, 2 adjustable 550-sheet paper trays, S1 stapler/finisher, cabinet, multi-PDL kit." [45 ppm]

- Non-profit administrator, Ridgeway, Virginia
Want more information on choosing the right copier? Read our Digital Copiers Buyer's Guide.
Information was provided by BuyerZone users. Quotes have been edited for clarity only.
Ready to Compare Digital Copiers Price Quotes?