New, Used, and Leased Copier Prices From BuyerZone Buyers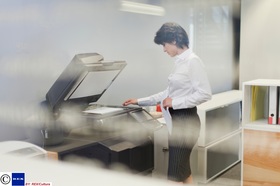 We regularly survey BuyerZone users to ask how their purchases went. We've used their responses to provide a sampling of actual prices businesses paid for their digital copiers, whether they bought a new copier,purchased used, or leased their copier.
You generally have three options when you shop for a digital copier based on what you can afford to spend and how long you plan to keep the copier:
Buy new copiers – A new copy machine provides the latest technology that should last you for several years, but you'll pay the most out of pocket. Your costs will increase as you select faster speeds, more memory, and other features.
Buy refurbished copiers – Refurbished machines are usually fixed up to work as good as new. You may spend 20% to 30% less than a new copier, but you typically get only a 30-day warranty and existing mileage means it may not be as reliable as a new model. Learn more about what to expect when buying a used copy machine.
Lease new copiers – You'll make monthly payments and get potential tax breaks, but interest charges will cost you more over time. Leasing lets you decide what you want to do with the copier at the end of term (purchase, return, or trade in).
Copier dealers may also offer a maintenance agreement as part of your purchase or lease, or provide one for an additional fee. A maintenance agreement helps keep your copier up and running, and covers parts and labor costs if the machine copier breaks down.
New copier purchase prices
Digital copier pricing

Read other BuyerZone digital copier pricing articles:
"$9,498.16 for three copiers (Konica Minolta bizhub C300, Konica Minolta DF-608, Konica Minolta DK-502). Includes two black and two color toners and a monthly service contract."

- General contractor, Las Vegas, Nevada

"New Sharp AR-M277, 27 pages per minute (ppm), 100-sheet feeder, sorter, two paper trays (500 sheets/each), and copier stand for $3,900 plus sales tax. One-year service agreement for $179 that includes 12,000 copies/year and $0.012 for each copy above that. Agreement includes parts, labor, and toner. Vendor guarantees two-hour turnaround time on repairs. Can trade-in this machine for a credit towards a future upgrade."

- Financial services provider, Doral, Florida

"$13,500 color, network, scanning, duplex, sorting. Includes 65,000 black & white and 35,000 color copies."

- Educator, Enfield, Connecticut

"Ricoh Aficio MP 2000SPF - digital imaging system - $2,999. Includes document feeder, auto duplexing, network printing and scanning, faxing capabilities, 11 x 17 paper handling, and hard-drive."

- Receptionist, Columbus, Ohio

"$6,769 purchase price for a full-color, 30 ppm Savin 3030 copier with scan/print, automatic document feeder, duplex, 4 paper trays (no fax or finisher). Service contract for $0.01 per black & white copy and $0.08 per color copier."

- Office manager, Columbus, Ohio

"We purchased a Lanier 425C for $9,170. We also have a monthly service agreement with Imaging Path at $0.015 per black & white copy and $0.085 per color copy."

- Retailer, Golden Valley, Minnesota

"Savin 2525 color copier with small finisher for $7,300 cash including tax. 5-year parts and labor warranty. Service includes all supplies (except paper and staples) at $.018 per copy."

- Construction business owner, Sacramento, California
Refurbished copier purchase prices
"$5,588 plus tax for a very lightly used Konica Minolta bizhub 305C with booklet finisher and service contract at additional monthly cost based on number of copies made. All toner free to us, along with technical help and training free of charge whenever it is needed."

- Non-profit owner, Port Orchard, Washington

"Konica Minolta KM 2030 used copier for $1,995. Service contract for $495 (excludes toner and drum)."

- Accountant, Louisville, Kentucky

"$2,500 for used Ricoh Aficio 2035 copier - $500 service contract."

- CPA, Madison, Wisconsin

"$760. Reconditioned Ricoh Aficio 1515 copier, two toner cartridges, shipping, and sales tax."

- Lawyer, Key Largo, Florida

"We purchased a Konica Minolta 1610 - manual two-sided copying - 600 dpi resolution with stand and platen top for $1,262.63."

- Government official, Arcadia, California

"Pre-owned Lanier 5635 copier with print/scan option for $2,300."

- Consultant, The Woodlands, Texas
Copier lease prices
"$79 a month for a term of 39 months. A Ricoh Aficio MP 161 included maintenance and 1,000 copies a month plus service on our HP printers."

- Business services provider, Miami, Florida

"Leasing for $360/month for two copiers - one full size with finisher and fax card; the other a smaller model with color and fax capability. Both print 25 ppm. Service is another $120/month."

- Biotech researcher, Oceanside, California

"60-month lease for $67 per month. Royal Copystar CS2550 with scan, print, and fax. $35/month maintenance with $.014 per copy overages."

- Manufacturer, Dallas, Texas

"Panasonic C322 color laser copier, scanner, and fax with finisher module. We leased the unit for 60 months along with a monthly service contract for $225. Monthly service contract is dependent on amount of usage."

- Realtor, Las Vegas, Nevada

"We contracted a lease agreement at $107/month with 3,000 copies/month for 60 months with a Xerox WorkCentre 123 black & white copier, very basic."

- Church office manager, Cleveland, North Carolina

"Royal CopyStar 3050 with all finishing, scanning, and faxing features, with full service package: $274/mo including tax on 60-month lease (includes buy-out of existing lease)."

- Attorney, Walnut Creek, California

"$312/month over 36 months. Konica Minolta color copier, scan, fax, print, network, saddle stitch, hole-punch, paper sizes up to 12" x 18", paper types from extremely thin to 140 lb. stock, duplexing. No service agreement, but dealer provided a loaner copier until mine arrived."

- Graphic designer, North Hollywood, California
Want more information on choosing the right copier? Read our Digital Copiers Buyer's Guide.
Information was provided by BuyerZone users. Quotes have been edited for clarity only.
Ready to Compare Digital Copiers Price Quotes?