Copier Ratings and What You Need to Know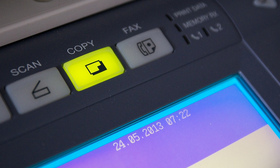 Copier ratings can be a bit baffling to the average shopper. All those acronyms and numbers can make it tricky to know what to focus on when reading product details. If you are shopping for a new copy machine for your office and need more information to make a decision, here is a quick guide on the ratings that matter.
Copier sizes and limits
Size or capacity refers to ratings that tell you how much work a copier can handle. This information can be provided in several ways. For example, many copiers come with a monthly copy volume -- the average number of copies per month that the model is designed to handle. This is an easy way to match a copier model to your own needs.
The lower-range copiers tend to handle around 8,000 to 10,000 copies per month without any problems. The mid-range versions handle between 20,000 and 40,000. The highest-quality copiers can produce around 75,000 to 100,000 copies each month. It is best to pick a copier that can handle more work than you plan on, just to ensure its proper operation and make allowances for future growth.
Copier speeds
Copier speed is usually given in cpm or ppm - copies or pages per minute. These ratings show how fast the machine can work. If your copier sees a lot of ongoing activity, this number is very handy for showing how useful a model will be in your workplace. Commercial copier ratings break down into six segments:
Segment 1: 11 - 20 ppm, but typically 15 - 20
Segment 2: 21 - 30 ppm
Segment 3: 31 - 40 ppm
Segment 4: 41 - 69 ppm
Segment 5: 70 - 90 ppm
Segment 6: 91 outputs per minute or more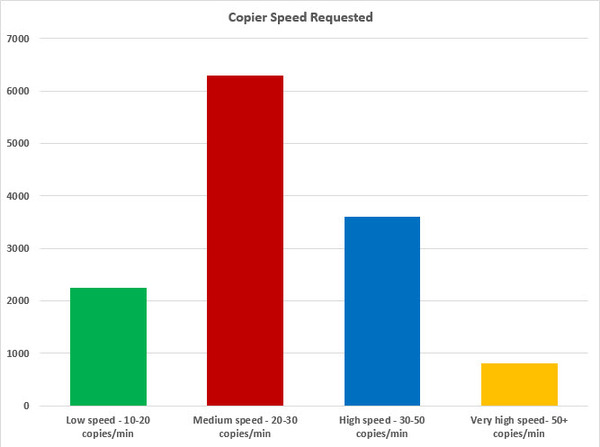 Copier speed requested in 2014
The largest and most advanced copiers rarely go beyond 80 or so pages per minute. On the low end of the scale, expect 15 to 20 ppm, which may be fine if your office does not rely heavily on copies.
The ppm number is backed up by a few other important ratings. One is the "first copy out time," which should show how many seconds it takes for a copier to produce one page when first being used. Around three to four seconds is good, but seven seconds is average. Based on the number of employees the speed will be a deciding copier rating factor in your decision.
Saving time and energy
If you want to save energy or run a green office, you should also look for EnergyStar ratings and other significant features that tell you the copier is not only fast but has low electricity requirements as well. Such features are often shown through labels and information about copier power modes and heat management.
When shopping, you should also remember to investigate the actual copier ratings for models, or the scores that other buyers have given copiers. Most online sites include some type of reviewing or scoring system that can give you valuable insights when you need further information.
Top copiers for 2014
With all of the above in mind, here are the top three copiers of 2014, based on a combination of user reviews and industry awards:
HP LaserJet Pro 200 MFP M276: Widely popular with small business owners and garnering an abundance of praise online as a result, the M276 is a wireless-enabled color copier that features touchscreen access to a wide range of business apps. Easily networked within an office environment, users can print from almost any location with the ePrint feature. It also offers an output of 14 ppm for color and black and white, a 600 dpi print resolution, and a monthly duty cycle of up to 30,000 pages. Priced affordably, expect to pay between $320 and $550 depending on the supplier. Great for businesses with low volume printing/copying needs.


Canon imagePROGRAF iPF765: With trouble-free cloud connectivity and the full range of copying and scanning functions available, this large format inkjet machine excels at storing, sharing, and accessing a limitless range of data in the cloud. Boasting 8 GB of memory dedicated to printing alone, it can accommodate print sizes up to 41" and features a 1,200 dpi resolution - ideal for specialty businesses that produce signs and banners. Prices range from $4,200 to $4,800. Great for businesses with mid-range volume and graphic-intensive printing/copying needs.


Ricoh MP C6003: The Ricoh MP C6003 series includes five separate models that provide comparable color and black-and-white copying and printing speeds, regardless of output. The series also offers scanning with optional faxing features. Retailing for just over $10,000, it's a robust workhorse, offering up to 60 ppm and a copy resolution of 1200 dpi. Great for businesses with heavy volume printing/copying needs.
Ready to Compare Digital Copiers Price Quotes?