Copier Purchasing Mistakes - Tips From Copier Dealers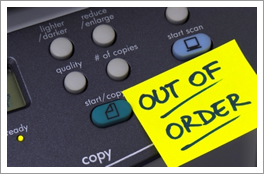 If your copy machine breaks down, you could see office productivity wane.
When you're going to spend thousands of dollars on a copier, you want to avoid making costly mistakes. By carefully assessing your copier needs and working with an experienced and knowledgeable copier dealer, you can avoid many of the common purchasing snafus that less-informed companies make.
BuyerZone's network of copier suppliers helps our users clear up misconceptions they have about buying copiers and tone down unrealistic expectations. They provided these great examples of typical purchasing pitfalls you should look out for.
Consider what you get for your money
It's important not to focus too much on the price tag. You also have to factor in the service you get when you work with a dealer. "Customers panic when they see prices that are considerably higher than those in a superstore," explains Jason Levkulich, Director of Marketing for NovaCopy in Nashville, Tennessee.
"They don't realize that many of these machines are low-end models that can't perform the tasks they're looking for. An experienced copier supplier provides hands-on service and support that you can't receive from a superstore. If you concentrate too much on price, you could end up with an under-performing copier."
Martin Jackson, Vice President of Copynet Office Systems in Plano Texas, suggests another purchasing decision that's more important than just price. "Find out how a supplier responds to a repair request," says Jackson. "Customers often focus too much on how quickly a supplier responds to a problem rather than how soon they can turn around the request. You want to work with a supplier that has the right parts to perform the job when you call."
Shop for the long term
A well-maintained copier will last you for years. Make sure you choose one that can keep up with your needs as business grows. "Customers frequently make the mistake of looking at their immediate needs instead of their future needs," explains Morgan McDonnell, General Sales Manager for United Business Solutions in Addison, Illinois.
"When you shop for a copier, you can't just consider what you need now. You must also look at the future growth of your business and predict what your document workflow (copying, printing, scanning, and faxing) will be three to five years down the road."
Pay only for features you'll use
It's easy to become engrossed by the bells and whistles offered by many copier dealers - but that can cost you.
"Make sure you'll use features before you pay for them," explains Russell Varing, President of Integrated Business Solutions in Montclair, California. "Some businesses think certain features like the scanning function will be useful, but your employees may never use it. If you don't plan to use certain features, let the dealer know so you don't needlessly add to your costs."
BuyerZone's copier suppliers can help you make the right purchasing decisions. Submit a quick request for price quotes and get matched to similar companies that will walk you through your options and find you the copier you'll be happy with for years to come.
Ready to Compare Digital Copiers Price Quotes?