Finding The Best Copier Companies
When buying or leasing copiers for your business, choosing the best copy machine company to work with is as important as choosing the right model. The best dealers will give you better, more reliable service and maintenance, making sure your copy machine runs consistently and efficiently for the duration of your relationship. If you start to prioritize saving a couple of hundred dollars up front over choosing the best dealer, you could easily wind up kicking yourself a few years down the road. We've put together some tips for making sure you wind up with right copy machine from the right dealer.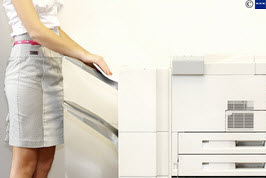 There are a few simple steps to making sure you get the best copier company. First, whether you use our free matching service or find dealers on your own, make sure you talk to at least four to six dealers before making a decision. This will let you see which companies want to provide the best copier for your needs, and which just want to sell you the most expensive model they can.
Second, ask detailed questions about each copier company's service policies and maintenance agreements. Get specific price quotes for all regular maintenance and for service calls: trustworthy dealers will disclose everything in advance and in detail. Ask what kind of training their technicians get and how large an area they serve, and find out what their typical response time is to a service request.
The best way to get detailed information on service reliability is to visit the company's shop and talk to the technicians in person. Ask them what their most common types of calls are, which copy machines need the most service, and what their professional background is. Even seeing the repair shop can help you compare one copier dealer to the next. If you can't visit the company in person, ask them for detailed info on their service personnel so you can evaluate their expertise.
Additional characteristics of the best copy machine companies
What makes one copier dealer stand out from another? Here a few specific characteristics to look for.
Take the time to understand your copying needs
Demonstrate a track record of success with businesses like yours
Have extensive experience with the brand and model copier system you choose
Willing to give you references to customers you can contact
Can provide loaners if your copy machine needs to go in for service
Can support you if your copier needs change, by upgrading features or providing additional copiers
Provide top-notch customer support: available via phone and email, during all your business hours at a minimum
All in all, the best copy machine companies are those that treat your business like a partner, taking the time to understand your needs so they can offer a solution that you'll be happy with. And the first step in finding the best copy machine company is using BuyerZone's easy digital copier quote request service to get connected to qualified suppliers in your area.
While you're looking for the best dealers, be sure to watch out for the creeps at the other end of the spectrum: the scammers. Many small businesses and nonprofits are targeted by office supply scams that try to overcharge them for supplies like copier toner.
Ready to Compare Digital Copiers Price Quotes?