Guide to Choosing Commercial Copiers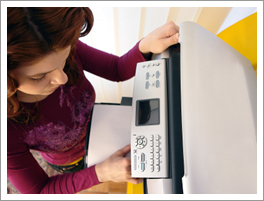 Known for their ability to handle high-speed and large-volume copy orders, commercial copiers offer a great solution for businesses looking to increase productivity and gain a competitive edge. Since contracts can lock you in with a particular model for several years, finding the best machine for your needs now will pay off in the future.
Features
Today's business copiers boast slick features and capabilities. These multifunctional machines can network with your existing computer equipment and can print, scan, fax, and copy, all within minutes. Despite a wide array of additional features to chose from, including added security, you can avoid a high price tag if you stick to the features most relevant to your business' daily operations: Even one or two rarely used extras can push the price up significantly.
When shopping for a new copier, make sure to vet potential machines by reading their reviews, and determine if they have a good track record with the functions you rely on most.
Volume Ratings
The right machine will comfortably handle your monthly output. All copiers offer rating numbers that clearly illustrate what kind of workload they can safely handle per month. Look at your records - or ask your office manager - to see how much paper your company uses every 30 days. Take that figure and tack on at least an extra 15 percent to anticipate variability.
To spare yourself the headache and hassle of service calls and costly repairs, consider investing in a commercial copier with a volume rating that slightly exceeds your needs. This wiggle room can give you the flexibility to increase your output and grow your business without having to trade in your copier so soon.
Despite the many benefits that a business-sized copier can offer, companies that produce fewer than 700 pages per month can save a significant amount of money by opting for a smaller, standard machine. Even with a fairly basic piece of equipment, you can probably meet all your office's needs. Service contracts typically don't exist for lower-end copiers, but a standard warranty can cover you in case of a hardware malfunction.
Copier Speeds
Copier speed typically ranks high on the priority list of office supply buyers. If you decide to invest in a commercial copier, consider how fast it can produce pages and keep your business moving in the right direction. When checking stats on your own, look at the pages per minute (ppm) rate. Most commercial copiers function at a rate of between 15 to over 100 ppm.
Generally, you can expect to find many options that fall within the 20 to 50 ppm range. While making your choice, keep in mind that higher rates often correlate with increased premiums.
Ready to Compare Digital Copiers Price Quotes?