Cloud Storage for Your Business and Digital Copier
Protecting information securely is a priority for every business owner and management team. How can you feel secure about the status of documents unless they are backed up and protected? While for years external hard drives and automatic backups were a secure solution, cloud storage has become the new format for digital copier hard drives, laptops, desktop computers, and more.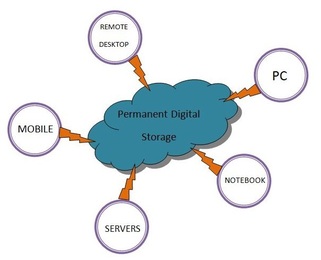 What it is & does
Storing information in the cloud is simple. Instead of storage you can see and feel in your office, storing "in the cloud" means using servers in a remote location. These servers are connected to the Internet, allowing you constant access while keeping the nuts and bolts out of the way. It is a solution for space and convenience.
Restrictions are removed entirely for companies using the cloud. If you and your employees need to travel around town, or the world, you cannot expect to be reliant on hard copies of important data. Cloud storage lets you access company files anywhere with an Internet connection.
This accessibility means you do not have to worry about forgetting a document you scanned or copied back at the office. The file will be stored online, and you can find it through your storage portal. In fact, you can decide whether you should continue printing images at all. Use the cloud as an image library for your company. If you are leasing a copier, it may be included in the lease terms.
Protection
Security is part of any package. Anyone who has ever worked extensively with a computer has had the experience of losing data. Putting your files into the cloud removes the risk that you will be faced with this dilemma again. Files can be immediately backed up in the cloud while employees work. It does not matter whether you are using a laptop overseas or a computer at your business headquarters. As long as the device is connected to your cloud, automatic backups are guaranteed.
The small commitment required of companies using cloud storage will drive competition among vendors. With any tech service, you have to worry about short- and long-term costs. Storage companies handle this service without requiring a major commitment. You can move your files between companies without a hassle when you decide it's time to move on. You can also set up storage on a trial basis to see how much your company will need in the long run.
Benefits of cloud storage service for digital copiers
There are advantages for your business when you synchronize digital copiers with a cloud storage service. Once your business enlists cloud service for your digital copier, users enjoy benefits of high image control and cost savings.
While an analog copier relies on toner particles to pick up an image, a digital copier instead uses a laser to digitally scan an image and store it in the device's memory. The image automatically uploads to a storage space in the cloud after it is scanned, once your business synchronizes its digital copier to the virtual holding space. According to The Data Center Journal, cloud storage increases each year and "by the year 2016, 62% of total workloads will be in the cloud."
Specialty providers offer companies space for rent within their storage infrastructure for a subscription fee. Under the plan, companies store documents for set periods in the cloud. While your business can manage servers that hold the documents online, subscription pricing is usually affordable. Plan prices rise according to the amount of storage required by your company.
Image control with cloud storage
Your business has high levels of image control when you synchronize cloud service with digital copiers. Once data uploads from copier to network, authorized users can instantly access the image by Web browser. You can save the image and edit it, as well. Conveniently save changes by computer or by mobile device to the cloud. You can also download the file to a computer or storage device, such as a USB stick.
Your business can also control who has access to virtual files. Adjust the settings to give specific users read-only permissions or assign editing abilities. Given sensitivity of many documents, the ability of your business to limit user access is an important feature of cloud storage.
Cost savings
Another advantage of using cloud service is cost savings for businesses. The image is accessible online by any authorized user. There is no need for users to print the document and fax or mail it. Instead, businesses assign access to people who need to view or modify the document. Printing levels decline substantially and companies spend less on paper, printer ink, and postage fees. With paper use down, digital copiers are also an environmentally-friendly option.
Accessibility of cloud storage service
Data stored in the cloud is accessible to authorized employees from any location and any computer, even if employees work in different offices. Employees can exchange files over the cloud and mutually collaborate on projects online, too. While they may sit at computers in different rooms or in different countries, they can work together on projects.
There are many benefits to syncing cloud storage service with digital copiers. Your business will enjoy long-term costs savings and high version control over scanned images within a secure online environment
Ready to Compare Digital Copiers Price Quotes?