High Volume or Lower Cost? Finding the Right Copier for Your Business
Having equipment that can handle major workloads makes sense for business owners and management who know that is what's required in their large company. But smaller businesses, or those just getting off the ground, may spend too much on rentals and purchases that provide more power than they need.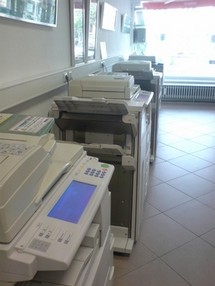 When considering a high-volume copier, remember that these are made for industries that require constant reproductions and print jobs. If that isn't what your company needs, think of economizing with a more compact model. Here are pros and cons of high-volume machines to consider.
Pros
Speed: High-volume machines can print more than 100 pages a minute. Training manuals for multiple employees, business plans for a group of investors, and information packets for clients can be printed while you're at lunch. That type of speed comes in handy when you need it.
Convenience: It's impossible to top the convenience of having a high-volume copier in-house. Production companies looking to copy screenplays and product testers who need to churn out information in chunks can save time and countless dollars that would otherwise be spent on print-shop services. High-caliber copiers can also handle email, store documents, and manage inter-office communication.
Image quality: You might think that the biggest machines could produce the highest print quality, but models like the Canon imageRUNNER 8500 can compete in every aspect. The quality of the finish is as strong as any small all-in-one, while its print speeds rank highly.
Cons
Cost: Machines that can produce in bulk, day after day, demand the highest prices. Start-up businesses with only a few employees or still working up to bigger print tasks can economize with smaller copiers. If you aren't sure which way to go, try leasing several models before choosing the copier that suits your needs.
Maintenance: With more working parts and more use, large machines are more likely to break down. Though the top Canon and Sharp models are light-years ahead of their awkward ancestors, you never know when an employee will load the paper incorrectly and jam the copier. Small machines are easier to fix on your own, without calling in a repairman.
Office space: A large machine requires a significant amount of office space. Compact machines won't force your desk into a corner or need their own room. If you're only renting a small office, be sure you need the high-volume copier before you let it take up much-needed space.
High-volume copy machines make sense for larger businesses that produce bulk print jobs on a daily basis. If you don't have the capital, space, or time for the big models, choose something compact and keep operations lean.
Comparing the two options
Popular models, based on user reviews and industry awards, include:
LOWER COST: HP LaserJet Pro 200 MFP M276: Popular with small business for its combination of powerful output and cost-effective price, the M276 is a wireless-enabled color copier that features touchscreen access to a wide range of business apps. Network-ready, any number of users can print from almost any location with the ePrint feature. Though the page-per-minute output is lower than other costlier models (14 ppm for color and black and white) it offers a 600 dpi print resolution and a monthly duty cycle of up to 30,000 pages, making it more than suited to any small business or office environment. You can expect to pay between $320 and $550 depending on the supplier.
HIGH VOLUME: Ricoh MP C6003: Designed for fast-paced offices with heavy workloads, the Ricoh MP C6003 series includes five separate models that can warm up in 20 seconds and recover from sleep mode in less than 10. Network-ready and capable of storing up to 3,000 documents in their queue, the machines in this series also provide comparable color and black-and-white copying and printing speeds, regardless of output. The series also offers scanning with optional faxing features. Retailing for just over $10,000, it's a robust workhorse, offering up to 60 ppm and a professional-grade copy resolution of 1200 dpi.
Ready to Compare Digital Copiers Price Quotes?