Best Digital Copiers for Small Businesses
When selecting copiers for small businesses, price is always going to be a major consideration. It is important, however, for the small business owner to consider more than just the lowest up front price when purchasing a copier. A copier that can't keep up with your volume or that breaks down when it's needed most will be more costly than choosing a more expensive but more suitable machine at the start.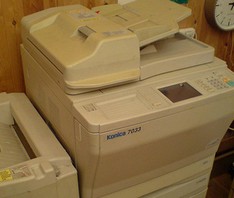 Estimate your copy volume
The first question you'll need to answer before choosing a copier is the expected copy volume. If you are planning to copy or print under 5,000 pages on your machine per month, you will be looking at a low volume copier. Low volume copiers will generally print between 10 and 20 pages per minute. New digital copiers in this range now have many of the features that in the past were only found on more expensive copiers, such as duplexing, sorting and enlarging, making them ideal for small businesses.
If you expect to copy significantly more than 5,000 pages each month, you should consider something in the mid-volume range. Most of these can print between twenty to fifty pages per minute and have quite sophisticated document handling features.
Choose additional features
You'll find that all copier manufacturers have a range of copiers for small business in each category. To decide which one is the best fit you'll need to determine what other features you might want. While black-and-white copiers are still the workhorses of the office, you might require a color copier to produce promotional material in-house.
Low and mid-volume copiers for small businesses also may include options for networking so the copier can be used as a printer, as well as scan and fax capabilities. Some copiers will include these as standard features; others add on modules for extra fees. Be sure to find out which features are standard on the copiers you consider and which will incur additional costs.
Among small businesses surveyed, three of the most important features are:
Duplexing and collating. Regardless of your monthly print volume, these are the two features almost all small businesses value the most when comparing copiers. They have the potential to save on additional costs, allowing you to print on both sides of a sheet, while enabling you to produce multi-fold menus, brochures, and pamphlets. In a similar way, collating will gather large sets into individual packets, saving you and your employees the often considerable time it would take to assemble those packets by hand.


Stapler. Also be on the lookout for an automatic stapler. Many small businesses reportedly purchase a copier only to discover after the fact that it either doesn't have one or includes only a manual version with the machine. If you routinely work with contracts or other multi-page printouts, having them stapled as they emerge from the machine is a must.
Cost considerations and estimated price tags
Once you understand the copier requirements for your small business, consider the cost of toner and maintenance for each machine that might meet your needs. You will want to find the copier that has the lowest cost per copy based on similar print coverage. When considering this, you should compare a monthly maintenance package or cost per page contact from your dealer with the cost of a service call and non-OEM print cartridges to determine the most cost-effective and hassle-free plan for your company.
The words "cash strapped" and "small business" always seem to go hand-in-hand, especially in a struggling economy. Although it might be tempting to purchase a copier purely on sticker price, the smart small business owner will look at the big picture when choosing a copier, not just the price tag, and will get the best machine for the best price.
With that in mind, top brands - most notably Canon, Copystar, HP, and Xerox - manufacture a wide variety of economical copiers designed specifically to suit the needs of small business. Depending on the features discussed above, you can plan on spending between $2,200 and $3,800 for a machine, with many models averaging about $2,800. This will get you a reliable name brand copier, supported through a national dealer, and an ideal machine that's suited to the unique print volume of your organization.
Ready to Compare Digital Copiers Price Quotes?