3 Signs Your Company Should Upgrade to a Multifunction Printer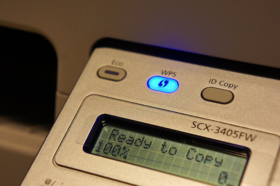 Every business needs equipment to run efficiently, including a printer, scanner, photocopier, and (in all likelihood) a fax machine. Some offices prefer each of these machines to exist separately. For others, a multifunction printer that handles these tasks in the same machine is a better solution. Here are three reasons your company might benefit from an upgrade to a multifunction device.
Your office feels crowded. As your company grows, you require more room for staff and core business functions. Office equipment can take up valuable space. Networking a multifunction device wirelessly to make it available to every workstation for various work functions saves valuable space, which then can be reserved for people and products vital to your core business.
Keeping up with consumables is time-consuming. With multiple devices, it can be difficult to keep an adequate supply of toner and ink in stock. If you find yourself running out of consumables or using up valuable shelf space with extra print cartridges for one or more machines, it may be time to consider a multifunction machine for your office. With only one type of toner or ink to keep track of, you'll find it easier to ensure you always have just enough on hand without running out unexpectedly or over-spending.
Saving energy and going green is a priority. Rather than plugging in a printer, copier, fax, and scanner separately--or worse, having unique devices for each workstation in your office--you can simply power up a single multifunction printer to do these tasks for your entire business. Go a step further and check that your printer is Energy Star qualified.
MFP types
Most manufacturers divide multifunction printers into several segments based on the level of functionality they provide and the type of business they're geared to. In particular, there are four general types:
AIO - These small desktop units are geared for home use or small offices and are now even capable of being networked via local Wi-Fi or Ethernet connection. This type is a standard all-in-one device that provides basic print, copy, scan, and fax functions. Expect to pay anywhere from $250 to $600.
SOHO MFP - A small office/home office MFP includes the same features as an AIO but upgrades the production output with add-ons that often include document storage through greater internal memory capacity, authentication functions, and security enhancements. These models also usually provide an automatic document feeder. Models within this range typically cost between $300 and $700.
Office MFP - Designed for mid-range businesses and those with larger volume printing and copying needs, the office MFP takes a big step up in comparison to the smaller two models. These machines provide high-end document storage capability, data encryption, and extensive security measures - given that many machines at this level are often networked among a large workgroup. Additional networking features typically include advanced scan functions that enable the reproduction and distribution of documents, both internally and externally, through easy to follow menus - all through a single machine. Starting around $450, models within this range can go as high as $4,000. But many quality versions can be found in the $2,300 to $2,800 range.
Production MFP - The largest type current available, these models are geared to those with high-volume print needs or those requiring an advanced level of quality and resolution in their printed materials. Though they don't typically have as many of the networking functions found in the Office MFPs, they more than make up for this lack through a combination of speed, resolution, image editing, and finishing features that include collating, stapling, and binding, among others. Easily costing $3,000 to $25,000 and above, you'll find many production models in the $10,000 to $20,000 range.
If you'd like to compare multifunction printers from a variety of different manufacturers, addressing the specific needs of your business, fill out our free quote request and we'll connect you with a number of qualified sellers in your area.
Ready to Compare Digital Copiers Price Quotes?