Plotter Cutter Purchasing Basics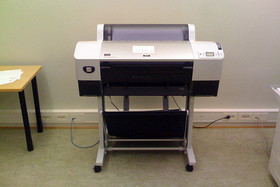 A plotter cutter is similar to a regular wide-format printer, except that it uses a cutting blade instead of a writing stylus or printer head. Instead of adding ink to paper, it cuts shapes out of raw materials, often vinyl. Plotter cutters are used to create packaging prototypes, signs, and to cut out letters. Cutting plotters can be set up as single function devices, or as multifunction tools that can both print and cut. If you are interested in buying a plotter cutter for your business, there are a few things you need to know.
Basic features
If you are looking to purchase a plotter cutter, there are three main features that you'll want to examine.
Size. First, look at the size of the machine. Since size is going to impact the cost of the machine, you don't want to buy a cutting plotter that is oversized for your projects. On the other hand, you also don't want to buy a plotter cutter that is too small to handle the projects you have on deck.


Force. Next you will want to look at the cutting force of the machine. Most machines will have a range of cutting forces that you can select from such as a cutting force range of 30 to 500 gf (gram force), so ask the dealer what cutting force is required for your application.


Cutting resolution. The final feature to look at is the cutting resolution. The cutting resolution will determine the fineness of the lines and grooves that you will be able to make. Cutting resolution is usually measured in millimeters per step.
Plotting cutters with printing
You can purchase plotters that both cut and print. One example of a combination plotter/cutter is the Aficio MP W7140en. This machine can handle 14 documents a minute and captures smooth B and W 600 DPI scans. The printing feature can be used to create photo-realistic prints or it can be used for contouring. The cutting settings can be set as synchronized on a job or you're able to set variable cuts for each print in a job.
Plotter cutter prices
What you'll pay is largely determined by the brand, the width of the plotter, and any extra features. In general, there are three main price ranges: $1,000 to $2,400, $2,500 to $7,000, and $14,000 and above.
For example, you can expect to pay from $1,200 to $1,800 for a functional 24" freestanding plotter cutter that includes a large LCD screen and full software suite, as well as new features like automatic paneling to split up larger print jobs. Within this price range, some models come with their own stand and some are designed for tabletops.
In the next tier, you have plotter cutters that technically start around $2,500, but most models within this level fall in the $3,200 to $3,900 range, with more elaborate machines going for $6,000 to $6,500. These are typically 48" to 64" wide and accept the full range of printable materials, including vinyl. Also, most models come with their own stand.
The high point is the flatbed plotter cutter, for which you can plan on spending anywhere from $14,000 to $103,000, with a number of models in the $20,000 to $26,000 range.
Whether you want to create decals, signs, heat transfers, displays, labels, packaging prototypes, short-run color graphics, or other materials, there's a plotter cutter out there that can match your needs. Click below to get in contact with suppliers in your area.
Ready to Compare Wide Format Printers and Plotters Price Quotes?