3 Aspects to Consider Before Purchasing a Wide Format Printer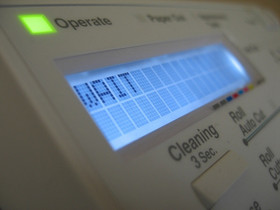 A Canon wide format printer enhances your business by providing the cost-effective printing of large-size documents, without compromising quality. Purchase the printer type that best meets your office needs by comparing the models below with these three factors in mind:
Ink system. Canon has three classes of wide format printers, and each class has a different pigment ink system. While the graphic arts devices are 12-color, the technical documents and general use line is 5-color. The MFP (multi-function product) imaging systems class, for production markets, has an 8-color ink set. With Canon's lines, your business can pick a device that's limited to only the ink set it needs to operate - providing a far greater ROI in the long-term than some competing brands.


Speed. Speed is another crucial purchase consideration. Your company likely wants to improve efficiency. After all, who doesn't? To help you accomplish that goal, speeds vary between the four Canon lines. In the Technical Documents category, the imagePROGRAF iPF825 prints two D-size pages per minute on plain paper. Compare the speed with the Canon imagePROGRAF iPF750, which prints one of the D pages in 28 seconds.


Size. Dimensions of the Canon printers also vary, extending from 17 inches to 60 inches. A major consideration for your office is how much space is available for the device. Select a printer that meets your page-size requirements yet also has dimensions that fit the available space. It's worth noting that many models that accommodate the larger dimensions are meant to be used on a tabletop or mounted on a stand. This can further help you fit a wide format printer into your space requirements.
Why purchase a Canon printer in particular?
If your business regularly prints posters, banners, and other documents larger than legal size, the wide format printer is a highly cost-effective addition to your business. Rather than outsourcing projects, complete them in-house to save the long-term time and expense of going to a print shop.
The advantage of purchasing Canon rather than a competitor is that you get a top brand name with a multitude of choices within its printer lines. According to a recent customer survey that took into account the full range of printer manufacturers - including Canon, Brother, Samsung, Dell, HP, Lexmark, Ricoh, and Xerox - Canon was among the top three brands, consistently rated "better than average" in 10 out of 13 categories that apply to wide format printers. These categories assessed problems with the printer, both on arrival and after use, as well as features that included: design, graphics, text, noise, and warranty. The only areas where the Canon was rated "average" were speed and connectivity.
Whether your intended usage is for photography, graphic design, production, or technical documents, there are four Canon families, and several models within each, to compare. These include:
Graphic arts printers - Ideal for graphic design houses, this series provides imaging through eight different models that use an 8-color or 12-color pigment ink system and print on materials from 17" to 60". Many models even provide borderless printing up to their full width.


Infographics and poster printers - Designed for businesses both small and large who are looking to reduce costs by eliminating the need for third-party printing, the two models in this series offer either 24" or 44" prints and optimized modes for stunning clarity and image reproduction, even on the largest of documents.


MFP Imaging systems - High-end documents have never looked better than they do with the five wide format printers in this series. Featuring the full line of MFP functionalities - copier, scanner, and printer - you can create high quality presentations and then share them with the touch of a button on a single machine. Available width options are 36" and 44", and each comes with its own stand.


General use and technical document devices - If you produce blueprints or similar technical documents, you have 10 options to choose from within this series, ranging from widths of 17" to 44". In addition to standard features, like borderless printing and economy mode, some models also include 80 GB hard drives and enhanced security features to protect stored documents.
Choose a Canon wide format printer that meets your demands for speed, ink set, and available space by filling out our free quote request. With your basic requirements in mind, we'll connect you with a number of reputable dealers in our national network who will be happy to do most of the legwork for you!
Ready to Compare Wide Format Printers and Plotters Price Quotes?