5 Questions to Ask Before Purchasing a Used Wide Format Printer
Any company used to outsourcing large format print jobs knows the considerable expense involved with these services. Regularly asking for blueprints, plans, and CAD materials from a print shop will drive up operating expenses. Used wide format printers are an option for anyone looking to handle these tasks on their own, but there are numerous considerations to make. Ask yourself these five questions before buying a wide format printer secondhand.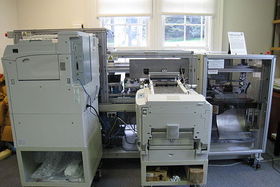 What is the print quality in its current state? With technology on this level, it is all about the superior print quality. Don't let a machine's reputation enter into the transaction. Run sample prints on whatever applications you plan on using, and test the printer's ability to deliver top-notch materials on every sheet.

Were there any repairs made during the warranty process? The papers accompanying a printer should be complete. Find out what repairs (if any) were necessary during the warranty period and beyond. You're better off passing on used wide format printers that have been in and out of the shop.

How much ink does the machine consume for typical jobs? Performance tends to slip as machines age, which justifies the price drop for every year a printer has been used -- and how often the previous owner(s) used it. Ask about the quantity of ink consumed by the printer. If the seller isn't sure, ask to see the receipts for printer ink purchases and match them against the regular output.

Are supplies readily available and affordable? Like a used car that only certain mechanics can service (pending your ability to find the special parts), you must be able to find supplies and purchase them at affordable prices for a used printer purchase to make sense. After gauging the cost of paper and ink, factor that into your budget for the coming months. Maybe a new printer's maintenance costs are more attractive.

Do tax deductions available for new equipment nullify the inherent savings? Section 179 deductions help businesses purchasing equipment to make larger investments. In the case of new equipment only, there is a bonus 50 percent depreciation available in the first year of filing. Talk to your accountant about the relative benefits of each course. Would a new machine be less expensive to maintain and actually justify the additional upfront cost?
Business owners can pick up used wide format printers for considerably less money than new models, but be sure to run down each consideration before committing to a machine.
Ready to Compare Wide Format Printers and Plotters Price Quotes?