Printer vs. Plotter: Which is Best for Your Business?
Sizing up the merits of a wide-format printer or plotter for your next equipment purchase? Depending on the models you're considering, they may be more similar than you think.
Here's how they compare.
Wide-format printers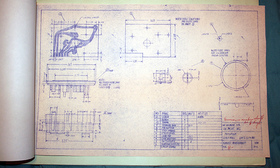 Wide-format printers produce text and images in widths ranging from 17" to 100". Graphics-centered in nature, these printers are used to print posters, banners, signs, and other high-resolution images.
The printers can be used with dye inks or pigments. Dye inks are available in a wide range of shades, but they lack UV resistance. Pigments are not as vibrant but stand up much better to the elements. Finished prints can also be laminated if they'll be used outdoors, allowing for a wider range of color choices.
Plus, a wide-format printer is capable of printing on a variety of media, such as:
Adhesive paper
Billboard paper
Canvas
Card stock
Coated paper
Some models also offer additional features like borderless printing and economy print mode. Borderless printing allows you to push your images and text all the way to the edge of the media (ideal for signs, banners, and posters), while the economy print mode enables high-quality prints to be produced with fewer passes. In this way, jobs can be completed twice as quickly, allowing for a streamlined workflow and faster processing of large files.
What is a plotter?
A plotter is a type of printer that's used for large-scale drawings and images. Traditionally created with engineering applications and similar computer-aided design (CAD) work in mind, plotters are also commonly known as CAD printers and were once used to produce printouts in monochrome colors.
In the earliest versions, plotter pens were used on paper to create the images. The name is still used, even though modern equipment uses ink cartridges. Depending on the machine, a plotter employs pigment-based inks, dye-based inks, or pigment-based UV inks.
As inkjet technology replaced the tradition pen style, modern plotters now use a small self-contained print head that moves across the paper – a feature that enables faster, higher-volume printing on intricate maps, blueprints, and schematics.
Unlike older models that were capable of only printing line art, recent plotters are now able to print high quality photos and graphics as well, greatly increasing the versatility and cost-effectiveness of the plotter. These printers combine the speed and lower running costs of a monochrome toner printer with the color capabilities that were previously only available in inkjet.
Comparing the two
If you're considering used models, the primary difference between plotters and wide-format printers is their means of production: traditional plotters reproduce images by drawing continuous lines where wide-format printers simulate lines by printing a series of dots in a specified resolution (which varies from machine to machine).
But that technology is a thing of the past. No manufacturers currently make "plotters" in the traditional sense anymore. With the integration of inkjet technology, the output and functionalities of the two machines essentially merged.
So when comparing a wide-format printer to a "plotter," you're basically looking at the same technology called by two different names. To find the one that's best for you, ignore the name and focus on the important features:
Pages per minute
Width
Resolution
Number of inks required (and cost of replacements)
Size of hard drive
MFP functions
And don't forget to take into account future business, in particular the types of projects you hope to land in the next year or two. Then shop around for the equipment that best fits your company, its goals, and budget.
Ready to Compare Wide Format Printers and Plotters Price Quotes?