How a Wide Format Inkjet Printer Can Benefit Your Business
Are you considering investing in a wide format inkjet printer for your business? This kind of equipment can add a number of benefits to your enterprise. It will allow you to print posters and other types of graphics that you would not be able to generate from a regular sized printer. Having this kind of equipment in-house means that you would not have to rely on outside providers for this type of specialty work.
How Inkjet printers work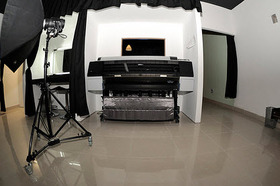 An inkjet printer uses a print head that contains several nozzles which spray drops of ink onto the paper or surface being printed. The printer uses cartridges for each ink color. In the case of a digital wide format ink jet printer, toner would be used instead of liquid ink. This product has the advantage of being less messy, since it is in a powder form.
During the printing process, the printer sprays dots of color at each stop along the page. CMYK (cyan/magenta/yellow/black) colors are used at each stop to make the colors used for each print job. Once each pass has been completed, the paper feeder advances the sheet slightly. The printer head either reverses direction or resets to the beginning of the page and starts its pass across the page again. The process continues in this back-and-forth motion until the page has finished printing.
In most cases, the ink dries very quickly. You should be able pick up the finished work shortly after the job is completed without smudging it.
Droplet technology system and large format printer
Wide format printers use the droplet technology system. The dpi (dots per inch) of the print job will not be seen when the image is printed on plain paper, vinyl, poster paper or any other medium. The image will be sharp every time.
Benefits of wide format Inkjet printers
Speed: The main benefit in choosing a wide format printer is speed. It is possible to print several large posters in an hour. All of them will feature high-quality graphics.


Flexibility: This type of machine can be set up to do short runs including a single prototype, if necessary. This degree of flexibility means less waste and more efficiency since you can customize jobs to suit your specific needs.


Consistency: The printer does not distinguish between images and text when running a job and will print out both items correctly. You will not need to worry about text getting scrambled into the company logo or an image when running this format.


Easy paper loading: Many wide-format inkjet printers use large rolls of paper to allow for big print jobs. They're easy to load and last for quite a while.


Automatic head alignment and cleaning: Many printers designed for professional use are equipped with automatic cleaning technology so you won't need to worry about ink buildup ruining a printing project.


Professional print quality: Wide format inkjet printers give you the benefit of high performance and a clean, crisp and professional-looking printout. Whether you're printing photos or promotional signs, you can create projects that look like they came from a professional printer.
Drawbacks of wide format inkjet printers
While buying a wide format printer offers several benefits, it also has some drawbacks:
High price of ink: Many printers use specialty ink cartridges that can be expensive to replace on a regular basis. Buying high quality ink is recommended, as this prevents blurring and running.


Risk of ink clogging: Even with automated ink cleaning mechanisms in place, inkjet printers do run the risk of accumulating dried ink in the print nozzles, which may end up needing replacement.


Limited printer lifetime: Constant use can wear down inkjet printers relatively quickly, and you may need to replace or refurbish some parts. Eventually you may need more ink than usual to maintain a high quality print job.
Managing your printing projects in house can save you time and money, but choosing the right type is crucial. Wide format inkjet printers offer several benefits for both small and mid-sized companies. Reviewing these benefits and drawbacks can help you make the most informed decision for your investment, but the best bet is to talk to a qualified dealer who can help you understand the pros and cons of every type of printer.
Ready to Compare Wide Format Printers and Plotters Price Quotes?