Tips for Understanding Home Generator System Reviews
Home generator systems are useful equipment not only for your log cabin in the woods, but also for your home in the city. Blizzards like Nemo and hurricanes like Sandy can mess up power generating plants and their grids for days, leaving your home without electricity.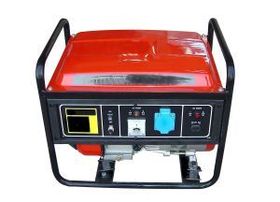 Before another one of those weather disturbances occur, it is prudent to get a back-up power generator. But before you pull out your credit card, read up on home generator systems reviews to find out what others think.
The trouble with such reviews is that they can be filled with jargon only engineers understand. Unless you have talked with an expert or read one of the many how-to-buy-a-generator articles on the Internet, you may not understand what those figures and abbreviations stand for.
Here are some helpful tips and definitions to walk you through reading and understanding reviews:
Watts
One of the first sets of numbers and letters you encounter is "8kW," "60kW," or "5,500 watts." The initials "kW" stands for kilowatts so that an "8kW" is the same as 8,000 watts. But what exactly is a watt or kilowatt? Watt is a measure of the use of electric power over a specific period, which is usually expressed in hours, hence we have the terms watt- and kilowatt-hour.
A coffeemaker described as 800 watts uses that much electric power in one hour. A generator labeled "8kW," therefore, means that it can supply power to appliances with a collective consumption of 8,000 watts per hour.
Number of watts
Before deciding to purchase a generator, you need to identify which of your appliances you want to keep running in case of power outages and add their total wattage. These figures are usually indicated at the back or bottom of the appliances.
Typically, an 8kW generator can run your refrigerator, TV set, microwave, sump pump, and ten lights. If you want to operate your computer, stove, washer, dryer, water heater, freezer, and whirlpool tub as well, ask for a 60kW.
Wattage ratings
When looking at permanently installed generators, you will sometimes notice that the wattage rating is followed by "(LP)" or "(NG)." These stand for liquefied propane and natural gas, respectively, which means that the machine can run on either type of fuel.
You will also notice that the wattage associated with LP is higher than those linked to NG. This is because generators produce more power when fueled with liquefied propane.
Voltage versus watts
Also included in the specifications is the voltage, which, in the United States, almost invariably reads "120V/240V." Wikipedia defines voltage as "the electrical potential difference between two points." There is really no need to understand this jargon, but you can think of voltage as being similar to the pressure of the water running inside a garden hose. Virtually all homes in the US run on 120V systems, although you can request a supply of 240V electricity from your power supplier if you have equipment (such as centralized air-conditioning systems and electric furnaces) requiring it. A generator with a voltage specification of 120V/240V, thus, can operate even power-hungry equipment.
Home generator systems reviews often include other numbers in their specs. Wattage and voltage, however, are the most important to understand in order to make the best decision on which machine to buy.
If you work from home or simply need to stay connected, long-term outages are out of the question. The situation has prompted homeowners to purchase home generators. Frequently, those consumers post a review of their home generators on the market.
Their experiences make for valuable research on your part, in addition to other finds on the internet. Based on all those sources, from gas and diesel-powered models to natural gas machines, here are the top options for permanent backup power.
GE generator sets
Home and business owners will find multiple options from the General Electric website. Their specialty is natural gas machines, but all of their generators have proven to be reliable when power outages occur. The major decision will revolve around the accessibility of gas or diesel in your area.
Also, consider the safety concerns of storing natural gas before deciding against diesel-powered options. The 48 kw model with Vortec V-8 engine may be the best non-diesel generator offered online. It can power an entire house's worth of electronics and appliances.
Generac
Generac's automatic standby generators deliver instant backup power when storms cut through the local utility company source. For maximum performance without expanding your carbon footprint, the EcoGen series is the choice to make.
With the ability to power via propane and the stamina to last 500 hours without requiring an oil change, it is a sturdy power source that helps homeowners conserve energy when times are at their leanest. The EcoGen series is also famous for its quiet operation, which diesel machines struggle to match.
Briggs and Stratton
This company's natural gas-powered generators are respected as industrial-grade machines, but they work for homeowners as well as business owners. Efficiency is the key to powering a home after a blackout or extended outage. Their generator sets and transfer switches provide terrific value with either LP or NG fuel. The Essential Power Plus generators by Briggs and Stratton have lower kilowatt ratings but can power smaller homes with ease.
Permanent standby home generators make sense for property owners across the country, as you can never be sure when the next disaster will strike or how long it might leave you in the dark. To be sure you'll have fuel in gas grid power disappears, stock one week's worth of fuel. Even with the best home generators, planning ahead is essential.
If you need more information or help acquiring a generator, BuyerZone can help.
Ready to Compare Home Generators Price Quotes?