Selecting a Commercial Ice Maker
A commercial ice maker is necessary equipment for hospitals, food service industries, restaurants, bars, and nightclubs to produce ice for consumption and preservation. When it comes to buying this type of commercial machinery, selections are vast. Even a basic commercial ice maker may come as a self-contained undercounter unit, combination unit, or individual modular unit. Ice may be dispensed as cube, nugget, flake, or in combination.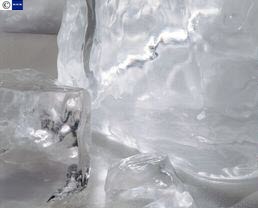 Buying guidelines for commercial ice makers
If you're wondering where to begin in purchasing a commercial ice machine, here's a quick reference guide to consider before you buy:
Types. Cubers create ice in cube form for drinks in restaurants, bars, hotels, convenience stores, and fast food establishments; flakers create shaved and crushed ice for packing and molding in hospitals, health care facilities, and research laboratories; nuggets create chewable, pellet ice for fountain drinks, cocktails, smoothies, and salad bars.


Production. Make several hundred pounds of ice per day on average, up to more than 2000 pounds per day in large modular units; hold 24-344 pounds of ice in a separate collection bin at one time. May include water sensor in larger units to prevent no or low water failure in adverse water conditions.


Purchase options. Single units including the ice maker, condenser, and storage compartment or each component purchased separately; accompanying accessories may include ice storage bins, ice dispensers, ice machine water filters, remote condensers, and ice baggers.


Space considerations. Placed under counters or stacked to conserve floor space; large modular units are built with space-saving design, often offering side-by-side machine operation with front and rear air exchanges.


Needs by industry. Fast food: 0.5 to 1 pound per customer per day; Restaurants: 1.5 to 2 pounds per customer per day; Bars/nightclubs: 3 pounds per customer per day.


Pricing. Cubers range from $2000-$8000; flakers range from $3000-$9000; nuggets range from $3000-$10,000.
Should you buy a used commercial ice maker?
Furnishing a restaurant, hotel, or hospital can get expensive. Before you know it, you may have maxed out your budget on tables, chairs, kitchenware, and decor. If you're trying to keep costs low, you may consider buying a commercial ice machine used instead of brand-new.
Before investing in a used commercial ice maker, ask yourself the following questions:
Is the unit in good working condition?
Does the unit capacity support your establishment?
How much will potential repairs cost you?
If you've only seen pictures of a used commercial ice machine online, it's critical to inspect it in person before you buy. Take the time to look for signs of wear and tear and corrosion on all stainless steel materials. A machine should also have a high enough capacity to support your restaurant or hotel at full volume so that you don't ever risk running out of ice.
Lastly, after finding out about the use and history of a unit, take the time to tie up loose ends and contact the unit manufacturer with any further questions. If a machine has worn parts that need repair, you can inquire about how much maintenance and part replacement will cost you to factor into the total price tag of the equipment.
Ready to Compare Ice Machines Price Quotes?