Foodservice on Ice
When you take fresh fish as seriously as Shaw's Crab House, ice is no afterthought. It is crucial to their continued success.
Last month, the Chicago restaurant promoted Alaskan halibut as a special, meaning whole 20 to 30-pound fish arrived daily. Having inadequate supplies of ice to properly chill the halibut, was not an option. Having only one ice maker, simply did not meet their needs.
"They're always running, so they're always ready," Mark Palicki, divisional seafood buyer for the 680-seat restaurant, says of its two ice chippers, each capable of producing 2,800 pounds of pieces chipped from ice blocks, daily. The equipment is located in an "ice room", near the receiving dock, where fish are prepared and held. An ice maker with this capability, has a price tag of $8,750.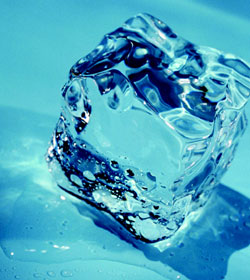 Chipped ice is the choice for chilling fresh fish because it melts more quickly than cubes. Shaw's does not want the fish to freeze. To decrease the chances of damage to the fish flesh, their bellies are lined with cloth as a barrier, before packing in the ice.
The chipped ice is also used in Shaw's main dining room and its Blue Crab Lounge, wheres beds of oysters and other menu items are displayed and served. Palicki says the restaurant is considering adding another ice maker, just for oysters, to produce clearer ice shards, for a better presentation.
For chilling beverages and kitchen preparation tasks, like rapidly cooling heated foods, longer-lasting cubes are the preferred choice. Shaw's 3,000-pound-output cuber runs constantly. "It's more than we need," says Palicki, "but we can't come up short. With the amount of fish and other products we're bringing in each day, you can't send someone out for a couple hundred pounds of ice."
A cuber of this capacity, can cost in excess of $8,900 to buy. Aside from the cost, the ice makers are so large and so indispensable, Shaw's Crab House rents them. As a result, most of the maintenance, including thorough cleaning and machinery adjustments every three months, is handled by an outside vendor. The restaurant staff oversees the daily cleaning of exposed parts and inspections of water-filtration systems.
Ice essentials
Most operations may not need three types of ice or daily output measured in tons, but in the food service industry, it's a universal element. The tenets that guide Shaw's approach to ice, apply to all food service operations.
Know the kind of ice needed
Know how much is needed
Position ice makers where they most will be needed
Keep equipment sanitary and regularly maintained.
Fresh-seafood menus or buffet service obviously have an impact on how much ice an operation may need. Harry Stern, president of Chicago-based food service-equipment consultants, Stern Associates Ltd., offers the following benchmarks:
Quick-service restaurants should figure on daily need of 0.9 pound per customer.
Full-service restaurants should figure on 1.7 pounds per customer.
Bars and lounges will need output of 3 pounds per customer.
Ice makers that produce cubes are the most common, although tube-shape or "cubelet" dispensers and chipper/flakers also are available. Stern notes that flaked ice is preferred in school and healthcare operations, because the smaller pieces eliminate risk of choking. Chips or flakes also cool beverages more quickly because they are smaller and melt quickly.
Regular maintenance and sanitizing are musts for whatever ice-making equipment you purchase or lease, as ice can be a breeding ground for bacteria and is considered a food by the Health department.
Ready to Compare Ice Machines Price Quotes?