Debit Cards VS. Credit Cards
In the battle of debit cards versus credit cards, it's an ongoing struggle over which is the best payment method for everyday purchases. Unlike credit cards that allow customers to pull from an approved line of credit, debit cards withdraw funds directly from customer's checking account. The customer can make purchases with expendable income and not worry about adding to debt.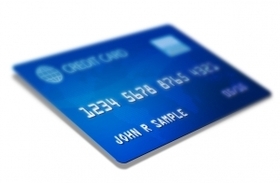 It's important to understand the differences in this battle.
Debit card advantages
Banks are huge advocates for debit cards versus credit cards. After all, it puts more money in their pockets. Since you pay a small transaction fee every time a customer uses a debit card, the banks encourage their clients to use them whenever possible for every day purchases. Some banks will even encourage debit card use by offering reward points redeemable for prizes, or cash back for spending a certain amount. Though you may be paying more in overall fees with debit cards versus credit cards, your increased sales volume will make up the difference.
Accepting a debit card is almost as good as cash. In addition, the transaction fees associated with this form of payment are not as hefty as a credit card fee. A debit transaction is a guaranteed, immediate form of payment.
If you plan to accept debit cards, you will need to add a PIN pad in addition to a credit card terminal to process transactions. That's a minor cost when you consider the convenience it offers your customers. The benefits outweigh the cost, as they are likely to spend more money when they use their debit card than they would with cash.
Credit card advantages
The lasting popularity of credit cards versus debit cards is not to be overlooked. Credit cards are still a staple when it comes to increasing customer purchasing power, especially when customers are low on available cash. Credit cards also offer more protection than debit cards because the Fair Credit Billing Act protects consumers from liability for fraudulent charges if the card is lost or stolen. By processing credit card charges in person, you have more proof to fight charge-back threats.
Debit cards are also not always opportune for larger purchases. In fact, some businesses such as the top car rental companies prefer credit cards vs. debit cards, regardless of the familiar Visa or MasterCard logos.
Here are some other reasons why credit cards are better than debit cards.
It's easier to get a debit card by opening a bank account than it is to be approved for a credit card, so it's not an effective way to determine if the customer is a risk.
A debit card works the same way as a credit card, but should not be used for online purchases, as the security risks are too high. The debit card, with its direct link to a bank account, can easily fall into the wrong hands.
Customers making a purchase from your online store, have an added layer of security when using a credit card. Credit card companies are on the lookout for fraud, and will protect a customer's purchase, never leaving them liable for an unauthorized charge.
In the travel industry, customers are more likely to pay with a credit card in order to redeem mileage points and rewards. The more purchases they make, the more points they earn. It's a win-win situation for everyone.
Fortunately for your business, you don't have to choose debit cards versus credit cards. You can easily accept both - and should, as 27% of purchases are made with cash.
Ready to Compare Credit Card Processing Price Quotes?