Credit Card Processors Cater to Seasonal Businesses
As the holiday shopping season gets underway, many small businesses are taking advantage of seasonal credit card processing accounts to boost sales and cut down on paperwork. Available as a standard retail account, with a single point-of-sale device, or as a MOTO setup (mail order, telephone order), these special accounts offer the same rates as a year-round processing contract but without the ongoing fees assessed during inactive months.
Typically offered exclusively to businesses that meet the criteria for a seasonal vendor, these accounts are typically active only for a few weeks or months out of each year. When the business is closed for sales, the account is made inactive. Recurring fees, such as statement fees and other monthly charges, are suspended as well.
With the growing dependence on credit card use among the average consumer, and 1.5 billion active credit cards in the United States alone, seasonal credit card accounts are now popular among a wide range of business that crop up during the fall and winter months. These include: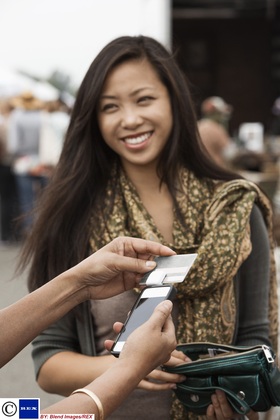 Snow plows
Window washers
Landscaping and decorating
Fall fairs (and the businesses that maintain booths)
Christmas tree lots
Concerts and concessions vendors
Pumpkin patches and Halloween stores
Fundraisers
Go mobile
As nostalgic as the old cash register is, it may be time to relegate it to decor. The ability to accept credit cards from any location within your seasonal shop has the potential to cut down wait time, simplify the payment process, and increase sales as your employees are freed up to help more customers each hour.
Available for smartphones, tablet devices and mobile credit card readers, processing solutions typically include the software (and even free devices in certain cases) that allow you to ring up sales, manage inventory, and offer customers full support anywhere within range of a mobile or LAN signal. Look for providers offering platforms and hardware that is PCI-compliant, ensuring safe, secure transactions, as well as privacy and data integrity. This is essential for all businesses but especially those that routinely have a high turnover of seasonal employees.
How to set up a seasonal processing account
Qualifying for a seasonal processing account isn't guaranteed. Some dealers will only designate seasonal status if your business is truly seasonal in nature, further requiring transactions only occur during a designated time period.
When comparing providers, convenience is the key. Some credit card processors require you to plan in advance the specific dates you'll need the account active. Others allow you to turn processing on and off like a light switch with nothing more than a simple phone call. If you have specific dates for seasonal sales, this may not have much of an impact on you. But if your season could be extended, as with landscaping services, snow plows, and even certain fundraisers, you may want to give preference to those credit card processing companies that provide more flexibility in their date restrictions.
Additional money-saving benefits may include pay-as-you-go processing, allowing month-to-month service, free terminal placement, free gateways, and free reporting via smartphone. But it's important to shop around as these are not standard features provided by every processing company within a seasonal contact.
Ready to Compare Credit Card Processing Price Quotes?