MasterCard and Visa Merchant Account Providers
A merchant account allows your business to accept payments with debit and credit cards. It is a necessary service in today's business world. There are several types of companies you can turn to for MasterCard and Visa merchant services.
When choosing a merchant account, be sure to take into consideration how difficult it is to be approved, as well as any costs from start up to monthly fees.
Banks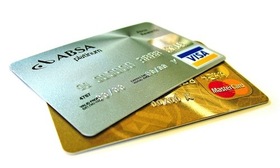 When looking for a merchant account provider, your existing business bank should be your first stop. Banks can be a simple source for credit card services, with many offering service packages for businesses that include MasterCard and Visa merchant services.
Hardware and software solutions, on-site training, and continued local support are some of the advantages of choosing your bank as a provider. However, it can be tough to get approved, as banks are likely to scrutinize your business more closely, before deciding whether or not to accept your application.
Third party processor
Third party processors dedicate themselves to handling credit card processing. As such, they take care of different aspects of the transaction process such as authorization, billing, reporting, and settlement. The processor is paid on a per transaction fee basis, which is included in your discount rate. In return, they provide customer service and integrated business solutions.
Independent sales organization
An independent sales organization (ISO) or a Member Service Provider (MSP) is essentially a registered credit card merchant broker who represents one or more third party processors. They set up and service credit card merchants, but do not do the actual processing. ISOs are less selective than banks, but that comes at a somewhat higher price. They are also not strictly regulated the way banks are, so be particularly vigilant when evaluating potential suppliers.
Once you are approved, and find your match, a processor will then take over your card sales transactions and service.
Association
Small business and trade associations often offer MasterCard and Visa merchant processing at discounted prices. They are a particularly good resource if companies in your industry historically have trouble attaining credit card merchant status. Their experience and local connections can be beneficial in your quest for a credit card merchant who understands your industry.
Whatever service you choose, be sure they are Payment Card Industry (PCI) compliant. This requirement ensures that your processor is up-to-date on best practices, in keeping all of your credit card data safe. This is a necessary benefit for you and your customers.
Ready to Compare Credit Card Processing Price Quotes?