Living in an Omni-Channel World
Having recently attended the Internet Retailer Conference & in Chicago, one of the biggest events on the retail industry's calendar, I've come away with one overriding takeaway: in order to survive in today's competitive retail environment, brands need to become "omni-channel."
What do I mean when I say omni-channel?
The term is the industry's latest buzzword, following in the footsteps of "multichannel" and cross-channel, and refers to the ability of brands to offer consumers a seamless experience in every channel and touchpoint they engage with them in. Whether they're browsing your website, your store aisles, your mobile website and/or app, or flipping through your print catalog, consumers are getting a consistent, seamless experience.
That experience isn't limited to making a purchase. It extends to other areas of your business, including back-end logistic and fulfillment capabilities, having an inventory management system in place to ensure products are in stock regardless of channel, tracking your customers' purchase behavior to gain insights that can be leveraged in future marketing campaigns, etc.
While many brands are preaching omni-channel retailing, few have been able to execute it within their organizations.
In a conversation I had at the show with Brian Walker, senior vice president of strategy at Hybris, an e-commerce software company, we talked of the growing trend of retail brands going omni-channel. Walker stressed that in order to become an omni-channel brand, you need to have the underpinnings (i.e., software platforms) to support your efforts at managing data across channels. You can't be an omni-channel brand if your data is siloed across your organization, he said.
Branden Jenkins, general manager of retail and eTail products at NetSuite, a provider of web-based business software solutions, echoed that sentiment. Jenkins talked about the value of instilling a customer database management system that can help retailers gain a complete understanding of their customers' behavior across channels.
For example, a consumer researching a product online before buying it in-store is becoming the norm rather than the exception. And the trend of showrooming, which I've addressed previously, is only going to become more commonplace as smartphone adoption continues to rise. Brands need to be able to give relevant marketing messages and offers to consumers when they want them, how they want them and in the channel they want them. An omni-channel customer database will help them be able to accomplish that, Jenkins said.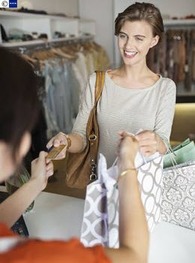 Leveraging physical stores as pick-up locations makes the shopping experience easier for customers.
Here are a few examples of ways that your business can become omni-channel:
Implement buy online, pick up in-store, and ship from store programs: Today's customers demand speed and convenient delivery options. Leverage physical stores as fulfillment and pick-up locations to expedite and/or make the shopping experience easier for customers.


Offer social sign-in on your e-commerce site: Cater to customers and prospects that also spend time on social media sites such as Facebook and Twitter by allowing them to sign into your website via their existing social IDs, thus eliminating the need for them to fill out any additional registration forms. The benefit to you is that you'll get access to valuable profile data, which in turn enables you to send these visitors targeted content and offers.


Equip in-store associates with tablets: Most consumers shopping your stores have a smartphone or tablet with them. Give your store associates the same access to information that shoppers have. Consumers expect store associates to be able to look up inventory and product information (e.g., pricing) on the sales floor. A tablet can provide that information in real time.
As technology continues to evolve, so too does consumers' shopping behaviors. The days of consumers relying solely on your brick-and-mortar store to look at merchandise and make purchases are long gone. Omni-channel is here to stay. Transform your business to compete in this new reality or risk being left behind.