Showrooming: Don't Fear It, Embrace It
Change is a constant in life. Regardless of how you personally feel about change it happens daily and those folks that can adapt and learn as things change are more successful in life.
The same can be said for retail. Change is an ever present constant and those retailers that are agile enough to adapt and learn from the changing environment succeed and have better profitability and ultimately better longevity than those who stay still and watch the world change around them.
There has been a significant shift in the way shoppers approach the task of shopping and retailers everywhere are scurrying about trying to figure out how to combat the shift. The new trend is called Showrooming and retailers should embrace it because it is here to stay.
Showrooming very simply stated is when a customer shopping in a brick-and-mortar retail store uses a mobile device to compare prices with competitors, both online and offline, during their shopping interaction.
There are statistics that support the fact that Showrooming is a trend that is here to stay.
Two companies, Aprimo and Forrester Research, released some facts based on a recent survey that have retailers concerned.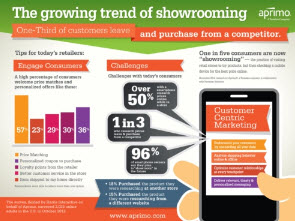 PR Newswire: Aprimo's research into showrooming.
More than 50% of consumers have smartphones
1 in 5 consumers engage in Showrooming while shopping
1 in 3 use that information to buy elsewhere
96% of those consumers who have smartphones say they will use Showrooming to help make future buying decisions
This is a trend that will only expand as the penetration of smartphones increases. Retailers that understand this trend and react appropriately can actually benefit from these new consumer behaviors.
How to Embrace Showrooming
Arm your Sales Teams
Create a training strategy that elevates your sales people above the competition by focusing them on customer experience.
Ensure that your sales staff is knowledgeable and friendly.
Train your staff to handle returns with a simple process and a friendly disposition. A bad experience when returning product will not only lose you the customer but will create a great deal of bad press on social media and elsewhere.
Create a 'Memorable' Customer Experience
Use merchandising tactics to create a unique shopping experience for your customer base. There is a trend towards 'boutique' style merchandising which allows retailers to offer experience based shopping rather than the more antiseptic warehouse style experience that has been the trend in the past decade or so.
Train your sales team to personalize the customer experience. If your business has repeat customers do your best to remember their names and refer to their past purchases. Customers buy from people they like.
Put some 'Wow' into the customer experience. There are so many bland and apathetic customer service folks in the industry finding the right staff with energy and friendly pazazz can do wonders for creating a 'wow' experience. Find the sales people that truly like people. You can't train personality and the stores with the most personable staffs are the stores with the best experience.
Offer a Consistent Omni-Channel Experience
Be sure all of your channels offer a consistently high level experience. If you have a great in-store experience, a great website and a not so great mobile site you will lose customers.
Create a mobile app that allows customers to price shop while in your store. Have your vendors and partners 'opt-in' to offer more content and product choices.
Communicate timely and location based deals through that app during the customers shopping experience.
Consider a 'price match' program. Be cautious and be sure that you are clear about how it works.
Offer a Customer Loyalty Program
Showrooming customers are very savvy and they like digital engagement. Offer a loyalty program that has a user interface that allows the customer to see their rewards and interact with their account while shopping in your store.
Tie this in to your mobile app.
Ensure that promotional information is being broadcast to these consumers when they access their account and specifically when they are in your store.
Don't make Showrooming difficult, embrace it!
Consumers that were surveyed stated that they will frequent locations that make Showrooming easy to accomplish. If you make it tough on them they will vote with their feet and shop elsewhere.
Don't block the cell phone signal in your store. Consumers will get irritated and shop elsewhere.
Don't put stickers over your barcodes. If a consumer feels as though you are trying to stop him/her from price shopping they will make a quick assumption that you are overpriced and you will lose their business anyway.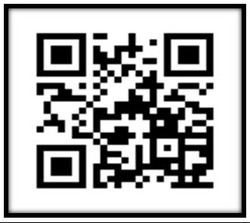 This is just a small list of ways to embrace Showrooming. The reality is that shopper attitudes and behaviors are changing and the rapid influx of mobile devices is bringing that change very quickly.
Retailers must react and must react appropriately
I am confident that Showrooming will make good retailers much better at what they do. I compare this to the introduction of Wal-Mart to the marketplace. Retailers everywhere were shaking in their shoes fearing that the big box store with its ability to offer a huge breadth of products at seemingly impossible low prices would put everyone out of business. That didn't happen. Wal-Mart forced retailers to get better at retailing.
Showrooming will do the same thing. I welcome the challenge and look forward to better retailing as a result!