West Coast Port Strike Threatens Retailers' Supply Chains
The prospect of a strike by West Coast longshoremen has created some anxious moments for retailers ahead of their busiest time of the year -- the holidays. Negotiations are ongoing between the International Longshore and Warehouse Union and the Pacific Maritime Association -- their contract expired on July 1st but workers remain on the job -- in an effort to reach an agreement for the nearly 20,000 workers at 29 West Coast ports.
Retailers are already taking precautions to prevent against potential supply chain disruptions from a strike. According to the monthly Global Port Tracker from the National Retail Federation (NRF) and Hackett Associates, import volume at major U.S. container ports is expected to total 1.5 million containers in July -- the highest monthly volume in at least five years. This continues a trend of unusually high import levels that began this spring as retailers moved to import merchandise ahead of any potential disruptions.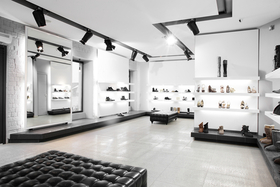 Accurate inventory forecasting takes on even greater importance this year.
"Retailers have been bringing merchandise in early for months now and will do what it takes to make sure shelves are stocked for their customers regardless of what happens during the negotiations," said Jonathan Gold, vice president for supply chain and customs policy, NRF, in a company press release.
In addition to bringing in holiday merchandise earlier, many retailers have begun to shift cargo to East Coast ports. West Coast ports handled 59% of U.S. retail container cargo in May, down from 62% in January, according to the Global Port Tracker.
North of the Border
Besides heading east with their cargo, U.S. retailers are moving it north as well. Canadian National Railway, the country's largest rail network, prioritizes Canadian traffic and has imposed restrictions on handling goods bound for the U.S. after a surge in cargo diverted to the ports of Vancouver and Prince Rupert in British Columbia last month. Prince Rupert's container imports for June increased 22% compared to the same month last year.
While better than the alternative -- having their merchandise stuck in a factory in China -- diverting cargo through East Coast, Canadian or Mexican ports isn't without its challenges for retailers. With limited trucking and rail capacity -- UPS drivers at the Los Angeles and Long Beach ports, which handle around a third of U.S. container imports, were briefly on strike earlier this month -- and added congestion fees, retailers could face could face considerable costs and delays in attempting to move their cargo into and out of the U.S.
According to the NRF and Hackett Associates, a five-day work stoppage would reduce U.S. GDP by $1.9 billion a day and disrupt 73,000 jobs. The most recent West Coast port strike occurred in 2002 and lasted for 10 days.
The uncertainty hanging over the West Coast port negotiations has left retailers to scramble for backup plans. In addition to diverting cargo to other ports, more retailers are considering sourcing their products domestically (i.e., "nearsourcing"). With the cost of manufacturing goods in China increasing steadily along with sharp increases in the cost of shipping containers, domestic sourcing is becoming a more attractive option for some brands. Furthermore, domestic sourcing provides a shorter supply chain, giving retailers greater inventory flexibility and oftentimes freed up cash flow.
Accurate inventory forecasting takes on even greater importance this year with the specter of a West Coast port strike looming over the holiday shopping season. Opting to order excess inventory as a precaution to a strike could backfire if that merchandise doesn't sell, instead sitting in storage only to be sold at reduced prices later. But order too little merchandise and you run the risk of out-of-stocks, lost sales and angry customers.
Like many other issues that could have an impact on their industry -- online sales tax legislation, credit card swipe fees -- I recommend retailers closely monitor the West Coast port negotiations. The outcome could determine whether this will be a holiday season to remember ... or forget.