Designing the Future of School Security
After the tragic events in Newtown CT, as well as others schools in the past, the questions continue to rise about how safe are our schools and children. Personally, I do believe that our schools are safe.
The statistics show that less than 2% of youth homicides occur while on school grounds, and that number has only declined or maintained over the past 10 years. However, if you are the family member that has lost a loved one or is supporting someone who survived a horrific event like what happened in Newtown, that percentage provides little comfort to you.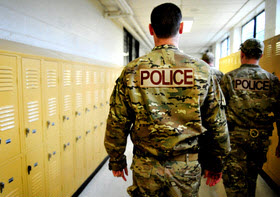 03 Jan 2013: Members of the North Augusta Public Safety SWAT team survey the halls of North Augusta Middle School. REX Features
That's why schools need to stay vigilant and continue to look at policies, procedures, training and technology that will defend against situations that could be minimized or even avoided.
Security Solutions that Won't Work
The first major question that comes to mind is: Should we arm police, security or teachers in schools each and every day?
My feeling is no and there is no data to suggest otherwise. Adding guns to the mix is never a good solution. With percentages as low as they are, adding guns into a situation where they could be used against you or the children, is never a good option.
Police are trained to respond and deal with situations like this should they occur. Having one police officer on duty at each school would not stop a situation like Newtown CT, a hard realization for all of us to deal with. How would that one person prevent an issue at a football game, the bus stop, outdoors gym class etc.?
They cannot be stationed or positioned everywhere.
Instead, we need to look at how we use the resources we have already, what solutions we can implement to improve and train staff accordingly.
Security Solutions that Will Work
A school's relationship with city and town services is a critical part to a security program's success. It's important to involve the local police, fire and other emergency services in security planning and training; each group provides a unique and important perspective needed to have a comprehensive program.
We cannot create policies and procedures in a vacuum, but instead, through strong partnerships and teamwork.
In addition, staff and students should be educated on what warning signs to recognize and how to react to them. Budget cuts to staff that remove professionals who work with children in need and have the skill-sets to identify early warning signs need to be scrutinized.
We also need to train staff on how to deal with emergency situations to help minimize the loss of life until emergency professionals arrive at the scene.
Designing School Security
Technology is a key component to the success of any security program. It shouldn't be the sole solution but it should be part of a successful, comprehensive solution.
Cameras, access control cards and other security technology can deter and detect individuals that may want to commit a crime. Having a well thought out plan and someone with the experience to implement that plan is key.
In addition, as we look at designing new schools, we need to keep security strategies and features in mind. These costs can be minimal during the design phase, compared to adding them later on down the road.
When you allow experts to participate in your security plan process from day one, good things can happen.
31 Jan 2013: Douglas County Sheriff Lt. Brian Murphy sits in on part of an art class while spending some time at Buffalo Ridge Elementary School, part of a new cooperative effort between law enforcement and schools for more routine police presence at local primary schools, in Castle Pines, Colo. AP Photo
The Cost of Safety
We all understand that cost is an issue and school budgets are tight; however, we cannot continue to be such a reactionary society. We often don't spend money before the event, yet somehow find the money after a major (and tragic) event occurs.
Use outside resources when feasible to ensure that a true holistic approach to your school's safety and security program can be achieved – and more importantly – tested. These additional costs don't need to be out of reach. In fact, many organizations will reduce fee's to work with cities and towns to ensure the safety of our children.
For instance, I have reduced my fees to work with schools to ensure they have the following:
An outside resource that can give an unbiased opinion.
A collaborative discussion that includes Police, Fire and School professionals.
An agnostic and holistic approach to a comprehensive security program.
Many times we lay the foundation of a security program which never gets completed, tested or even implemented. Plan, create, train and test, then test it again. We cannot replace the lives lost or forget who they are, but we can take the time and energy to remain active and committed in creating the best and safest schools for our children.
Hear more on what David has to say about school security in his spreecast with journalist Eszter Vajda: School Safety: Protecting Our Children.