Types of Access Control Solutions
One of the biggest considerations when choosing access control solutions is how authorized users will identify themselves and/or unlock the door.
Keypads are the most popular and least expensive type of access control solutions. They're easy to use but less secure, since users have a tendency to write down the entry code or share it with others. Unlike card systems, the code can't be "given back," so your security is instantly compromised.


Card readers are also popular. Proximity cards, which only need to be held near a sensor, are the most common, but magnetic stripe and bar code cards are also available. When cards are lost, it's a simple matter to deactivate them and issue new ones.


Biometric systems, including fingerprint, voice, and iris scanners, are by far the most secure access control solutions. However, they're also considerably more expensive and can seem invasive to employees forced to use them constantly. For most business security systems, card or keypad systems are sufficient and a better buy.
There are some general costs you can keep in mind. A complete keypad or card system for single door security access is typically $1,500 to $2,500 installed. The more doors you add, the lower the per-door price is. Truly budget-minded companies can buy door security device components online and do their own installation, but saving a couple of hundred dollars isn't really worth it if it lowers your company security. Make sure you have qualified personnel to handle your door security installation if you go this route.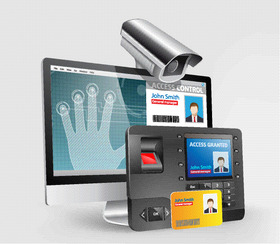 The full range of door security device options is much larger. Integrated locks with keypads, designed as standalone access control points, can be purchased for $200. Iris scanning systems are much more expensive and can easily reach $10,000 or more for a single access point, but those full-scale access control systems are generally overkill for most businesses.
In general, a card-based access control solution is less intrusive than a biometric system, and more secure than keypad systems. Regardless of your decision, combining physical and digital identities is important and even highlighted at The CARTES Network last year. Industry experts agreed that the adoption of smart cards or mobile-enabled near-field communications will play a big role in access management.
Access control solution locks
Of course, you'll also need a lock that the access control solution can control electronically. The two main door options are electric strikes and magnetic locks.
Electric strikes are generally cheaper and are better for doors that allow free exiting from a secure area.
Magnetic locks are somewhat better for situations where users have to check in and out of secure areas.
Recent security events have encouraged the use of access control solutions in a variety of industries, including schools, offices and healthcare facilities. As the technology improves to meet consumers' demands, the benefits will be endless.
Key considerations before you buy
Durability. When purchasing an access control lock, think about durability. High-traffic doors will need more durable locks than entryways with minimal traffic. Durability should be based on how many uses a day a lock will get, not just on the number of people accessing a door; some employees may use a door 10 or 20 times a day.
Ease of use. Combination locks are easy to change as far as access control locks go, but they may cause difficulty for those who do not remember their access codes for entry.
Staff expansion. When considering fingerprint access, assess how much turnover your business has, or how many new employees (and fingerprints) you may need to add in the coming months and years. It is easier to hand out combinations to employees than it is to add fingerprints to a system.
Electrical reliance. Depending on where your business is located, electrical power may not be 100% reliable during certain times of the year. Take this into account when deciding between a mechanical keyless lock and an electronic keypad lock.
Technology. If your facility has a reliable source of electrical power, you have a wide selection of access control technology available to you. Many new access control locks function with wireless capabilities to cut down on the expense and hassle of traditional access control wiring in a door.
Backup keyed entry. A key backup is useful for keypad locks if you are concerned about forgetting the combination. Yet having a key backup also leaves the entry vulnerable to the same security issues as having keyed entry in the first place.
Last but not least, don't forget to determine your handle preference - door knob, latch handle, or lever handle - and if you need an optional panic bar. Double-sided door options are also available. The type of door your business currently has may help decide the best lock for your building.
Ready to Compare Access Control Systems Price Quotes?