Small Fish in a Big Sea: Job Recruitment Software for Small Companies
If you are a small business and looking to attract employees from large, well-known companies, you probably know that this is easier said than done. However, it's not impossible. In fact, it can be quite easy when you have the right tools in your arsenal.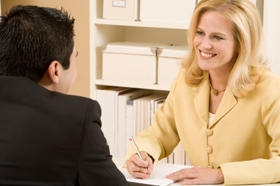 Approximately three-fourths of all small business owners say it's difficult to find good employees. In addition, about 70% of small business owners say that when they do find an exceptional staff member, they will do all they can to retain them.
To make it easier to find and retain good people, tools such as job recruitment software and other solutions can turn the tide for your small business.
How job recruitment software can attract candidates
When you use job recruitment software you will be able to snag the exact candidates you're looking for in a variety of ways. For example, you may be looking for a high-end manager for your small business to help you expand. When you use software for job recruitment, it can automatically write up a fantastic job posting and post that information on external job boards.
As resumes come in, the job recruitment software will be able to separate the good from the bad, leaving you with a list of candidates that are perfect for your open position.
Pricing geared toward small business
Solutions tailored to small businesses are designed for a minimal number of people (and sometimes just one). As such, services are usually broken up by tiers, with common examples being:
1 to 50 employees
50 to 100 employees
100 to 500 employees
These small business plans typically include the basic functionalities of the platform like screening questions and pre-configured reports while omitting a lot of the extra bells and whistles that apply to larger companies, like high-end compliance tracking, search engine optimization for job postings, and advanced communication tools.
With that in mind, recruiting software is sold in two different types: software as a service (SaaS) and client-server (installed on your local system). Of the two, SaaS platforms seem to be the preferred choice among many small businesses for their ability to provide enhanced simplicity and broad integration through mobile technology. This functionality enables users to access the platform from any web-enabled device and manage aspects of recruitment from any location.
SaaS plans average around $100 per month for a single user and can also include setup fees that range from $60 to $150.
In-house options are a one-time payment that's priced depending on the number of licenses you need. It costs anywhere from $250 to $1,500, with service and support tacking on an additional fee of $15 to $25 per month.
Ready to Compare Recruiting Software Price Quotes?