Recruiting Software Introduction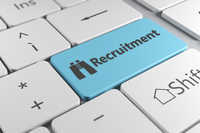 If you are responsible for helping businesses find the best employees to fill open positions, recruiting software can make your professional life a lot easier.
Recruitment software can help you increase productivity and eliminate the need for data entry and other non-productive tasks. The program helps you streamline the process of finding the right employees for the companies you work for. With a series of different features to match the best candidates to the job based on skill set, experience, and geographic location, recruitment software can give you in edge in a competitive marketplace.
Who uses recruitment software?
Most candidates for recruitment software are companies and contractors that businesses hire to help them fill open positions while they concentrate on growing the business. Headhunters and employment agencies also use recruitment software to help match applicants to the best jobs based on their skills and experience.
Recruitment software helps manage the process for filling several positions across different companies. This way, recruiters don't waste time sifting through hundreds of resumes per day and prescreening candidates. Instead, they can specifically match qualifications to the positions to ensure the interviewees are high-quality prospects that would best fit the role.
Smaller companies may purchase recruiting software for their HR departments or office managers to manage in-house. Because of the typically high installation and setup costs, those businesses may look for less expensive alternatives.
Auto-matching
If you're starting a candidate search from the beginning, auto matching can facilitate the process. Once you know what position you're looking to fill and what the hiring company's expectations are, you can hone your search by matching specific qualities from resumes to the available jobs.
Auto-matching allows you to import resumes from multiple sources at once. Since you could receive thousands of resumes at a time, auto-matching helps narrow down the selections to limit your work load and seek out the can't-miss prospects that come across your desk.
When you know what you're looking for, auto-matching can connect the details of the job description with the applicants. The more accurate the data is, the closer the match to a candidate that will best fit the position. Among the data the software can automatically match:
Salary sought
Job location
Title(s)
Years of experience in the industry
Education
Time spent on previous jobs
Responsibilities
Accomplishments, honors, and recognitions
Technical skills
Management experience (if any)
Recruitment Software Features
In addition to auto-matching, here is a sample of some of the most common features found in most recruitment software offerings.
Resume parsing: Takes just minutes and reduces time spent on data entry. Allows you to quickly create candidate records, find and upload resumes, populate templates with essential information, and select specific info you want.
Planner: Schedule all aspects of your recruiting including calling candidates, scheduling interviews and follow ups, and taking notes from phone calls. Share tasks, manage status of activities, and link hiring managers to potential candidates. Collect applicant information and follow-up data and reference commentary.
Remote access: Grab information from any online connection (from home, road, client's office, conventions, etc.) Provides better time management by helping you get things done without being in the office. Share and collect information, synch databases with other personnel, and schedule interviews and monitor the process.
Keyword/Data Search: Saves the time it takes to sift through every detail of a resume or cover letter. Can search data fields and email attachments for specific keywords to best match employees.
Saved searches/hot lists: Sort by characteristics such as open job orders, locale, position, or years of experience. Save customized searches for future reference so you don't need to re-enter the data.
Emailer: Create emails direct from your interface and send to multiple people at once including the candidate, hiring manager, department head, etc. Keep track of correspondence with potential candidates.
Reporting capabilities: Provides details on candidates and which are the best for the job. Documents response rates and helps you determine if you're getting ROI through your recruitment software.
Backup system: Backs up your recruitment data several times a day and stores it offsite. Download copies to your local PC.
Customizable fields: Create fields for specific departments, contact managers, job responsibilities, and more. Allows you to easily search for specific information when you need it.
Promote job openings: Can publish open jobs to company website and fee-based job boards. Software may include online application setup.
ASP vs. In-House Software
One important decision you will make is whether you want your recruitment software to run on your seller's servers (ASP solution) or in-house on your servers.
With an in-house client server, the software runs on your PC and the data is stored on your hard drive or network server. You have complete control over the system and access to additional features. Client server solutions are typically for large businesses that can afford the hefty investment and have on-staff IT professionals to maintain the system. You also need to invest in both software and servers when using in-house solutions.
If you use an ASP, the program and the information rest on a seller's server and you typically access them through the Internet or client software. There's no need to worry about maintenance because the seller's IT staff takes care of everything from firewalls to local backups. Small businesses prefer ASP solutions because of the lower setup and maintenance costs. However, since your only connection to the system is over the Internet, you could lose productivity while attempting to get up and running.
Buying Tips & Pricing
Recruiting software checklist
Here are some things to keep in mind before purchasing recruitment software:
Are you trying to find initial candidates or manage the ones you've found through other means?
Do you prefer an ASP solution or do you want run the software in-house?
Do you have the technology and personnel necessary to run software in-house?
Is the software compatible with common PC applications such as Microsoft Office products or your HR Information System?
Is the software scalable? Can the solution adapt to your business as it continues to grow?
Does the seller provide full training?
How long has the software seller been around?
What kind of customer support will the seller provide (phone, email, in-person, live chat?)
Can the software seller offer references from businesses in your industry?
Pricing
Costs for recruitment software depend on how many people will use it and what functionality you require. You also need to factor in the differences in cost between an ASP solution and a client-server solution.
An ASP recruitment software solution can support 10 to 20 users and handle tens of thousands of annual applicants. This costs $500 to $1,500 per user with set-up fees ranging from $1,000 to $3,000. These fees cover software, support, system upgrades, and bug fixes. It only takes a few days to get up and running.
Enterprise software that runs on your servers doesn't have a limit to the number of licenses you can purchase. You can also process unlimited applicants per year. You need a substantially larger budget for enterprise software - $15,000 to $30,000 or more in some cases. Expect to pay $1,000 to $5,000 for each license with set-up fees from $3,000 to $4,000. You will also be responsible for standing server hosting fees. With in-house recruitment software, allow 20 to 25 days to get set up.
Customized versions of recruitment software are trickier to pin down. Depending on the seller and your budget, your costs could vary based on functionality and features. You may also pay more for training, service upgrades, and on-site support.
Tips
Ask about free trials to test the software in house and see if it's the right solution for your business.
If more than one user will access the software, most sellers will offer discounts based on the number of licenses you purchase.
Use online resume processing instead of time-consuming web forms.
Review case studies to gauge past performance of businesses that use recruitment software.
Ready to Compare Recruiting Software Price Quotes?