Conferencing Service Checklist
Even as the Internet has made it easy for far-flung groups of people to collaborate, sometimes you still need to have a conversation. If your business regularly needs to conduct meetings with people in scattered locations, you'll probably need to set up a conferencing service. These conference calling services allow you to connect people together without investing in expensive equipment.
Here are a few important points to remember as you shop for a conferencing service provider:
Shop on service and price. Most conferencing services use equipment from the same leading manufacturers, so they are very similar in terms of quality and features.


Reservationless or operator-assisted. Of these two major types of conferencing services, reservationless is less expensive and more popular. Operator-assisted conferencing is better suited for calls with dozens or even hundreds of participants, and offers more features. Signing up for reservationless conference calling gets you a permanent toll-free number you can dial in to at any time. You usually need to call at least a day in advance to set up an operator-assisted call.


Get your money's worth. If your conference calling volume is very high, some plans offer substantial volume discounts. However you should watch out for monthly minimums and long-term agreements that are sometimes required to get these discounts.


Conferencing services are affordable. Conference calling is usually priced per minute, per person. A 6-person, 45 minute call will typically run about $125. Some services offer flat-rate monthly pricing, which can be a good deal if your calling volume is fairly high.


Shop around. Don't feel compelled to use your existing long-distance or local service provider: specialized conferencing service providers can sometimes offer better deals.
A conferencing service can help you better connect with customers, suppliers, and far-flung divisions of your own company - without investing in expensive telecom equipment. A few teleconferencing scenarios to think about as you shop include: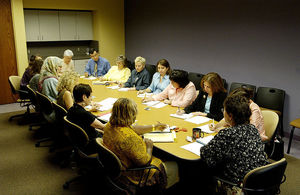 Sales meetings, quarterly results reports for investors, and organizing multiple locations are all common reasons for a conference call. Also consider conference calling for employees who work from home, remote sales offices, freelancers and other vendors.


To overcome potential headaches of managing a large call, consider these more structured formats: broadcasting, where most participants are muted and only designated people can speak; question and answer, where participants can signal via phone when they'd like to participate; or polling, where everyone on the call can press a button on their phone to vote on questions raised in the call.


Try Web conferencing to display visuals. Many conferencing services also provide web conferencing, which allows you to share PowerPoint slides, web sites, or software demos through an Internet connection.
Want more information on choosing a conference call service? Read our Teleconferencing Buyer's Guide.
Ready to Compare Teleconferencing Services Price Quotes?