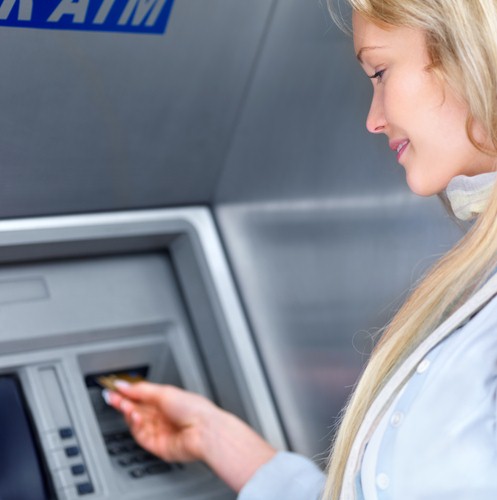 Many customers have adopted self-service trends and like to visit ATM machines instead of store branches.
Self-service trends permeate retail environments
January 4, 2013
Many customers love self-service options. Thanks to technology developments in the past two decades, shoppers have been empowered for the first time to check product pricing and scan bar codes without employee assistance. This allows them to get the answers and service they want without having to wait in lines or pester busy sales associates.
Self-checkouts speed up service and reduce costs
Do-it-yourself options have gained popularity among both consumers and companies. Businesses have realized they can reduce payroll costs by posting fewer employees at POS systems without creating longer waits for customers, since one staff member can oversee multiple registers. At the same time, many shoppers embrace the opportunities to help themselves.
To further these benefits, retail technology company Wincor Nixdorf plans to present its new "always-open" self-service POS systems that require even less employee oversight. Because sales associates can manage multiple terminals at once, the chances of lines building up drops even further, increasing the chances of lanes being open.
Solo experiences to become more personal
Financial institutions have recognized these advantages, and many national bank chains are cutting back on resources for local branches and focusing instead on upgrading to ATM machines with better technology. For instance, NCR Corporation recently announced it will expand its cash machine network with video-enabled options that can provide customers with the assistance and personal attention they need to have great experiences without tellers.
"Video banking - or, as we prefer to call it, remote assisted service - will continue to gain momentum in the U.S. and other countries in 2013. Remote assisted service is proving to help financial institutions grow revenues while at the same time reduce their operating and real estate costs," said NCR's executive vice president Pete Leav.
Smartphone checkouts next?
The mobile payments revolution is underway as a growing group of stores adopt credit card processing technology that allows employees to complete transactions on smartphones or tablets. However, there are predictions that this technology's capabilities can be tapped even further to provide customers with greater speed and convenience.
Some industry analysts project that shoppers' smartphones will ultimately serve as mobile POS systems, thanks to online payment processing. Rather than bringing merchandise to employees when they are ready to pay, customers may be able to scan bar codes with cameras on their smartphones and make remote payments with digital wallets instead.