Real-world Spray Booth Prices from BuyerZone Buyers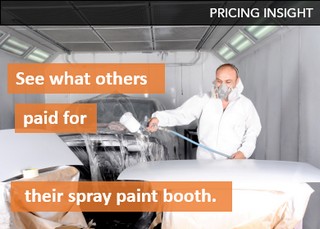 A spray booth is an important purchase for any business that works with spray paints, wood finishes, powder coating, and other potentially dangerous or hazardous coatings. But how much should you expect to pay for a booth?
We've collected responses from other BuyerZone users detailing what they paid and the type of booth they purchased. Read on to find out how much you can expect to pay.
One of the biggest factors in the price of a booth is the overall size, but not every response includes the exact dimensions. In those cases, we've added the size estimated by the buyers when they submitted their quote - but keep in mind that sizes in brackets are pre-sale estimates.
Spray booth prices
"$49,644 - included equipment, refurbishing, installation and other soft costs associated with getting this up and running." [27' W x 14' L x 12' H]"

- Automotive shop, Scottsdale, Arizona

"23' x 18' x 14' sanding/blasting room with 3 stage HEPA filtration for $18,335."

- Government agency, Bloomfield, Indiana

"$4,100 including shipping for a 14' x 11' x 9' tall spray booth including exhaust fan and filters"

- Wood shop, Evansville, Indiana

"Evolution XL Side Draft Spray Truck Booth. # SZ-TSDD6 = $51,000." [65' x 11' 6" x 16']"

- Equipment service, Long Beach, California

"Approx. $5,600 for a 3-sided booth plus fan." [14' x 8' x 8']"

- Manufacturer, Sacramento, California

"$9,400. Powder-coated white, extra lighting, single-phase motor, shipped free." [26' x 14' x 10']"

- Auto body shop, Iola, Kansas

"$1,000. 4' 2" x 3' x 3' inside working dimensions, 6' tall with 12" Tubeaxial fan, filters, manometer, collar, and all hardware and shipping from Michigan."

- Retailer, Utica, Kentucky

"Package deal: booth, oven, electrostatic applicator system $18,500." [6' x 6' x 6']"

- Business services provider, Columbus, Kansas

"12'L x 20'W x 8'H with 4 lights, 42" fan and 5 HP motor, complete exhaust with easy directions. $6,900."

- Manufacturer, Philadelphia, Pennsylvania

"$4,300. Motorcycle-sized spray booth, fan and motor, crating, shipping, filters, lights."

- Auto detailer, Stoughton, Wisconsin

"Booth, stand, and extra filters, $3,000." [3' x 3' x 8']"

- Educational institution, New York, New York

"$1,990 paint booth - spray gun $95." [4' x 4' x 6']"

- Equipment sales, Memphis, Tennessee
Ready to Compare Spray Paint Booths Price Quotes?