Spray Paint Booths Streamline Automotive Finishing
Whether your shop is using a solvent-based paint or a combination product with waterborne curing agents, automotive paint booths help ensure the finish is applied efficiently, smoothly, and safely. Adhering to all OSHA and NFPA regulations, they're designed with a number of airflow and filtration systems that enable the finishing of everything from trucks and automobiles to individual aftermarket components.
Car and truck paint booths are typically constructed from 18-gauge, galvanized steel with paneling that has been precision punched for easy nut-and-bolt assembly. Depending on the style selected, you'll find a range of different customizations with regard to entry doors, personnel doors, windows, exhaust fans, control panels, and lighting.
Choosing the best automotive paint booth design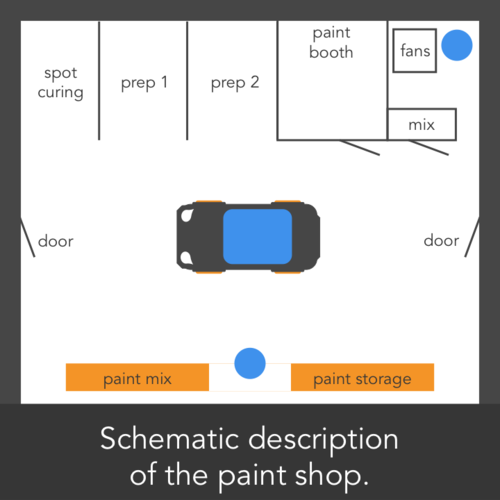 The booth you select will largely be determined by your individual manufacturing or aftermarket production needs. But your available space plays a large role in the purchase decision as well. Though there are a number of different spray paint booth types available, in general, you'll be primarily looking at just two:
Drive-in automotive paint booths
Open face spray booths
Drive-in options
For automotive manufacturing facilities, large-scale auto body shops, or collision repair centers, drive-in spray paint booths are often an essential component of the finishing process. They feature an enclosed setting. This design provides a contained environment, free of dust and other airborne contaminates that could threaten a quality finish.
Common Drive-in Options Include
Type
Working Dimensions (W-H-L)
Exterior Dimensions (W-H-L)
Entrance Doors (H-W)
4-Tube Fluorescent Light Fixtures
Estimated Costs
Cross flow (mid-size)
12' 9" x 8' 4" x 20' 1"
13' x 8' 10" x 23' 4"
8' x 10'
6
$5,500
Cross flow
14' x 9' x 26' 6"
14' 3" x 9' 2" x 26' 9"
9' x 10'
10
$6,500
Semi-Downdraft (mid-size)
12' 9" x 8' 4" x 20' 1"
13' x 10' 7" x 23' 4"
10' x 8' 4"
6
$6,700
Semi-Downdraft
14' x 9' x 26' 7"
14' 3" x 11' 2" x 26' 10"
9' x 10'
10
$7,500 - $24,000
The cross flow and semi-downdraft styles are popular within the automotive industry for their ability to provide an even finish in less time than other methods. Cross draft spray paint booths draw air through filters built into the product entry doors. The air is then pulled through the length of the booth and into an exhaust chamber. Though substantially larger in comparison to an open front booth, the cross draft design is efficient on space requirements.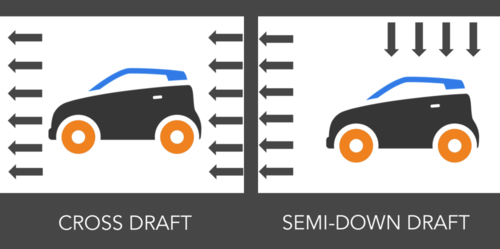 Drive-in ventilation types
Similar in design, semi-downdraft spray paint booths draw air through filters in the booth ceiling as well as in the product entry door. This air is pulled and circulated throughout the chamber in a downward motion and also channeled front to back. Shown to provide a higher degree of overspray control, the semi-downdraft design cuts the amount of prep required and eliminates the need for the costly exhaust pits required by standard downdraft models. It can also be upgraded with a heated make-up air unit (MAU) that reduces finishing time.
Purchasing recommendation (large-scale): For large-scale operations like automotive manufacturing plants and high-volume auto body shops, a semi-downdraft booth is likely your best, most cost-effective option. Look for a model with an MAU that measures at least 12 feet wide and 20 feet long, and is ideally 14 feet wide and 26 feet long to allow for the greatest possible work area.


Purchasing recommendation (mid-range): Mid-range businesses such as local auto body shops and collision centers are best suited to the cross flow design for its ability to save on space and cost. Search for a model with an opening of at least 10 feet wide - and ideally 12 feet to 13 feet - as this will provide more room to operate within the booth. Though extensive lengths aren't required, you'll need a booth that's at least 10 feet to 11 feet in length to accommodate most full-size vehicles.
Open face options
Unlike their larger, enclosed counterparts, open face models have been created by automotive spray booth manufacturers, including Global Finishing Solutions, Eagle Equipment, and Col-Met, to conveniently fit into the back corner of almost any location. The design can be built to serve as a workbench for individual parts or be extended to accommodate a conveyor production system that finishes an aftermarket assembly line.
Common Open Face Options Include
Size
Working Dimensions (W-H-L)
Exterior Dimensions (W-H-L)
4-Tube Fluorescent Light Fixtures
Exhaust Filters (20"x24")
Estimated Costs
Small
6' x 12' x 5'
6' 4" x 12' 2" x 7' 8"
1
12
$4,200
Small
8' x 12' x 5'
8' 4" x 12' 2" x 8' 8"
1
24
$4,700
Medium
9' 8" x 7' x 5'
10' x 7' 2" x 8' 8"
2
20
$3,900
Medium
14' x 12' x 5'
14' 4" x 12' 8" x 9'
2
42
$6,700
Large
16' x 7' x 5'
16' 4" x 7' 8" x 8'
2
32
$4,600
Large
20' x 10' x 5'
20' 4" x 10' 8" x 9'
4
50
$9,000
With an open face front, the above listed booths incorporate an exhaust fan and a series of filters that trap airborne over spray particles in the plenum then discharge the air back into the shop environment. Constructed of 18-gauge galvanized steel, most booths are sold as a self-assembled kit and include all hardware, fasteners, and sealers, as well as assembly instructions and permit documentation.
Purchasing recommendation (large-scale): If you're involved with motorcycle manufacturing or car customizing, a large open-face spray booth that measures at least 16 feet wide and 5 feet to 6 feet deep should handle most jobs in your shop. For aftermarket assembly lines, a minimum of 6 feet in width and customizable lengths are crucial. Most quality manufacturers build their open face options to fit seamlessly together in sections for exactly this purpose.


Purchasing recommendation (mid-range to small businesses): Small parts manufacturers need an open face paint booth that's at least 6 feet wide and ideally 8 to 9 feet in width. Your shop space will dictate the size of booth you can accommodate. But keep in mind that the wider the booth, the more workspace you'll have, saving time by speeding up your process.
Ready to Compare Spray Paint Booths Price Quotes?