Spray Paint Booth Types
Spray paint booths have changed the face of modern manufacturing. From small businesses crafting handmade furniture to industrial manufacturers creating everything from quality testing the smallest microprocessors for hours in a batch oven to the adding finish to the largest jumbo jets, spray paint booths simplify the finishing process while ensuring the highest quality result.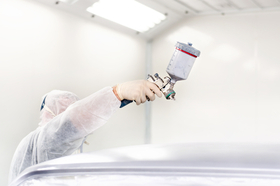 Popular for their combination of efficiency and safety, today's paint booths provide an enclosed and often "clean" environment, free of dust particles and other airborne contaminates. They further ensure worker safety through compliance with National Fire Protection Association (NFPA), National Electrical Code (NEC), and Occupational Safety and Health Association (OSHA) guidelines.
Six spray paint booth options
With sellers now offering a high degree of in-house engineering expertise, many spray paint booths are custom designed for each specific application. This guarantees the finished booth meets all national and local regulations while dramatically cutting down on the delivery time-frame and overall cost of a project.
There are six main types. While many perform a variety of the same functions, each also offers specific benefits. The one you select will be dictated by the manufacturing process it's meant to pair with, your finishing needs, available space, and budget.
Below are the six main booth types. Click through for more information on each booth type, as well as example pricing.
1. Batch ovens: Providing temperatures that range between 350°F and 1,000°F, batch ovens are one of the most versatile of the six options, capable of serving industries that range from automotive and aerospace to pharmaceutical and food and beverage. They're also designed in two different types to accommodate manual or automated loading and cater to your specific batch processing needs.
2. Drying rooms: This modern coupling is a popular add-on to a wide variety of paint booths (particularly within the automotive sector) as it allows workers to keep painting on one project while another is curing in an attached room. Providing a controlled atmosphere between 40°F and 215°F, drying rooms have been shown to boost consistency and quality while cutting down on harmful emissions.
3. Industrial spray paint booths - large equipment: Airplanes, earth moving equipment, motor homes, and semi-truck trailers represent some of the biggest manufacturing challenges due to their scale and the difficulties present in moving them from place to place. But like a circus tent for an elephant, industrial spray paint booths are engineered specifically for large equipment of this type, enabling workers to move around quickly and safely within an enclosed environment. They can also be designed with a number of airflow specifications.
4. Industrial spray paint booths - light and small equipment: Designed for the craftsman, spray paint booths for small equipment provide ample space for finishing everything from automotive parts to fine furniture. In fact, they provide pretty much the exact same result as their larger counterparts but within a fraction of the floor space. The key to selecting the right size is knowing the proper measurements in relation to your needs.
5. Open-face booths / open-front benches: If trophies were given for variety, open-face booths would win without ever taking the field. Available in two specific subsets, booths and benches, the open-face variety also offers hundreds of different customizations that enable them to perform any function and fit into any space - some only 3 feet deep! But they may not be right for every process. So make sure you know how they compare to enclosed paint booths.
6. Paint mixing rooms / paint kitchens: One of the most essential components to any paint or chemical manufacturing process, paint mixing rooms channel vapors and exhaust air away from the work area, providing safety through ventilation and high-quality light. But there's another benefit they offer - one that's paramount to companies that work with liquid products - further guaranteeing worker safety while helping you avoid some pretty hefty fines in the event of an accident.
Ready to Compare Spray Paint Booths Price Quotes?