Drying Rooms: Technology and Costs
Drying rooms are integrated into a paint booth's downdraft airflow and can be used with any waterborne or solvent-based paint to dramatically reduce the time required for flash curing or finishing any type of coating. Most modern paint booths can be retrofitted with drying room components, maximizing the initial investment while boosting the cost-effectiveness of the process overall.
Though they're most commonly found within the automotive sector - including new vehicle assembly lines as well as detailing houses and body shops - drying rooms are also used in a variety of different industries for curing products such as: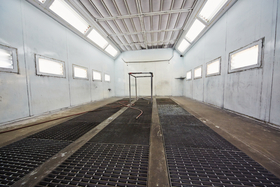 Musical instruments
Airplane parts
Fluorescent tubes and other light bulbs
Paper cores
Leather
Ink (on paper)
Cost-saving benefits
A drying room is ideal for products that are dried between 40°F and 215°F and offers a series of cost-saving. Eco-friendly benefits that include:
Consistency: It's an easy-to-control process that can be repeated to create the same results from vehicle to vehicle or product to product.
Improved quality: By increasing the drying rate, a drying room further boosts the quality of the finish by minimizing the potential of dirt and other atmospheric elements finding their way onto the newly painted surface.
Emissions reductions: The process is shown to reduce chemical emissions from 80% to 100% depending on the technology employed.
Drying room technology
There are a number of features that combine to cut drying time and increase your productivity. While these won't be standard on all models, many can be incorporated as add-ons to an existing setup or paint booth. These include:
Recirculation heater unit: Known to provide a thermal efficiency that exceeds 80%, recirculating heaters use an indirect gas-fired heater powered by natural gas or propane. Easily mounted on an existing drying room, this upgrade controls the internal temperature of the room to within 120°F to 140°F, ensuring reliable dry times. Recirculating heaters also continue to operate after the curing cycle is complete to purge the drying room's air and preserve the quality of the finish.
Turbulence fan system (TFS): By accelerating the time required to dry each vehicle, you immediately lower your operating costs. Some systems can be coupled with a fan upgrade that provides a higher degree of turbulent airflow, drying vehicles even faster.
Infrared curing: Drying rooms use either infrared or convection curing systems. Some can also be equipped with both. Depending on your production demands, available space, and interest in environmentally-friendly technology, you can continue painting while another vehicle is drying in the attached drying room. Though both types offer that same benefit, it's worth noting that infrared technology takes up substantially less floor space (1/4 to 1/3 of the space required for a convection model by some estimates), can be switched on or off in seconds, provides low-maintenance operation, and is capable of adjusting temperature instantly. At the same time, convection ovens are widely familiar to most people and require far less training to use.
Sizing and estimated cost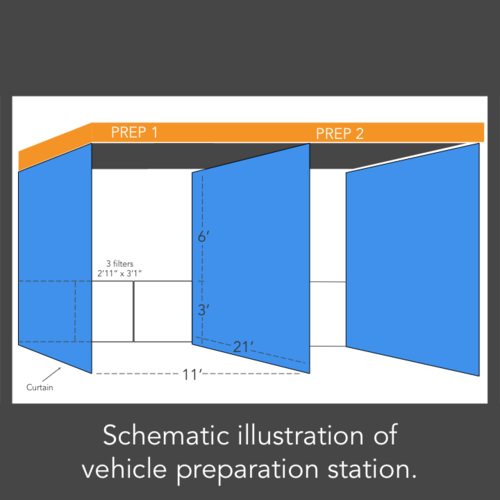 Given that drying rooms can be retrofitted onto many existing paint booths, most are custom designed to meet the specific needs of each shop. Factors that will impact the size and type you need include: the degree of automation required, temperature control, material handling needs, and desired life cycle cost. Though the upfront cost on infrared technology may be higher, the long-term cost of a convection setup may end up being more expensive due to increased costs associated with heat transfer, energy efficiency, and reaction time.
It's also worth noting that while infrared technology is almost always custom tailored due to the technology, convection ovens are often delivered in standard sizes, with an overall dimension of 26' x 14' x 9' being quite common. Convection systems can also be installed by the manufacturer or as "do-it-yourself" kits.
Expect to pay anywhere from $6,000 to $12,000 for the upgrade to an existing paint booth and $10,000 to $30,000 for a completely separate drying room.
The first step in locating the best drying room for your body shop or manufacturing facility is using BuyerZone's free drying room quote request service. Just a few quick questions and we'll connect you with multiple qualified sellers in your area.
Ready to Compare Spray Paint Booths Price Quotes?