Spray Paint Booth Manufacturers
The quality of a finishing process can make or break the perceived value of your product. So for goods ranging from the most intricately crafted fine furniture to the largest jumbo jets, spray paint booth manufacturers have engineered an extensive range of paint booths that provide customized finishing solutions for each individual application.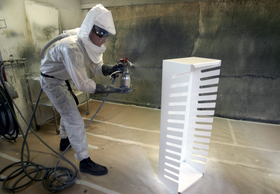 Tailored to a variety of different manufacturing segments - including automotive, trucks and RVs, industrial, woodworking, and aerospace - each type offers a range of unique specifications, from air filtration to lighting, that enable the cost-effective output of quality results. Modern designs also comply with a variety of safety and environmental regulations established by the National Fire Protection Association (NFPA), the Occupational Safety and Health Administration (OSHA), and the National Electrical Code (NEC), among countless other local statutes.
With all these considerations in mind, it's important to find a reputable company when choosing a spray paint booth or related finishing equipment for your line of business. The upside is that this need has led to a high degree of competitiveness among those that manufacture the equipment itself.
Below are the six main booth types. Click through for more information on each booth type, as well as example pricing.
Global Finishing Solutions: Offering developed engineering capabilities, Global Finishing Solutions provides custom finishing products that are created uniquely for each application through a variety of in-house specialists. Ranging from software developers and electrical engineers to airflow specialists, the team provides a complete resource for the planning, implementation, and installation of any finishing project. They also offer a variety of benefits geared toward the specifics of each industry that simplify the process while minimizing time and cost.
Eagle Equipment: Specializing in the automotive industry, Eagle Equipment provides an array of service-related equipment for vehicles of all sizes. This area of specialty also enables them to provide intuitive, customized spray paint booths for the manufacture and refinishing of new or used cars, trucks, and motorcycles. Also providing finishing equipment for industrial, woodworking, and paint mixing applications, Eagle Equipment could end up saving your business on the total purchase price of equipment if you have an in-house assembly crew.
Col-Met: For nearly two decades, Col-Met has delivered an ongoing commitment to unique solutions for each customer and their individual application. Provided exclusively through a network of specialized representatives, the company offers an extensive range of installation start-up and service, technical support, product training, and maintenance on spray paint booths and other finishing equipment - all of which is customizable through engineering capabilities and quality control standards. They also incorporate a number of advanced safety features into some of their most popular products.
Spray Systems Inc.: Spray Systems Inc. has engineered and customized finishing solutions for some of the world's most notable manufacturers and governmental organizations. Specializing in industries that range from aerospace, earth moving equipment, and other large machinery to automotive and general manufacturing, they offer a custom-tailored range of products that are geared toward the growth and sustainability of each customer's business. By incorporating new technology into each project, they've been shown to dramatically cut operating costs through construction efficiencies alone.
Ready to Compare Spray Paint Booths Price Quotes?