Spray Systems Inc. Earns the Support of Well Known Brands
With a 35-year history, it's fair to say that Spray Systems Inc. has gathered its share of recognizable clientele. Using a process that customizes their spray paint booths to the needs of each industry, they're able to ensure reliable results that translate to cost-effectiveness and competitive positioning.
While not every business is going to need the same high degree of engineering and customization, most manufacturers have specific finishing aspects that, when addressed effectively, can dramatically cut down on the delivery time frame and overall cost of a project.
Within the industry segments below, you'll find a short list of some of the most recognizable brands that have relied upon Spray Systems in the past. Keep these customizations in mind as you compare finishing specialists, whether your business falls into one of the categories below or not.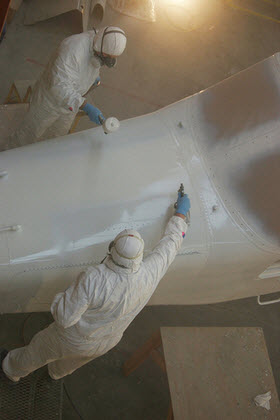 Aerospace/aviation spray paint booths
Accustomed to the strict aerospace and mil-spec finishing requirements required by aircraft manufacturers, aircraft sub-assembly, and aircraft part manufacturers, Spray Systems has offered a variety of spray paint booths within this niche since 1977.
Adhering to all industry regulations, this product line allows finishing via conveyor and also provides water washing to facilitate high-volume finishing on large aircraft. Available models include:
Large equipment crossdraft
Large equipment downdraft
Large equipment semi downdraft
Mix rooms
Supply chambers
Major aerospace clients include Jet Propulsion Laboratories (JPL). JPL contracted Spray Systems to create an efficient spray paint booth for the components involved in its space-flight component group. The assignment imposed a variety of restrictions related to size, safety, and the appearance of the finish. In addition, all processes had to comply with federal air quality regulations mandated by NESHAP and SCAQMD. To address each complication in turn, Spray Systems specially engineered a double door ingress and egress system as well as a humidity control system that resulted in a tightly controlled environment.
Large equipment spray paint booths
Designed for earth moving equipment, RVs, and semi trucks, the large equipment booths from Spray Systems come in either open-faced or enclosed construction and can accommodate batch systems or conveyorized production. This enables you to choose a model that satisfies your budgetary requirements while meeting all regulatory laws.
Large equipment spray paint booths can also accommodate either liquid or powder coating and will be customized to take into account the specifics of your manufacturing needs, including filtration systems and media, temperature, and humidity controls. Available models include:
Large equipment crossdraft
Large equipment downdraft
Large equipment semi downdraft
Mix rooms
Supply chambers
Major large equipment clients include Weatherford (oilfield products), J & J Auto Body (truck and trailer refinishing), and Rhino Liner (truck bed liners).
General manufacturing spray paint booths
This is something of a misnomer, as there's very little that's "general" about the manufacturing process. With this in mind, Spray Systems helps to customize a solution by ensuring the most efficient use of airflow designs, level of corrosion resistance, filtration volume, temperature, and humidity.
For example, booths used for fine furniture or similar woodworking applications are typically set up to filter all types of wood finishing coatings, including stains, sealers, fillers, priming and topcoat. Available models include:
Bench booths
Drying enclosures
Industrial dry filter booths
Mix rooms
Non-recovery powder booths
Recovery powder booths
Water wash booths
Major manufacturing clients include Bose Corporation (sound systems and speakers), Oakley (sunglasses), and Titleist (golf balls).
Automotive spray paint booths
The unique requirements within the auto industry often dictate a finishing process that uses a downdraft airflow design. In doing so, this style has been shown to minimize drying time and greatly reduce overall costs associated with auto production and refinishing. With models that can be customized to grow with your assembly line as it develops, these auto spray booths are also coupled with a propriety fan that works to reduce noise during operation, according to information available through the Spray Systems website.
The automotive sector seems to be an area of particular specialty at Spray Systems, as they offer six unique types of automotive spray paint booths, each with varying levels of customization. Available models include:
Traditional cross-flow style booths
Downdraft style booths
Modified spray booths
Entry-level finishers
High-end auto refinishers
SUV finishers
And last but not least: lighting. Aside from the quality of the finish, few elements are more important than interior lighting. In fact, the finish quality is often determined by the quality of light available. Spray Systems Inc. incorporates energy-efficient, industrial-rated lighting into all of their designs, providing components that satisfy all electrical codes. The company's uniform 4-tube lighting fixtures also reportedly save on electricity costs by up to 20% and are accessed by a hinged panel for quick, easy replacement.
Major automotive clients include Able Body and Truck (auto body and repair), Classic Body Works (auto body and repair), Earl Scheib Corp. (high volume auto finishing), and Precision Body and Paint (custom auto finishing).
Ready to Compare Spray Paint Booths Price Quotes?