Eagle Equipment Cements Reputation through Niche Tooling
Automotive service and refinishing has come a long way since the early days of gas station/body shop combos. Today's leading shops commonly incorporate the latest technology and machinery to make the process of restoring an old car, or simply touching up a faded paint job, easier and more profitable by reducing the labor required while simultaneously boosting the quality of the end result.
For more than five decades, Eagle Equipment has been supplying the tools necessary for a variety of auto, truck, and motorcycle aftermarket customizations and services. Cementing their reputation as an automotive equipment specialist, some of their most popular products include:
Car lifts
Tire changers
Wheel balancers
Brake lathes

Muffler tubing benders
Frame machines
Oil drains and stands
Transmission jacks
But among restoration shops, industrial professionals, craftsmen, and hobbyists, it's the diverse variety of paint booths and a "no questions asked" warranty policy that continue to facilitate customized finishing solutions for the automotive industry.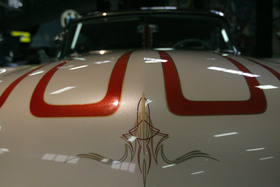 A division of Standard Tools and Equipment Co., Eagle Equipment offers an extensive range of custom paint booths that are focused on the unique demands required for an attractive finishing operation - from cars and trucks to woodworking, paint mixing, and almost any other industrial application.
Here's a quick rundown on some of the key features within their primary areas of specialty.
Industrial spray booths
Industrial spray paint booths require a design that takes into account a number of specific sizes, shapes, work depths, and other customizations if they're going to service their purpose effectively. To accommodate any industrial coating or spray application, Eagle Equipment offers industrial spray paint booths that include: downdraft, semi downdraft, cross flow models, and finishing booths, as well as bench paint booths that are tall, wide, or a combination of both.
Depending on the type and size you select, UL approved components may include:
Double filters in the ceiling on drive-in booths
3 hp fan with a 3-phase motor capable of between 9,300 and 12,200 CFM
2 to 6 light fixtures built into ceiling
Doors with clear tempered glass
18-gauge galvanized steel components
Cost range: $2,200 to $6,700.
Automotive spray paint booths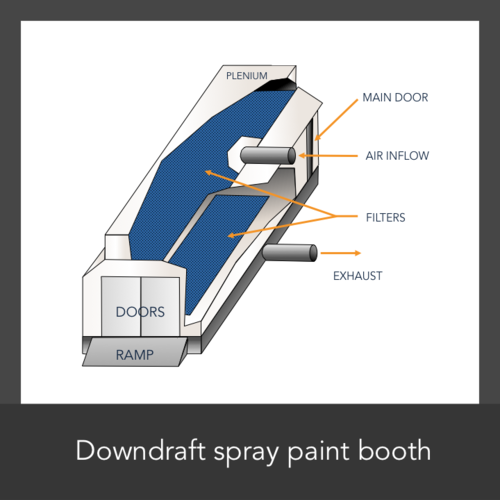 Encompassing cars, trucks, and motorcycles, Eagle Equipment's automotive paint booths have been designed to create a smooth, sleek paint job on the surface of any vehicle. Models include cross flow, downdraft and semi downdraft, reverse flow, and heated units, with sizes that range between 9 feet in depth and extend all the way to 60 feet. Beyond that depth, Eagle Equipment is one of the spray paint booth manufacturers that can accommodate extended sizes through additional customizations if necessary.
Depending on the type and size you select, UL approved components may include:
Large drive-through doors (on select models)
Air-tight 18-gauge galvanized steel components
Clear tempered glass built into front and personnel doors
Up to 10 fluorescent light fixtures
24" to 34" fans, including either a 2- or 3-phase, 1 to 3 hp motor capable of 10,000 to 13,965 CFM
Optional heated air make up unit
Draft gauge
Cost range: $5,000 for motorcycle paint booths; $20,000 to $40,000 for truck paint booths; and $5,000 to $25,000 for automotive paint booths.
Paint mixing booths
Toxic fumes require solid ventilation. And the paint mixing booths manufactured by Eagle Equipment take that need and expand upon it by designing products that provide a productive, controlled environment while complying with all OSHA and NFPA safety codes and requirements.
With four standard types available, common features may include:
12" tube axial fan, including a 3-phase, 1/2 to 3/4 hp motor
Air-tight 18-gauge galvanized steel components
1 to 3 fluorescent light fixtures
Personnel door that includes clear tempered glass
Custom sizes available to fit specific dimensions
Cost range: $2,600 to $3,800.
Woodworking booths
Construction accounts for 99% of any fine furniture. But it's amazing how quickly a marred or uneven finish will elevate that remaining 1% in the mind of a picky consumer. With Eagle Equipment woodworking spray booths, you can apply that final finish evenly and smoothly - whether it's clear coat or color - and produce results in a safe, well-lit work environment.
With 10 standard options to choose from, common features typically include:
Depths ranging from 4 feet to 20 feet
Filters built into entry door (on select models)
2 to 6 tube light fixtures
24" fan with 3-phase, 2- to 3-hp motor capable of 9,300 CFM
18-gauge steel components
Draft gauge
Cost range: $3,000 to $6,700.
Saving on installation costs
Each spray paint booth is delivered unassembled, complete with instructions and permit information. This is where businesses with assembly expertise or an in-house construction team can save on the overall cost of a spray paint booth and other finishing equipment - paying only for the kit and shipping fees while reducing labor costs and additional third-party expenses.
Plus, if you or your construction team has any questions, Eagle Equipment also provides a toll-free hot-line that links you directly to customer service. It's staffed by factory-trained service technicians capable of answering any questions related to the installation, operation, maintenance, or service of their spray paint booths or other products.
Two more factors that may affect purchase
It's worth noting that electrical hard wiring is often not included by a spray paint booth manufacturer as electrical codes vary from location to location. For assistance with electrical work, it's recommended you contact a licensed electrician. Don't forget to factor this additional cost into your budget.
And finally, Eagle Equipment offers financing through a lease-to-own program that allows small businesses and large operations alike to get up and running quickly with little money down.
Ready to Compare Spray Paint Booths Price Quotes?