Batch Ovens: Dimensions and Specs
Batch ovens, also known as process ovens or batch process ovens, are a subset of spray paint booth that's used as a final stage in the manufacture of individual components and final products.
Similar to a standard kitchen oven, they function much the same way, though on an industrial scale, sealing a final coat of finish or adding to an item's antique appearance by accelerating the "decay"; through controlled heating.
Common Sizes and Specs.
Model Type
Minimum Size (cubic feet)
Maximum Size (cubic feet)
Common Temperatures
Price Ranges
Bench-Mounted Ovens
1
18
400°F - 600°F
$1,700 - $5,000 plus
Cabinet Ovens
3
180
500°F - 1,000°F
$8,000 - $16,000 plus
Walk-In/ Drive-In Ovens
50
2,200
500°F - 650°F
$20,000 - $62,000
Conveyor Ovens
2
13
350°F - 500°F
$10,000 - $15,000 (basic models); $20,000 plus for larger custom designs
Applications
Ranging from small clean-room curing and preheating ovens to large, walk-in calcining and batch-curing models, they typically operate at temperatures between 400°F and 1,000°F. Offering an extensive array of applications, batch ovens can be found within a variety of industries including automotive, aerospace, electronics, pharmaceutical, ceramics, sporting goods, and even large food and beverage processes.
Popular uses include:
Drying
Curing
Baking
Testing
Bonding
Heat treating

Annealing
Sterilization
Finish baking
Burn-In
Aging
Two unique types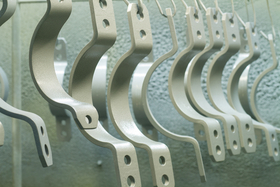 With the ability to process goods batch by batch or continuously through a conveyor setup, batch ovens are designed in two different types to allow manual or automated loading and facilitate optimal production.
1. Batch processing. This type of process oven is designed for operations that have a variety of load sizes or production volumes and also provides an advanced measure of flexibility in regard to process variables like temperature or dwell time. Popular models within this type include forced convection ovens, pass-through ovens, inert atmosphere ovens, and clean room ovens. Common applications include curing, annealing, drying, sterilizing, and aging.
2. Conveyor processing. Conveyor ovens, also known as continuous batch ovens, are used for high-volume operations that require a continuous stream of production to meet their manufacturing deadlines. Available in either electric or gas heat, they provide a uniform level of temperature and processing time for each part on the line and are relied upon for the consistency they deliver from batch to batch. They also provide additional cost savings by combining a number of different processes into one, reducing timelines by eliminating certain aspects of material handling. This type of batch oven is often used in the production of automotive parts and electronic circuit boards.
Note: All models must conform to regulations established by the National Fire Protection Association - in particular NFPA 86.
Standard features and customizations
Regardless of type, most batch ovens include a number of construction features and functionalities that allow them to operate safely in areas both large and small. Among these features are included:
Heavy-duty insulation: Paneling is typically constructed from aluminized steel and incorporates at least 4 inches of mineral wool to ensure heat retention. Optional insulation customization includes a sheet metal or insulated floor.
Uniform air distribution: Though this process goes by a number of names depending on the manufacturer, it's a critical component to the process as it ensures a consistent result within each batch and a repeatable result from batch to batch. Air is often heated on both sides of the oven then evenly circulated throughout to produce an exact temperature. Additional customizations include heat elements that can be mounted at either the front or the rear of the unit.
Fuel source: Some models can be fitted with natural gas or propane to save on electricity costs.
Installation
Depending on the type and size you select, many installations require, at the very least, the assistance of a licensed electrician to ensure proper wiring. These smaller spray bake paint booths (and even some of the larger ones) are shipped in "kits" that enable you have an in-house construction team assemble them within the designated space.
Larger walk-in or drive-in models, conveyor ovens, and those customized with natural gas or propane will typically require professional installation by the manufacturer - though some are available as "install-it-yourself" kits. Unless you have certified experts in-house, it's best to contract a pro, ensuring that the installation meets all of the NFPA requirements and any local regulations that may also be enforced within your area.
If you'd like help finding the best batch oven for your specific operation, fill out BuyerZone's free batch oven quote request form and we'll connect you with multiple qualified sellers in your area.
Ready to Compare Spray Paint Booths Price Quotes?