Paint Mixing Rooms and Paint Kitchens
From small businesses to large paint companies and chemical manufacturers, paint mixing rooms have become an essential part of the industrial process. While not taking up too much room in a shop, they provide a controlled, safe environment for the production of a variety of finishing products and solutions.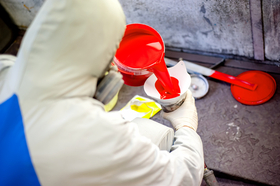 Typically smaller than most spray paint booths, a paint kitchen is designed for installation within a larger facility. Filtered air is introduced through an intake plenum (either non-pressurized or pressurized) and is blown down directly over the mixing area. This channels vapors and exhaust air away from the work area (and those working there) and into a low-mounted exhaust port where the air is filtered and released back into the environment.
Compliant with the National Fire Protection Agency guidelines (NFPA 33) and requirements established by the Occupational Health and Safety Association (OSHA CFR 29.1910.107), these structures allow for the mixing of chemicals and paints in a variety of work spaces by eliminating harmful fumes that result from the mixing process.
Popular Sizes and Specs Include:
Type
Width
Height
Length
Fan (Horsepower/ Cubic Feet Per Minute)
Estimated Price
Paint Mixing Room (Small)
8'
7'
5'
3/4 - 1 HP/ 1,400 CFM
$2,500
Paint Mixing Room (Small)
8'
8'
8'
3/4 - 1 HP / 1,400 CFM
$2,600 - $3,000
Paint Mixing Room (Mid-range)
8'
8'
10'
3/4 - 1 HP / 1,400 CFM
$2,900 - $3,700
Paint Mixing Room (Mid-range)
8'
8'
12'
3/4 - 1 HP / 1,400 CFM
$3,200 - $4,000
Paint Mixing Room (Large)
8'
8'
15'
3/4 - 1 HP / 1,400 CFM
$3,900 - $4,700
Paint Mixing Room (Large)
10'
8'
15'
3/4 - 1 HP / 1,400 CFM
$4,000 - $4,700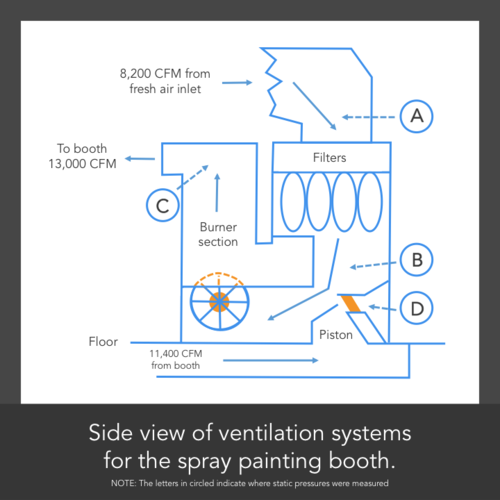 On top of controlling toxic fumes, a paint mixing booth is also highly effective for controlling spill prevention, greatly improving containment within chemical companies and similar industrial applications (more on that in a minute).
While most models comply with NFPA and OSHA regulations, there may be additional laws that affect your business locally. Before installation, make sure you're in compliance with all local statutes.
Standard features and optional upgrades
Most booths intended for industrial paint mixing equipment will be constructed from 18-gauge galvanized steel. Provided as a "do-it-yourself" kit, they're engineered pre-punched with accompanying flanges, making them easy to build through a straightforward nut-and-bolt assembly.
Two of the most important features related to safety and productivity are:
Lighting: Subtle color variations and specific chemical compounds are just two of the examples that make an abundance of light a necessity in a paint mixing room. Most are equipped with banks of fluorescent bulbs - 4-tube, T-8 color-corrected fluorescent fixtures being highly common.
Spill Containment: Accidents happen, making the ability to contain spills in a paint mixing room another essential feature. By raising the access level at the door, many popular designs include a built-in containment base that's around 4 inches deep.
Optional upgrades include:
Barrel ramp
Grate-covered pit
Fire protection: Dry chemical systems
Fire protection: Water sprinkler systems
Fiberglass floor grating
Heaters, convection
Air conditioning

Bulkhead fittings
Liquid level detection system with alarm
Weatherproofing for outdoor applications
Custom doors
Custom sizes
If you'd like help finding the best automotive paint kitchen or other paint mixing booth for your business, don't wait! Fill out BuyerZone's free quote request form today and we'll connect you with multiple qualified sellers in your area.
Ready to Compare Spray Paint Booths Price Quotes?